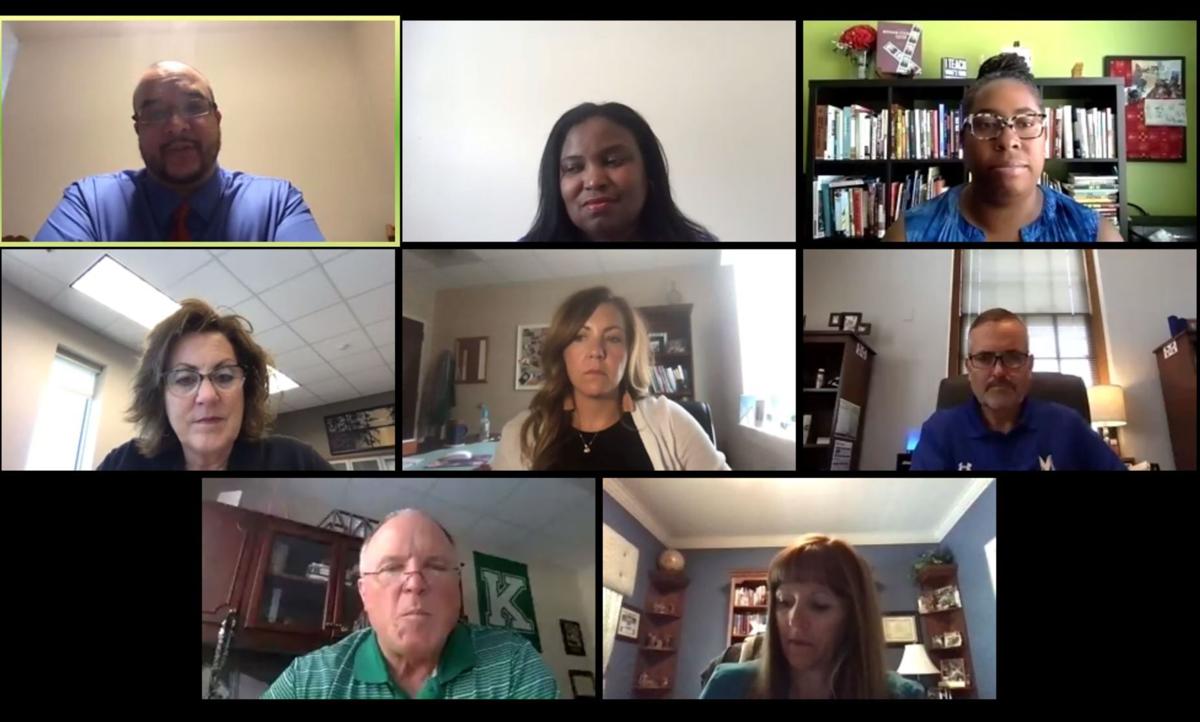 "We have a common goal. We're working toward promoting equity at every level of P-12 public education and rather than operating in silos we want to work together." Dr. Joseph Allen
— Diversity and Inclusion Specialist at Mooresville Graded School District
In February, the RMK Equity in Education Summit was a dream for Kannapolis City Schools' Director of Student Services and Secondary Education Jessica Grant.
This week that dream has become reality as educators from Rowan-Salisbury Schools, Mooresville Graded School District, Kannapolis City Schools and UNC Charlotte have come together to not only discuss equity in education, but to hopefully move closer to achieving it.
RMK stands for Rowan-Salisbury, Mooresville and Kannapolis and it represents a partnership between the three districts to do better for their students. All three have worked closely together with UNC Charlotte to help further this discussion.
This week they have all come together for the first RMK Equity in Education Summit to move toward knowing better and doing better.
This was in the works even before the greater discussion began across the nation on race which hit a fever pitch in late May and early June after the killing of George Floyd by a police officer in Minneapolis.
Kannapolis has been working for the better part of three years on addressing equity in its district and this week's conference hopes to bring even more cohesion to the discussion on the topic in the area.
To say the lead-up to the event went as planned would be a bit of an overstatement. The initial idea was to hold the conference in person at the Performing Arts Center in Mooresville, but due to restrictions presented by the COVID-19 pandemic in the state, it had to go fully virtual.
"It has changed shape, it has changed form many times in response to current events and everything that's going on in our current history," Dr. Allen said at Monday's Virtual Panel Discussion which kicked off the week. "But we are so pleased and so excited to be able to offer this opportunity for all of our attendees and registrants."
Mooresville Superintendent Dr. Stephen Mauney, Rowan-Salisbury School System Superintendent Dr. Lynn Moody, KCS Superintendent Chip Buckwell and Interim Dean of the Cato College of Education at UNCC Dr. Teresa Petty opened the conference Monday with a virtual panel discussion about what they all hope to see.
"I know this is going to sound strange off the top, but I hope people get uncomfortable," Buckwell said. "I hope people start asking themselves questions. I hope they start looking at things that were norms and they start saying, 'Why is that the case?'
"I hope that out of this we come up with a hashtag that we can use on Twitter, that we can communicate with each other, that we can stay connected because it's going to take a lot of support of each other to get through things that challenge us because when we look at this extremely important effort, if we do not have support from each other it is going to be easy to sit back on the sidelines and say I can't do anything about it."
KCS has been trying to do things about racial equity for the last several years as they have recently focused heavily on text equity, but at the same time, almost all employees of the district have gone through racial equity training given by Racial Equity Cabarrus.
Kannapolis formed a strong bond with UNC Charlotte's Dr. Glass as a result of this training and she has helped greatly in address text equity. Many in the area have been exposed to this type of work through UNCC. There has been a movement going on in Charlotte and the surrounding areas in recent years and that has been hard to miss for educators who are trying to take what they are learning and applying it to their campuses.
"I can't necessarily control the (home) environment of the kids that I interact with on a daily basis but what we can control as educators is the attitude and the learning environment within our classrooms or within our offices or how we interact with our students," Dr. Mauney said. "My hope is there will be a lot of self-reflection that takes place…and that we will approach this work with an open mind.
"Don't just say that this can't work because it hasn't before, or that we're going to do it this way because we've always done it this way, but that we really look critically at ourselves and the way that we build relationships."
The conference has had to go to fully recorded discussions this week due to restrictions presented by COVID-19, but they are offering more than 17 hours of content for anyone who registered.
Dr. Allen, Rowan-Salisbury Schools' Assistant Superintendent of Advancement April Kuhn and Grant spent countless hours putting this summit together and the panelists have high expectations for the experience.
"I think about often a book I read many years ago by Dr. Beverly Tatum: 'Why Are All the Black Kids Sitting Together in the Cafeteria?' And she was (once) asked the question: 'Do you believe that equity work should be mandated?' And I remember her (answer) was one of those defining moments for me when she said, 'Equity is a matter of the heart, it can't be taught, you have to have a heart for it,' so I know that when I look at these participants today, they're here because they have a heart for it, they have a heart for the work," Moody said. "She said, 'In that light when you provide equity training for people who already have a heart for it, isn't that just like singing to the choir?' And she said: 'Choirs need rehearsal.'
"So I hope today, you all get a chance to rehearse with the choir. You feel that power of the collegiality of being with the choir that has the heart for this work."
The conference started Monday and will run through Friday.
Be the first to know
Get local news delivered to your inbox!