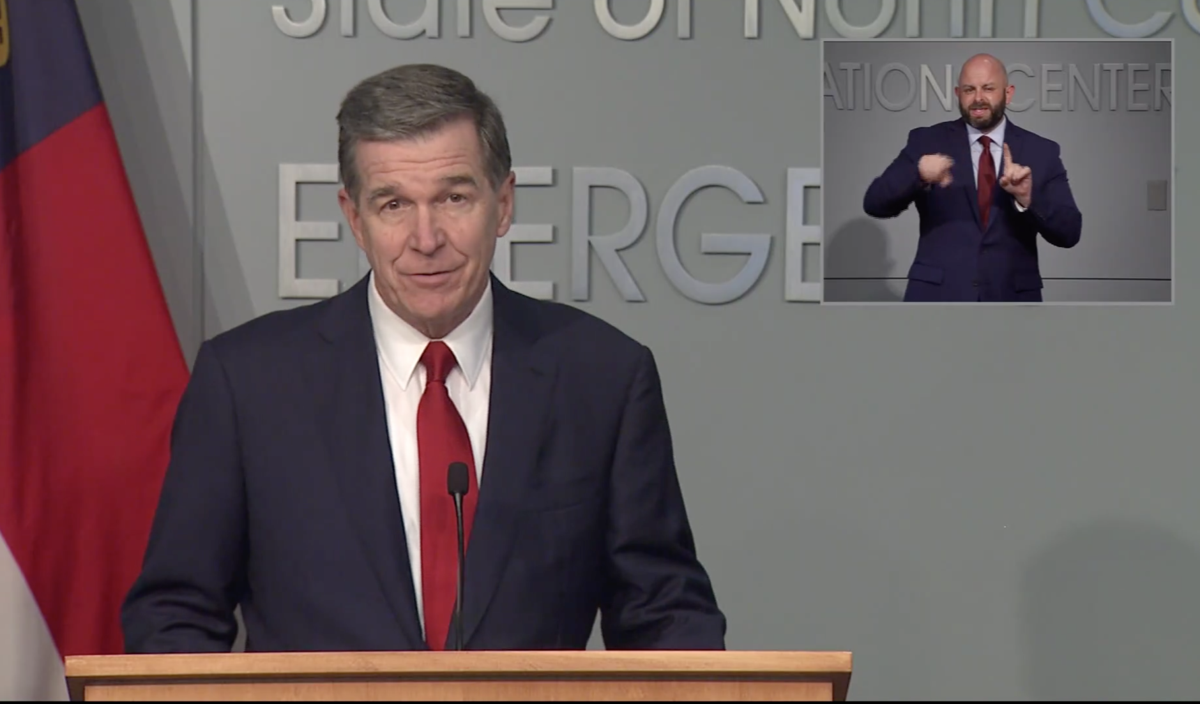 RALEIGH — North Carolina schools will open for both in-person and remote learning when opening for the year, Governor Roy Cooper announced at a press conference Tuesday.
Schools were closed for two weeks initially in March due to the COVID-19 pandemic. Closings were then extended into April and finally indefinitely in May.
Schools were asked to plan three ideas for the start of the year, one was with 100 percent in-person learning, the second was basically 50 percent (the plan announced Tuesday) and 100 percent remote learning.
Districts can also come back on 100 percent remote learning if they chose to do so. However, they cannot come back at 100 percent in-person learning.
Kannapolis City Schools and Cabarrus County Schools were both planning for all three options but were emphasizing the second plan. CCS laid out extensive options for that at their meeting Monday. You can view those options here.
Students, teachers and staff will be required to wear masks from kindergarten through high school when re-entering, Cooper announced Tuesday.
"The studies have shown overwhelmingly that face coverings reduce disease transmission," he said. "To help, the state will be providing at least five reusable face coverings for every student, teacher and staff member. And we have already delivered a two-month supply of thermometers and medical-grade equipment for school nurses."
North Carolina currently has seen 89,484 cases of COVID-19 in the state, according to the North Carolina Department of Health and Human Services.
There have been 1,552 deaths and 1,109 are currently hospitalized.
In Cabarrus County, 1,721 cases have been seen with 547 of those remaining active. There have been 33 deaths and 13 residents are hospitalized. That is down four from last week while no new deaths have been reported since June 29.
Cooper also announced the state will remain in a safer-at-home order for another three weeks. Masks are still required in public in the state.
"Our virus trends are not spiking like some other states," Cooper said. "We have hospital capacity and our percent positive is still high but it's steady. However, our numbers are still troubling and they could jump higher in the blink of an eye.
"Easing restrictions now to allow more high-transmission activities could cause a spike that would threaten our ability to open schools. The most important opening is that of our classroom doors.
"We want to be done with this pandemic, but it's not done with us. We'll continue toward the school year and work together with everyone's safety in mind. The easiest and most effective way we can ensure our children go to school in August and ease economic restrictions: wear a mask."
KCS will hold a meeting with Cabarrus Health Alliance on Thursday to further discuss plans for reopening.
They will then hold a meeting Monday with the Board of Education to officially approve it.
"We've been doing this for pretty much since this started and in real intensity since the end of school," Superintendent Chip Buckwell said in a meeting Monday. "When we released from remote instruction, this was when we started making a plan for re-entry, so it's something that's taken some time.
"Mr. (Kevin) Garay has bird-dogged this and his 10 committee members and 10 committee leads have done a lot of work to make this happen and it's a lot of really good work and it's been work that's been dictated by the best guidance we could get from universities, from the CDC, from everywhere we could get it as far as how we could do this as safely as we possibly can.
"It hasn't been just one source, we didn't rely on just CHA or just the Governor, we didn't rely on just UNC Medical School as an example, but we relied on a lot of different sources to make these plans to try to get it right."
Both CCS and KCS have been gathering PPE and cleaning supplies as well as thermometers and screening procedures to get students back into school safely.
KCS was already prepared with five reusable masks ready for every staff member, teacher and student when schools are set to reopen.
As Cooper made sure to say more than once, masks will be key to getting kids into school and keeping them safe.
"CDC Director Robert Redfield said that if everyone could wear a face covering over the next six weeks, we could drive this virus into the ground," Cooper said. "Let's do that for our children, if nothing else."
Dr. Mandy Cohen also addressed the scenario where a teacher or student who tests positive.
She said there are detailed protocols in place but most importantly that schools should get into contact with their local health department immediately because they will know what to do going forward.
Cooper also addressed the possibility of the federal government withholding funds since schools will not reopen fully.
"We don't respond to those kind of threats," Cooper said. 
He said they are making decisions based on keeping everyone as safe as possible.
Responses came in from several sources throughout the state after Cooper's announcement. 
"Educators want to be back in school buildings. We miss and value the relationships we have with students and their families. The careful approach Governor Cooper has taken in all of his re-opening decisions has been deeply appreciated, and while we understand that this was a difficult choice, we must make the safety of our educators and students the first priority," Tamika Walker Kelly, president of the North Carolina Association of Educators, said. "Unfortunately, educators and parents have been presented with a false dichotomy: the public schools we love, or our safety. We can have both. In order to safely re-open all schools in a way that will protect the health of both students and educators, a significant amount of resources is required. The General Assembly has simply refused to appropriate them. 
"This General Assembly must step up and do their jobs to provide the necessary funding for public schools so that we as educators can do our jobs to safely educate all of North Carolina's students. NCAE members have been on the front lines of this pandemic since it began. We have supported and led families through the greatest period of uncertainty of our lifetime. We intend to lead in our communities so that when we see our students and families again, we are able to welcome them into fully resourced, safe learning and working environments for us all."
Republican Senator Phil Berger released a statement as well.
"Gov. Cooper's plan gets students halfway to where they need to be. But much like jumping over a creek, halfway doesn't cut it," his statement reads. "The Governor's plan makes worse the very inequities a public school system is supposed to resolve. Students whose parents do not have the time or resources to supplement 'virtual' schooling will fall even further behind simply because of the condition of their birth. That's an unspeakable travesty.
"And parents who do not have the privilege of working from home can't take off every other day from work. What are they supposed to do? The Governor permits parents to choose full remote learning – he must also permit parents to choose full in-person learning as well."
Be the first to know
Get local news delivered to your inbox!