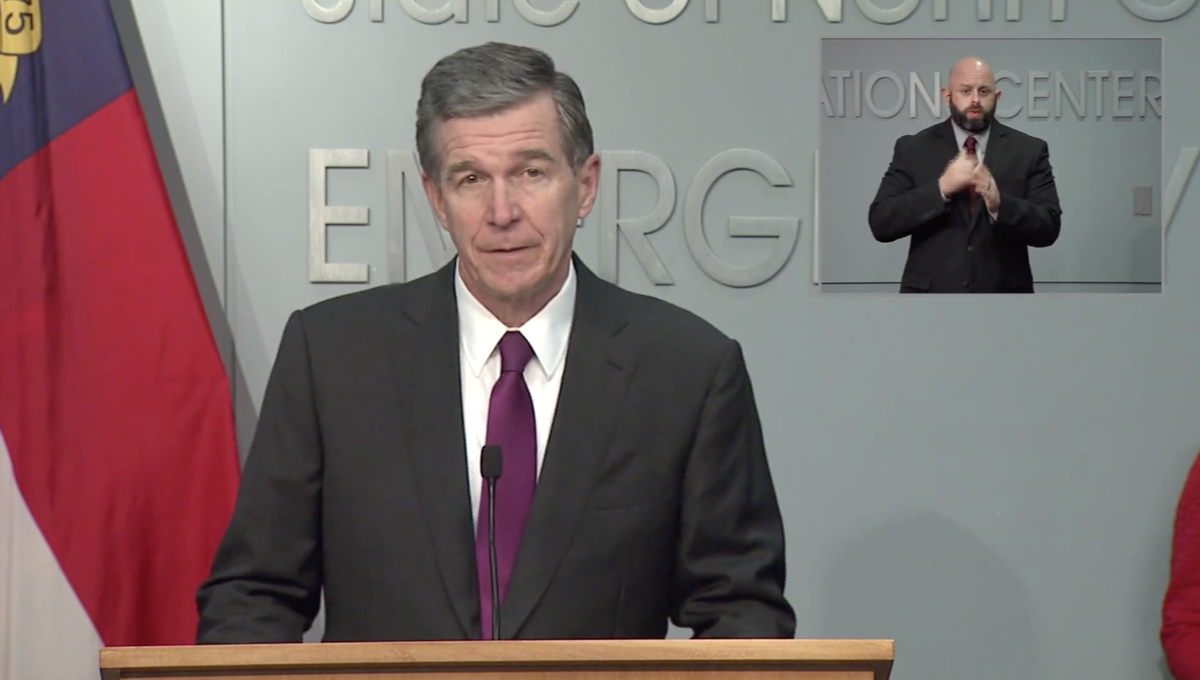 RALEIGH — Gov. Roy Cooper signed an executive order Wednesday to prevent evictions in North Carolina for people who can't afford rent.
The United States Department of Housing and Urban Development extended a foreclosure and eviction moratorium in August through Dec. 31 which was supposed to prevent people from losing their homes as many continue to file for unemployment throughout the nation.
However, many were still evicted in North Carolina after the extension. This order by Cooper is meant to prevent that from happening again in the foreseeable future.
"Roughly 300,000 to 400,000 households across North Carolina are currently unable to pay rent," Cooper said at a press conference Wednesday. "Without today's action, almost a quarter of a million eviction filings could be submitted by January 2021. Many families are trying to do the right thing, but this virus has made it difficult.
"Today's order builds on the CDC's federal eviction moratorium. It requires landlords to ensure tenants are aware of the CDC protections and how to claim them. This Order makes it clear that the CDC moratorium applies to all eligible North Carolinians, not just those who live in federally subsidized housing. And it ensures that recipients of North Carolina's HOPE program are still able to qualify for these protections."
According to U.S. census survey data from Sept. 30 through Oct. 12, around 32% of people nationwide think they are "very" or "somewhat" likely to face eviction in the next two months.
That number is far more dire in North Carolina as more than 50% feel that way, according to the survey.
North Carolina remains in Phase 3 of reopening as the state continues to post some of the highest case numbers and deaths due to COVID-19 in the nation. Over the last seven days, the state had the 10th most cases and the eighth most deaths, according to the CDC. For the duration of the pandemic, North Carolina has had the sixth most total cases and 16th most deaths.
"The result during this global pandemic will be more people staying in their homes, more landlords getting rent and fewer utility companies shutting off power," Cooper said. "NC HOPE remains available to assist people with payments by calling 2-1-1 or visiting http://nc211.org/hope.
"As we grapple with this pandemic, let's remember that our economy will only be as strong as our efforts to stamp out this virus. Recovery depends on us taking this virus seriously and doing our part to prevent its spread as we work toward a vaccine and more effective treatments."
According to the U.S. Bureau of Labor Statistics, North Carolina's unemployment rate for the month of September was 7.3%, which was tied for 30th in the nation with Arkansas. The state's unemployment rate was 3.7% in September 2019, which was almost the lowest it had been since 2008. The low hit 3.6% in February 2020, but it reached a high of 12.9% soon after in April 2020 due to shutdowns because of the novel coronavirus.
"I believe a safe and effective vaccine will come and that treatments for those who get sick will get better," Cooper said. "In the meantime, let's save lives and make our economy stronger by wearing a mask, washing your hands and waiting 6 feet apart.
"These actions are simple, but effective. And if we all do them — even with extended family and friends — we can get through this. Let's keep taking care of each other and let our resilience take center stage. There is light at the end of this tunnel."
Be the first to know
Get local news delivered to your inbox!