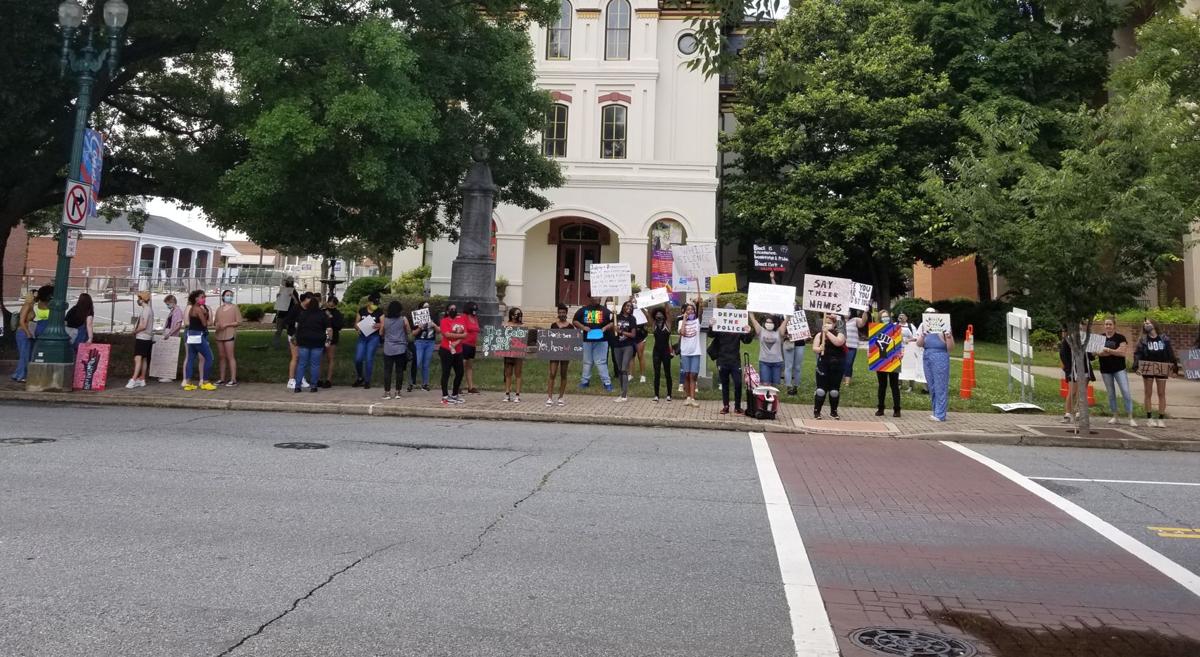 CONCORD – A youth protest was held in downtown Concord on Juneteenth, June 19, organized by local high school students over social media.
The five students put the word out on social media in late May about a protest and Julian created a flier for the event. After circulating around Facebook, Twitter and Instagram the word got out and dozens of protesters showed up that Friday.
Four of the organizers were from the Cabarrus County area. The students came together to form the protest after seeing the death of George Floyd and the lack of action take for Ahmaud Arbery.
When asked what changes they wanted to see, the group unanimously agreed that African-American studies should be taught in-depth and from a younger age in school systems.
"The things that went on during slavery, I have to find out a lot of that stuff through the internet. We are taught that slavery only happened for a little while and then Abraham came and swooped in and saved everyone. And that is all we are taught," Siah, one of the organizers, said. She continued: "They also need to stop making African-American studies an elective class. That needs to be taught to us from elementary school and up."
The other students agreed saying that they felt like a lot of what they are taught about slavery is minimized.
"They don't teach us that the reason they ended slavery was to hurt the South. They just teach us that they wanted to help black people," Medina, an organizer, said. "I think we need to stop white washing history. We need to stop making it seem like this was so long ago and we need to stop sugar coating things. They need to teach us the truth. If it hurts feelings, it hurts feelings. But people need to know."
The group said that in all of their years in the public education school system, they believed only one teacher had an open dialogue about the history of slavery and civil rights in the United Sates. But they said the teacher only taught them for two semesters.
As people gathered in front of the old Cabarrus County Court House, William, another organizer, said that he believed many topics are left out of history classes.
"There are moments that get glossed over in history, whether it be important black figures or massacres in Wilmington or Tulsa. There are just so many things that go unreported and are covered up in history. And I wish that we were more educated on that. There are just so many people that don't know," he said.
Once the crowd was organized, they lined up on the side walk and marched up Union Street, and rounded the block to Church Street chanting as they went. They said the names of George Floyd, Breonna Taylor and Ahmaud Arbery. Cars honked and waved as the group made its way down Church Street.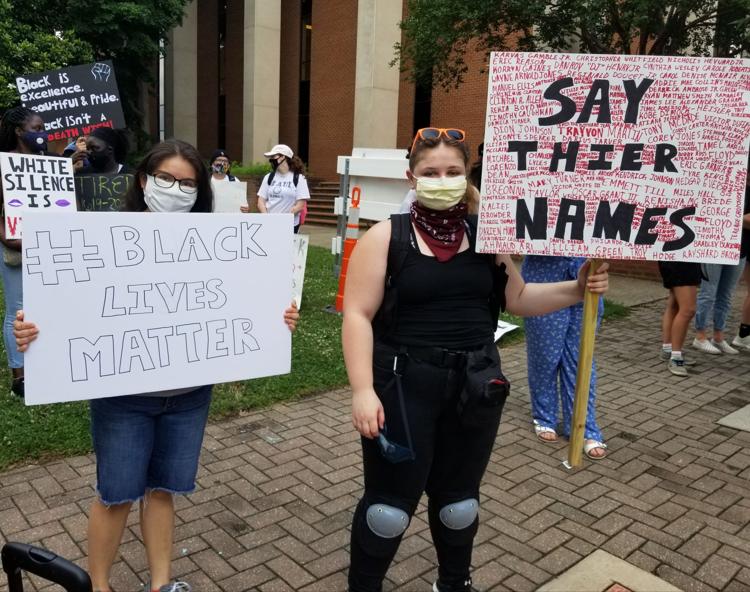 Many parents were in the crowd walking with their students and some chanted along with them. The group circled the block several times, changing chants as they went, switching between No Justice, No Piece and Black Lives Matter.
The police were also present downtown during the protest. The Concord Police Department found out about the protest two weeks before June 19. They only received the events flier which was given to Concord police. The department tracked information about the protest through social media chatter, Chief Gary Gacek said.
"We got wind of this event via social media chatter and worked our butts off to identify who was responsible - because no permits were applied for. After determining this was indeed a legit attempt at holding an event, and after making contact with the organizer – 15 or 16 year old female – and her father, we provided them with all necessary permits in an expedited fashion even though city ordinance would allow me to deny them for a failure to plan this event through us in advance of the event," Gacek stated.
After the group's third lap around the block, protesters decided to stay on the sidewalk in front of the old court house to chant, still cheering and waving their signs as cars passed by and honked.
About this time, a woman, Lindsey Brown, 30, in the crowd who was not a part of organizing the group began to speak to the group. She told them to keep chanting and then made a few derogatory statements about police officers. Brown said that she goes to many protests in the area. After this, a few people in the crowd started chanting ACAB for a few seconds before quieting down.
There were Concord police officers across the street.
Aside from this one incident, the protesters stayed to themselves and kept a peaceful and organized protest.
After holding a moment of silence in honor of Floyd's death and a few words from the organizers, the protest ended.
"I think that we need to come together and be as one. We have to stop putting others down and stop dividing," Medina said. "We need to just bring ourselves together as one. We should teach each other that every culture, everyone, contributes to society in their own way and that helps society."
Be the first to know
Get local news delivered to your inbox!