Kannapolis City Schools Superintendent Chip Buckwell believes students could be on campus again when the educational year is set to start in a little less than two months, but there is a huge caveat to his belief.
"I am confident it's going to happen. I want it to happen. I believe it's going to happen — I don't control it," he said.
"I couldn't have imagined it before March 13, I can't imagine it today, having school without kids being here and having the laughter, the tears, everything that goes with it, every single thing that comes with having kids on campus, I can't imagine it not happening again.
"On the other hand, and I'm in enough Zoom meetings with people with knowledge and with data and in leadership positions other than mine here in the district, and in Cabarrus County, if we don't do those three W's (Wash your hands, Wait 6 feet apart, Wear a face covering) we are in trouble for going back to school."
In a meeting last week, Buckwell learned that 97 percent of COVID-19 cases in North Carolina are not linked to long-term-care facilities. There is no doubt at this point there is community spread, and that fact is putting the start of the educational year in a particularly precarious spot.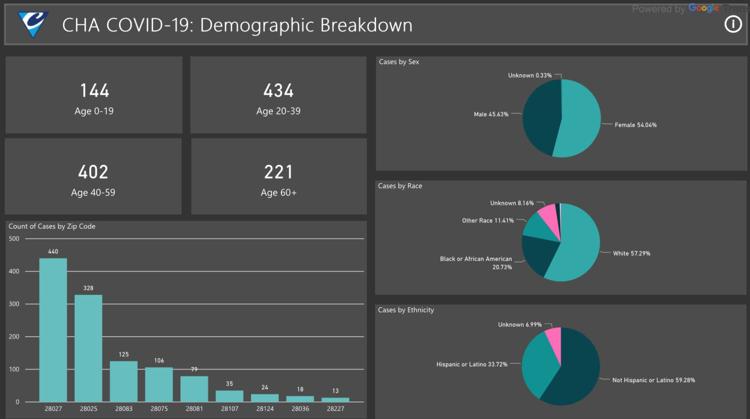 "Please socially distance, please practice the three W's, please wear a mask if you possibly can because it's the only way we're going to get back to normal," Buckwell said. "Because it's not about a false narrative of long-term-care facilities; the narrative is 'We have community spread.'"
Gov. Roy Cooper was scheduled to make an announcement Wednesday about the reopening of schools as educational institutions.
However, in a news release Tuesday night, his office announced he would not be making an announcement. He confirmed that statement at his Wednesday news conference.
"We are not issuing a statewide directive today on how schools should be open in the fall. But we will soon," Cooper said. "We want to get our students back in the classroom, and we want to make sure we get this right."
Since the state reopened on Memorial Day weekend, cases of COVID-19 have nearly tripled in the county, going from a little more than 400 cases May 22 to more than 1,200 as of July 1.
As Buckwell mentioned, these numbers are not due to outbreaks at long-term-care facilities. In fact, of the 1,201 cases in the county, 980 are ages 59 or younger and 578 are ages 39 or younger, according to the Cabarrus Health Alliance.
With 340 active known cases in the county, this is a current and present problem.
The governor's lack of an announcement on the start of the school year was received well by both KCS and Cabarrus County Schools.
"We are eager to welcome students, staff and the community back to our campuses for the 2020-2021 academic year, but we know we must proceed with caution, keeping everyone's health and safety as our overarching priorities," said CCS Superintendent Chris Lowder in a statement. "We are continuing to develop plans for school-year scenarios that could include in-person learning, remote learning or some combination of the two, and look forward to sharing those plans with our families as soon as statewide decisions are made."
Both school districts are exploring numerous scenarios on the start of the school year, whether that be fully remote learning, partially remote education, or in-person classes at full capacity.
At this point, KCS and CCS are simply waiting to hear what the state's plans are, and will then enact their strategies.
"You'd like to know kind of where (Cooper) was going to land because then you wouldn't be working on three different plans, (but) the reality of it is if you're not working on Plan A, you're not working on Plan B, and if you're not working on Plan B, then you're not working on Plan C," Buckwell said. "So, basically, we're sticking to Plan B and knowing that going to C, which is remote, or A, which is on-campus exclusively, is a somewhat easier move if you have a good Plan B."
There are obvious complications to starting up the school year. One former educator put it very well with certain situations such as how do you "transport students to school on buses with social distancing" or how do you "meet social distancing in already crowded classrooms?"
There aren't simple answers, but they are questions each district is trying to address, and the state is attempting to iron out further on a macro level.
Taking additional time to make a decision on the reopening of schools is not going to upset the districts much if it doesn't take too long, they just have to prepare properly, according to Buckwell.
"I'm not happy that I don't have a direction, but on the other hand, I kind of know how (Cooper) feels because people are looking at us and saying, 'Well, what are you going to do?'" he said. "So we're doing the same thing he's doing, but hopefully we'll have something together by the end of next week that is really a good process and a good working plan with some options for parents where they'll have options for kids or the kids have choices themselves."
Be the first to know
Get local news delivered to your inbox!