Kannapolis Mayor Darrell Hinnant said the city's downtown is the heart of its community, and a major step forward in its revitalization took place this week with the groundbreaking for a new project.
Kannapolis and county officials gathered in downtown this week to break ground on the VIDA project which will bring apartments, restaurants, a brewery and a hotel to the city. The first phase includes 275 residential units, 19,000 square feet of new retail space 34,000 square feet of renovated retail space in an existing block.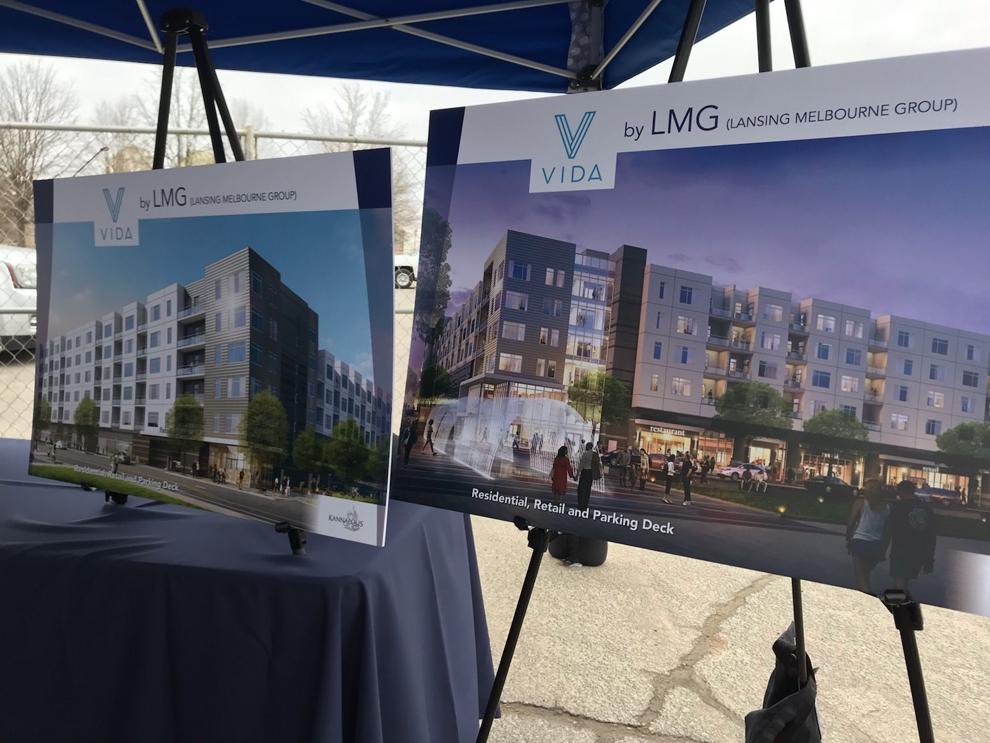 The city will invest $12 million for a parking deck which will be used by the public as well as VIDA residents.
"VIDA is about life, it's all about growth and life in our community," Hinnant said. "Its growth will bring hundreds of people to live downtown where they will work, play and worship as part of our community. It will be a special place for families and kids and friends and even visitors to make and create memories."
Hinnant went on to say that VIDA and the Downtown Revitalization project will benefit the entire community and region. He was also proud to say that the Cabarrus County Board of Commissioners and Kannapolis City Council have all been on the same page through this entire process and have the same goals in mind.
"Downtown is much more than bricks and mortar and streets and wires and paving. It is more than just this economic engine that will drive growth for our community and for Cabarrus county and surrounding regions; because it is in some ways, our identity," Hinnant said. "It is the heartbeat of our community. It is a place of pride, for we are Kannapolis."
Overview of the Downtown Revitalization
The City of Kannapolis embarked on a visionary plan to revitalize the heart of the community— the downtown.
Following a period of devastating economic conditions due to the closure of Cannon Mills, Kannapolis invested in the health of its economy by taking bold actions to pursue private and public partnerships to revitalize downtown.
Kannapolis City Council took the initiative and purchased the entire downtown—approximately 50 acres and eight blocks of buildings and began planning for a new, prosperous area.
The VIDA groundbreaking marks the third phase of the Kannapolis Downtown Revitalization Project. The first phase, the streetscape and infrastructure are scheduled to be completed later this year and the second phase, the Sports and Entertainment Venue will open in April 2020, in time for the Kannapolis Intimidators baseball season.
VIDA will be constructed between Main Street and West Avenue on two blocks of property including the location of the former State Employees Credit Union.
The four-acre site will incorporate and preserve the historic Cabarrus Bank Building as the lobby for the 125-room hotel that will break ground later this year.
Formerly referred to as the Demonstration Project, this public private partnership between the City of Kannapolis and Lansing Melbourne Group (LMG) will serve as a stimulus for additional private investment in the downtown core.
"In March 2016, city council decided to move forward on this project to gain support from the private sector and there were some goals. We wanted to build momentum for downtown. We wanted to generate interest. We wanted to demonstrate successful public/private partnership," Kannapolis City Manager Mike Legg said during the groundbreaking. "We wanted to make sure this partnership can work."
Legg said the public part of the Downtown Revitalization project is the sports entertainment venue and the streetscape.
Council had discussions with about 10 development firms that expressed interest in the first private project before landing on LMG. Legg said the firm was selected because it has significant urban mixed-use experience and completed similar projects across the country.
LMG has invested about $61 million in the VIDA project.
"Today we are standing in what two years from now will be the lobby of an apartment building that will offer living opportunities for folks coming here to Kannapolis, working in the research center and wanting to live in an active, growing downtown," Peter Flotz, with Lansing Melbourne Group, said. "We were attracted to this project primarily because of the courage these folks (Kannapolis City Council) had a few years ago when they decided to buy the entire downtown."
Additionally, VIDA is one of the first opportunity zone projects in the United States. Downtown Kannapolis was designated as a federal Opportunity Zone last year after the Kannapolis City Council voted to apply for the process. This designation provides tax benefits to private investors who invest in properties and areas which need to be revitalized.
It is set to open in Spring 2021.
"I've worked in 34 states, and we have never ever seen a city with the courage these people have right now. Your courage is unbelievable. You are seeing something you will see nowhere else in this country," Flotz told city council. "We'd like to do our part now."
Building Use: Residential, Retail, Restaurants, Brewery, Hotel
City Investment: Parking Deck Construction - $13.4 million
LMG Investment in Project: $61 Million
Projected Annual Property Taxes To Be Paid To City/County: $824,000