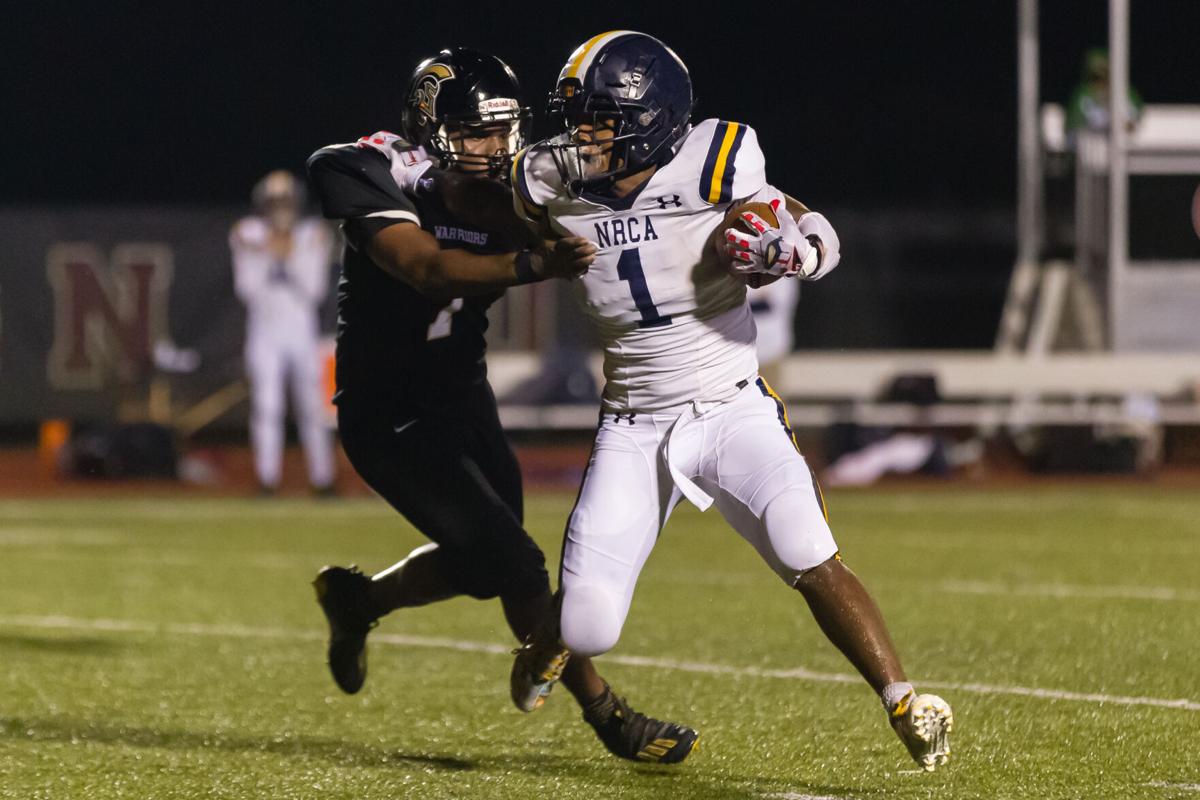 CONCORD – He came to Concord Academy to play basketball.
Waylan Petiote never made any confusion about that.
For most of his life, he'd been a quick, springy-legged basketball player with dreams of playing the sport in front of big crowds at the college level.
So barely a few months ago, Petiote decided he'd commute from his Matthews home and try to find a spot on the highly regarded Concord Academy basketball team, which won the N.C. Independent Schools Athletic Association 3A championship last season.
But shortly after he enrolled, a funny thing happened.
And while Petiote still harbors hoop dreams, his world of possibilities has expanded beyond his imagination.
Not long after he arrived at his new school, Petiote heard an announcement for students interested in playing football for the Cabarrus Warriors, a squad featuring players from Cannon School and Concord Academy (formerly First Assembly Christian School and more recently cfa Academy).
Football hadn't really crossed his mind. He hadn't played – really played – since he was in eighth grade. He'd been, to his heart's discontent, an offensive linemen at Crestdale Middle School that year because he was one of the bigger kids on the team. And for a stint as a freshman at Butler High School, according to Petiote, he'd played some linebacker and wide receiver. But he said he left Butler the next year and instead was home-schooled as a sophomore and junior. He played basketball for nearby Grace Academy in 10th grade, and played no sports in the 11th.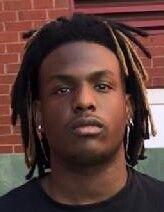 Mentally, he'd moved on from football.
But after hearing the announcement about the Cabarrus Warriors a few months ago, Petiote started thinking he might be able to use football in a different way in his senior year.
"I'm sort of a big dude," Petitote said, "and I thought, 'Man, for basketball, I want to be in great shape because I know (the Eagles) play great competition. I want to be in amazing shape so I can show that I can really play basketball.'"
Before long, Petiote was on a Concord Academy activity bus headed to Cannon School, a short trip for the players interested in playing for the Warriors. He walked confidently into Cabarrus head coach Jamie Bolton's office and asked if he could join the team.
Bolton took one look at Petiote's powerfully built 6-foot, 185-pound frame, and the teenager's football journey was about to restart.
Only this one could have a much happier ending.
At first, Bolton didn't know what he would do with Petiote. What would be the best fit for him on this young club?
"We put him at receiver, we put him at running back, we put him at defensive line," Bolton said of the early practices with Petiote. "He can catch, he can run; he does a lot of really good things."
Then, the Eureka moment came.
"We saw (Petiote) come off the edge for the first time with the scout team defense, and neither one of our tackles could get him blocked," Bolton said. "We were like, 'Well, it looks like we found our defensive end!'
"That's something our team desperately needed. It kind of solidified our front seven. That's kind of our philosophy: getting those front seven (defenders) as athletic and as fast as we can so we can stop the run and put pressure on the quarterback. (Petiote) fits that mold very well for us. We were very fortunate to get him."
Once he'd found a full-time position, Petiote made steady progress in Warriors practices. And as the first game of the 2020 season neared, his confidence grew. He wasn't just thinking of football as a training sport for basketball; he was thinking like a football player, moving line one.
When opening night arrived, he wasn't nervous, but he was antsy. He wanted to see how what he was doing in practice would equate to live, varsity action once North Raleigh Christian Academy came to town on Sept. 25.
"The day before the game, I was just wondering how I would do," Petiote said. "I knew I was getting better in practice, but I was wondering, 'Is the person in front of me like someone I'm going to be playing Friday? Is the person going to be way bigger?'
"I was trying to figure out how I could adjust. But then I just decided that I was going to go out there and just be myself."
It made for one impressive debut.
Petiote harassed the opposing quarterback all night long. He motored around the edge to get into the backfield and make tackles. He flew in to distort pass attempts. He even tackled a Knight in the end zone in the third quarter to give the Warriors the lead for good in a 21-14 victory.
Things had gone even better than they had in practice, and Petiote's spirit was renewed.
"It felt great," Petiote said. "I didn't feel like it was an amazing game for myself, personally, because I expected more of myself. But it felt good because I didn't know if I could play football, honestly.
"It gave me a new type of energy, that type of energy where I get really hyped. I was able to have that and then help out with (my teammates)."
Petiote's Matthews home is pretty much filled with great athletes.
His mother, Rollande, had a standout college track and field career at the University of New Haven. His younger brother, Rohahn, is a 6-3 basketball player at Westminster Catawba Christian School in Rock Hill, South Carolina, and dunks pretty much any way he wants, seemingly looking directly into the rim as he throws the ball down.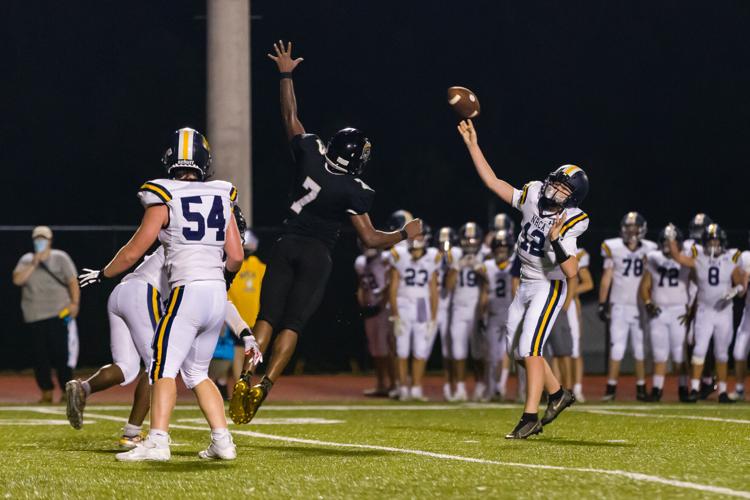 Waylan puts the family wares on display whenever he competes, whether it's on the basketball court, or now, the football field.
"He's probably the most athletic overall guy on our team," Bolton said. "He can run, he can jump. (At defensive end), he does a great job of leaning. One of the hardest things to teach athletes is to lean coming around the edges; a lot of guys want to stand up and stay stiff. But he can really lean into an offensive tackle and use his pad level and still not lose any speed. That's what makes him an extremely good athlete and just a guy that's really hard to block, especially in a passing situation."
What does the still-developing Petiote need in order to become an even better football player? The list is pretty short, it seems.
"Just football I.Q. at this point," Bolton said. "What we're asking him to do at this point is not really difficult, and as he plays and gets more experience, he's going to start being more intuitive.
"But right now, he just does such a good job. He's very instinctual. He can just track the ball. Even if he does make a mistake, he makes up for it because of his athleticism. But once he dials in and has a good understanding of the offensive scheme each week, that's going to be the key for him. He's going to be tough for people to handle."
For now, Petiote is working to be great at two sports. On Wednesdays, Concord Academy dismisses its students after a half-day of classes, and Petiote goes to open-gym sessions with the basketball team. Right after that, he bolts over to Cabarrus Warriors practice to try and become the best defensive end he can be.
So far, Petiote said, striking the balance hasn't been difficult, and he enjoys his time on the gridiron just as much he loves being on the hardwood. The football field has become a haven he said he needed badly.
"It's fun, but it's really different," Petiote explained. "(Football is) a new atmosphere. In previous times I've played a sport, I haven't really had a time where I've gotten to enjoy the sport. But now, I realize maybe I really can enjoy the sport. It's like backyard football, where you really can have fun. This is my first experience with that."
Yes, Petiote said, he is hoping to one day playing basketball for Concord Academy. But for right now, he knows he has football work to do, and he's giving it his best shot. Who knows where it could take him?
He'll get the chance to take another giant step forward on Monday night, when the Warriors play host to a team from his hometown, Matthews Covenant Day. Kickoff is set for 6 p.m. at Cannon School's Randy Marion Field.
"I'm really looking forward to rest of the season," Petiote beamed. "My position coach, (former Wingate player Cam) Mattison, said that based on the way I played our first game that I might have an opportunity to play college football. And that was something I had never thought about, because I had just been strictly about basketball. That's what I had been putting all my work into.
"Football just came out of nowhere, but it might have opened up a new door, and that's an exciting possibility."
Be the first to know
Get local news delivered to your inbox!