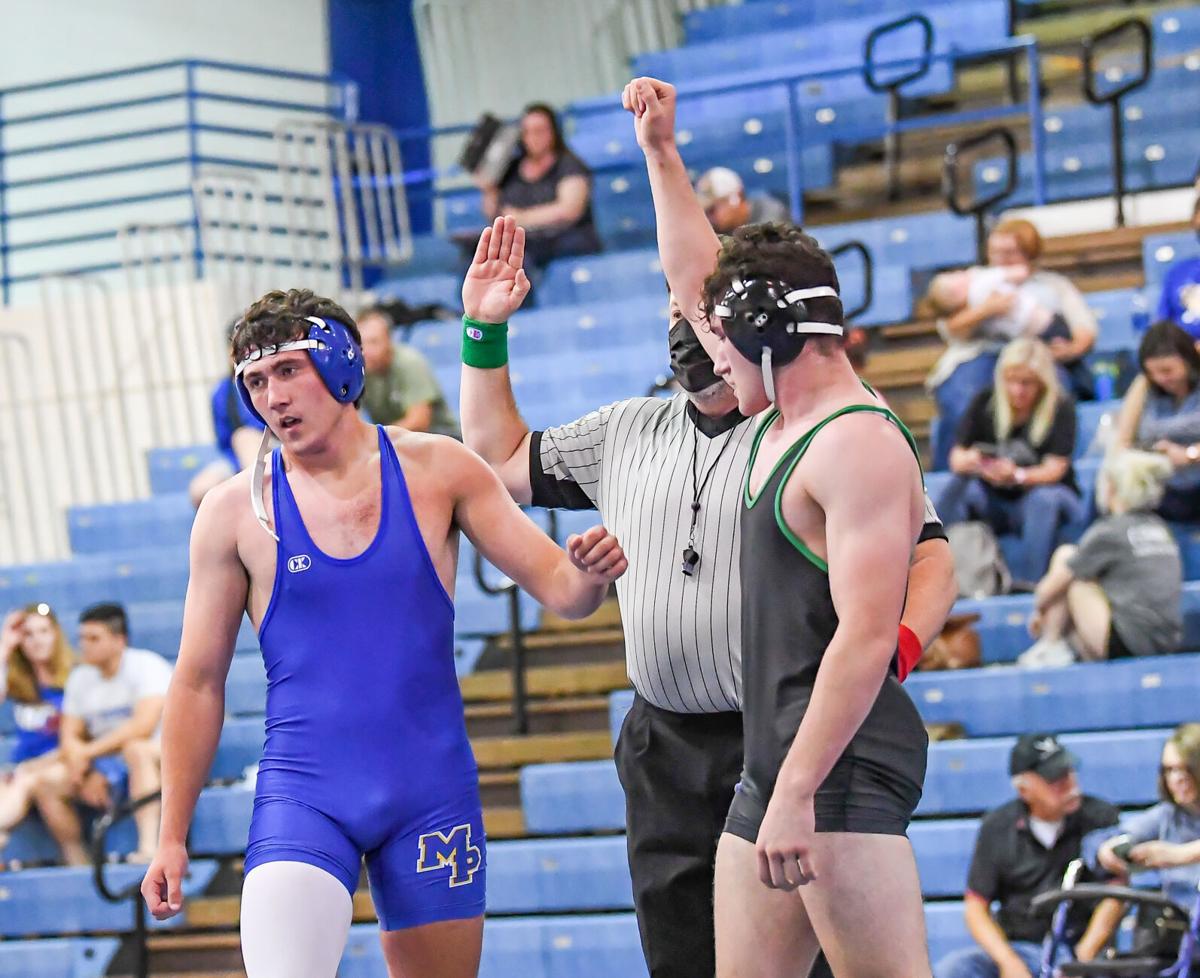 CONCORD – That we're talking in July about its recent conclusion just might be the best indication of how unique the 2020-21 high school wrestling season was. State championship tournaments being held in late June after the start of the season was delayed from November to April because of the impact of the global pandemic made for a most memorable year.
But this season may have also distinguished itself from all others in the way of celebration.
In terms of state championships earned by teams and individuals, an argument can be made that this was the greatest high school wrestling season in Cabarrus County history.
Research suggests that the five state titles won by individuals and the points championships won by two different teams at the state individual tournaments held on June 26 are both single-season records by public schools in Cabarrus County. And that doesn't even include the two state titles won by Cannon School individuals in the private-school sector.
"It's awesome. It's great. It speaks to our community and to our county and the youth development of the kids," said coach Jarin Spradley, whose Mount Pleasant Tigers won the points championship at the 2A state tournament held at Trinity Wheatmore High School.
"In wrestling now, the sport's just become more of a year-round sport. Unless they start young, it's truly hard (to be successful). You have your kids who are just exceptional and excel extremely fast. But it just speaks volumes to all the youth wrestling coaches around here and the clubs that have bought into the sport and tried to make it better."
Those winning individual state titles for Mount Pleasant were senior Levi Kluttz (195 pounds) and junior Chase Clayton (220), who won his second consecutive crown. Winning 3A championships were A.L. Brown junior Gavin Hartsell (182) and Central Cabarrus brothers Charleston Baglio (freshman, 106) and Jackson Baglio (sophomore, 113), whose Vikings team won the team title.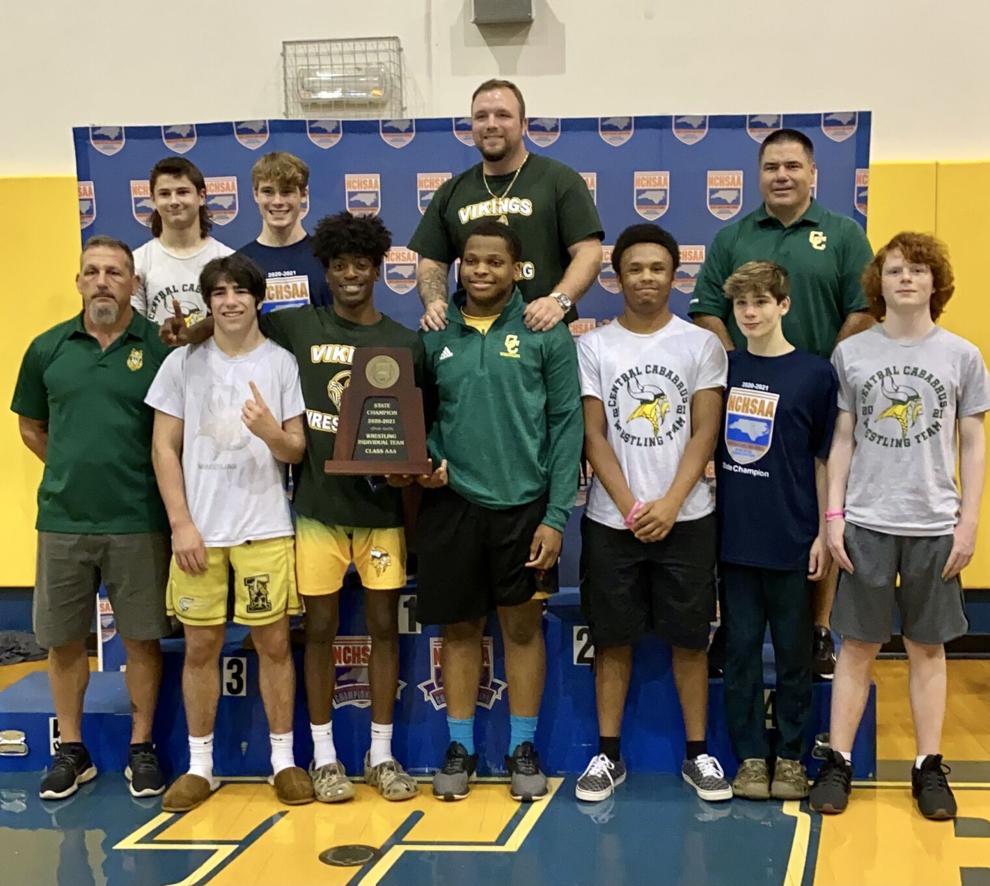 The North Carolina Independent Schools Athletic Association state tournament was held at Charlotte Providence Day School on the more traditional date of Feb. 27. Winning titles for Cannon School were juniors Riley Vanos (185) and Caleb Campos (195). 
As far as the public schools, this is the first time five Cabarrus County wrestlers have won state titles in the same season, surpassing the mark of four reached in 2008 and 2013. In three other years – 1999, 2000, and 2011 – three local competitors earned crowns.
On a side note, since 1989, when North Carolina began breaking its state wrestling competition into school enrollment classifications (that's 33 years), there have been only four seasons that a Cabarrus wrestler did NOT win a state title.
If you're wondering, in that same time frame Mount Pleasant has produced the most state champions (15, including Spradley in 2008). Northwest Cabarrus is second with 11, followed by Central Cabarrus (10), Jay M. Robinson (nine), Hickory Ridge (seven), A.L. Brown (seven), and Concord (one).
This season's two team champions equaled the total number Cabarrus County has produced altogether. Mount Pleasant won in 2007, when Spradley was a junior competitor, and Jay M. Robinson swept 3A team titles in 2010 by winning a points championship and the state dual-team tournament, which is the only time a Cabarrus program won such a championship.
The start and end dates were not the only differences between this season and every other one before it. COVID precautions allowed teams to schedule only dual-team or tri-team meets, extremely limiting the total number of matches. Weekend individual tournaments, at which wrestlers typically compile dozens of extra matches, were prohibited.
The state dual-team tournaments were canceled this season, meaning that the only post-season competitions were the individual regional and state tournaments. The formats of each were altered so that early rounds were single-elimination, which limited opportunities for a wrestler to fight off an early loss and still medal for the tournament.
The format wasn't the only difference about the state tournament. The venue was vastly different as well. Instead of all four classifications being held at the Greensboro Coliseum across a weekend, each classification was held at a different high school on a single day.
"It had its pros and cons," said Spradley. "You couldn't see the other classifications wrestle, and you didn't get the big-arena, big-crowd experience. With that being said, it did feel much more like a high school competition because the fans were so much closer."
So, the question that will loom over the 2021 season is whether the impact the pandemic had on scheduling, limiting the number of matches, and an adjusted post-season tournament format made winning a state championship easier or more difficult.
"I would honestly probably say more difficult," said Spradely, who served as the Tigers' head coach for the first time after assisting Greg Hinson for seven years once his longtime mentor retired. "Based on the fact that we didn't get to do the off-season stuff that we could do sometimes.
"With the state tournament being after graduation, having seniors and keeping the kids locked in even though they weren't going to school (was a challenge) … A lot of times kids can kind of disappear after graduation; they go on summer vacations and have things planned. I think it says a lot for our community of wrestlers … of how dedicated they've become to helping the sport grow."