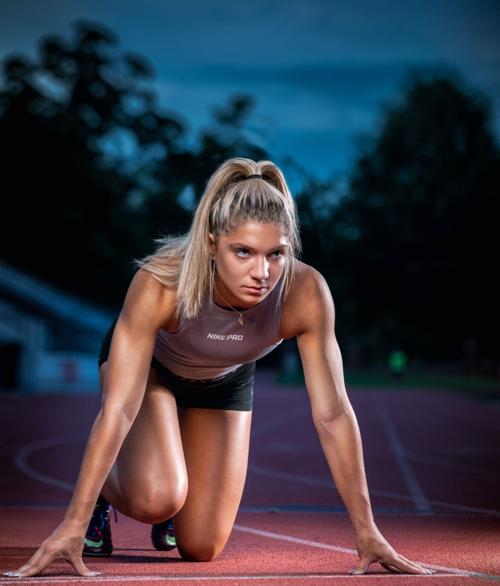 CONCORD – Attached to the wall in Sofia Rooney's bedroom is a vision board.
As a talented track and field athlete at Cannon School, along with being a strong student, Rooney has some lofty goals that grace her vision board. And each night, before she ends her day, she looks at the board for motivation to train and study harder to one day fulfill her dreams.
Last week, the Cannon senior was able to see one of her greatest visions through: She officially became a member of the University of Notre Dame's track and field team.
On Sept. 11, Rooney committed to compete at the famous South Bend, Indiana, school. She did it without having had a junior season of competition, which was stolen away because of the coronavirus, and she did it without having attended a traditional high school track and field powerhouse.
Instead, it was hard work, dedication and a dream that began long ago, as she learned her family's long history of wanting to be a part of Notre Dame.
"It's been the dream for the past two years or so," said Rooney. "And my dad (Martin Michael Rooney III) has always told me, 'You can't have a dream come true if you don't have a dream.'
"With COVID, it's been pretty difficult to try to remain consistent (with training). Sometimes it would put a barrier on me, but I kept working hard. There have been a lot of challenges with communication and not having (track) meets, but we've just tried to push through it, and it finally paid off for that dream school."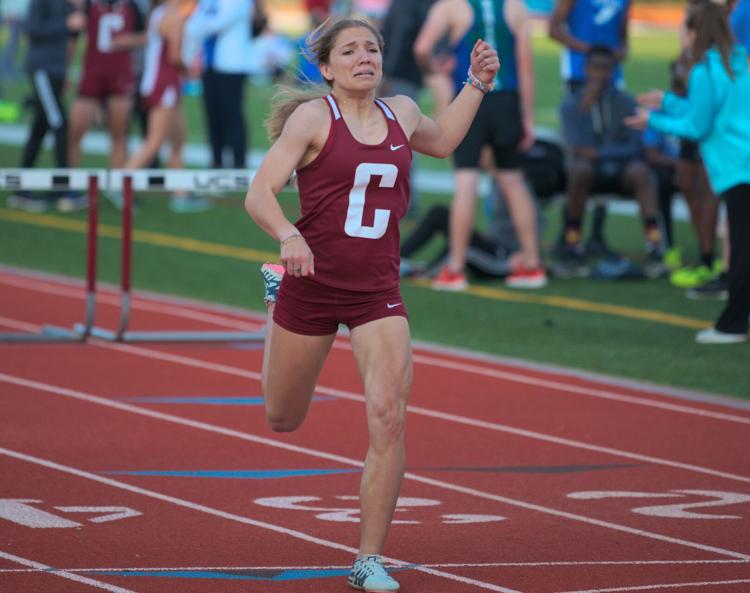 The University of Notre Dame gained popularity and adoration in 1993 when the movie "Rudy" – the story of an unheralded athlete who overcame odds by walking on to the school's nationally ranked football team -- was released.
But Rooney is no "Rudy." Starring in the hurdles events and the heptathlon, she's been very successful for a long time, and she just might be Cannon's most accomplished girls track and field athlete ever.
Rooney's name is on 12 Cannon school records, including the Cougars' best marks in the 100-meter dash (12.72 seconds), 100 hurdles (15.79) and 300 hurdles (44.50). She also has been a part of the top relay teams in school history, such as the 4x100, 4x200, 4x400. She has been chosen for the N.C. Independent Schools Athletic Association All-State team seven times.
Just to name a few of her accomplishments.
That doesn't count her away-from-school accolades, like making the AAU and USATF Junior Olympics on multiple occasions and competing in the New Balance National Championships last summer.
Rooney has been so good that, despite attending a small private-school program that puts its greatest focus on academics, she drew recruiting interest from college programs such as the University of North Carolina at Chapel Hill and Wake Forest. But Notre Dame had her heart all along.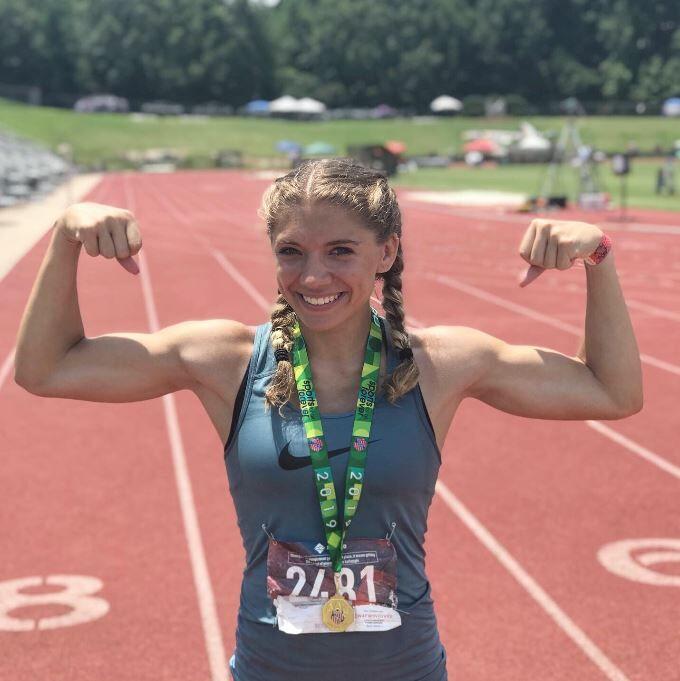 Rooney first became aware of Notre Dame when she was a little girl growing up in her native New Jersey.
She comes from an Irish Catholic family that would sometimes gather round the TV on Saturdays and watch its beloved Fighting Irish play football, much like the clan in the "Rudy" movie.
During those days, Rooney began to take up track and field, running for a small track club called the Striders in Fair Lawn, New Jersey. That's when she first began to hear the stories about how her great-grandfather, Martin Michael Rooney I, harbored dreams of running track at Notre Dame. Later, she also learned that her father, Martin Michael III, also wanted to compete for the Irish track program.
Her father was accepted as a student at Notre Dame, but he eventually chose to go to a different college, throwing the javelin at Furman University in South Carolina. But as Sofia began to have success in track and field as she got older, she developed her own dream of running for Notre Dame.
Rooney and her family moved to North Carolina when she was 10 years old, but she kept her affinity for track, even after giving other sports like gymnastics and soccer a try.
As she got older and had more success traveling across the country competing, her track and field teams found their way onto her vision board, and so did Notre Dame. She checked it nightly to make sure she never lost her focus.
Rooney was overjoyed the first time she walked onto Notre Dame's sprawling campus, which was during an unofficial visit last November. She couldn't believe she was actually was on the hallowed grounds she'd heard so much about, and she felt a connection with Irish coaches and track team members while she was there.
Her dreams were getting detail, and it felt better than she'd even imagined.
"I knew ever since I was little that the dream always was to run in college," Rooney said. "But after I saw the university and set foot on campus, that's when it really hit me that the dream was to run at Notre Dame. All the signs were pointing there."
On Sept. 4, to Rooney's amazement, Notre Dame coaches called with an offer to compete on the team. She wanted to scream, "Yes!" on the spot, but she waited a week. And now, it's official: She's headed to South Bend.
Now, she's focused on her senior year with the Cougars.
"I think the goal this year is to just lower my times," she said. "A lot of people might say, 'Oh, I'm committed (to college). I'm just going to stay where I am, and I've got it.' But instead of just laying back, I really want to lean forward and just keep going. I want to lower my 300 (hurdles) times so that, hopefully, I can compete at New Balance again for the 400 hurdles.
"I want to get some good times with our relay teams. I know we have a lot of good freshmen and underclassmen who are going to make some good relay teams and hopefully get some state medals this year."
During her sophomore year, Rooney just missed out on a first-place finish at the NCISAA state meet, crossing the finish line in the 300 hurdles in 44.50 seconds -- just .01 behind winner Falon Spearman of Charlotte Providence Day.
When outdoor track season begins in her senior year, Rooney certainly wants to take the next step and grab gold. But for her, it's not just about the medals.
"Now, I really want to motivate people," Rooney said. "I love to make people better or inspire with track and field. At the end of the day, that's my ultimate goal, whether it's on a relay team or whatever. By doing that, I always make myself better."
Rooney said her parents, which include her mother, Amanda, never pressured her into the Notre Dame dream. Hers was the best kind of dream: the one that developed over time, one that was entirely her own, even if it does make her family extremely happy that she will soon be a Notre Dame Fighting Irish athlete.
"It doesn't even feel real yet," Rooney said. "I've been looking at the vision board every night for the past year. It's not a vision board anymore; it's the future. It's my life now. So it's kind of strange to look at that board and realize that it's all come true and those obstacles that I was able to turn into opportunity are finally paying off."
Be the first to know
Get local news delivered to your inbox!