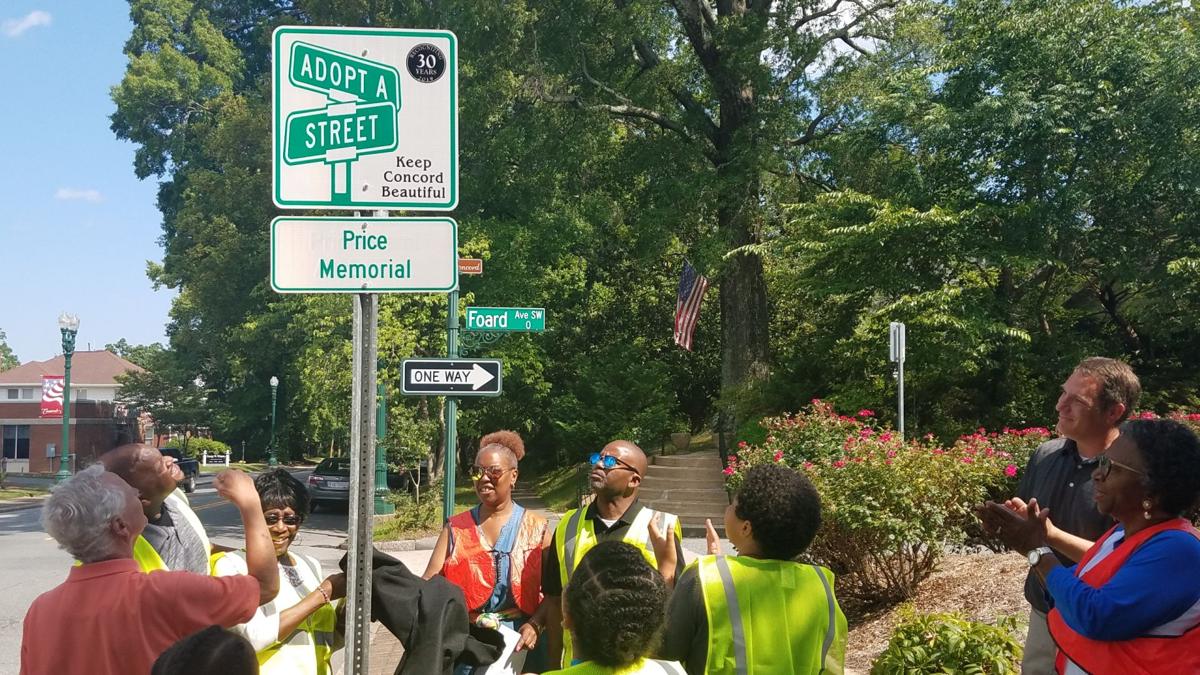 CONCORD -- For three decades, church members from Price Memorial AME Zion Church have spent at least four Saturdays a year walking a two-mile stretch that bears their name.
From Foard Avenue SW to the Food Lion on Union Street, just outside of downtown Concord, they make sure their adopted street is clean and trash free.
Church members and community leaders celebrated the 30-year milestone Thursday afternoon that started as a project for the youth of the church.
Former Concord Mayor Scott Padgett and Concord City Council member Ella Mae Small, and many from the church, were on hand for the unveiling of the updated street sign at the corner of Union Street and Foard Avenue that commemorates participating in the Adopt-A-Street program for 30 years.
"It means a lot because some of the benefits are, we get the name out of the church out and we have the youth doing some type of activity," said Michael Asbury, a member of Price Memorial and one of the organizers of the adoption of the street. "It helps us with exercise because we are walking two miles. It's just a partnership with the city and the church."
The Adopt-A-Highway program started in North Carolina in 1988, a year before Price Memorial AME Zion Church, located on Spring Street, signed up to adopt the street a block away from its building.
Price Memorial has the longest standing adopted streets in Cabarrus County and one of the longest in the state, according to transportation officials.
Church members don't plan on stopping anytime soon.
"It means they are not only working in the church but they are working out of it," said Rev. Robert P. Mathis Jr., the church's pastor. "Ever since I have been at Price, they have been about ministry in the community. I'm very proud to be the pastor at Price Memorial AME Zion Church because ministry is not just about what you do in the church, but also out of the church."
People or organizations wanting to adopt a street have to commit to three years. It doesn't cost anything, but it requires walking and picking up trash in their two-mile area at least four times per year.
"We provide gloves and we give bags, but most of the groups bring their own bags," said Devon Huston, the city of Concord deputy transportation director. "We don't charge anything, they just fill out an application and we approve it. We make sure they are being safe and being good stewards."
Church members as young as 10 years old and as old as 91 years old walk the street picking up trash.
Price Memorial AME Zion Church has been standing for 138 years, started by Warren C. Coleman, a businessman who was born into slavery.
"It means that we are dedicated to our promise," said 91-year-old church member Pearl Asbury. "We do have cooperative family members on the street that help us, and that's a good thing. There was another group that wanted it within those 30 years, but we said no. We kept it."
Pearl Asbury and 86-year-old Willie Jean Boger have walked every time in the 30 years the street has been adopted.
"It means that God has given us the strength to walk 30 years and do his work," Boger said. "This is something we didn't have to do but we wanted to do. I think God is real pleased with us."
Be the first to know
Get local news delivered to your inbox!