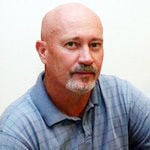 Attempting to evaluate the presidency of Donald Trump is akin to chasing a bouncing ping pong ball in a crowded furniture story. There's a lot to navigate. Lots of obstacles and lots of people with opinions.
First, the Trump personality must be accounted for, or no objective analysis is possible. His critics will have you believe that Donald Trump singlehandedly made society coarser and public discourse more about visceral reactions than intellectual rigor. It is, in fact, the one thing they'll give him credit for accomplishing.
Society has been headed in the wrong direction for decades, particularly the rhetoric that gives it texture and nuance. Fueled by social media and the proliferation of cable and online news outlets, the slow decay of our interactions has brought us to this point, where insults and heated rhetoric once considered rare have now become commonplace.
That is not Trump's fault. No president in modern history has been as vilified and berated as much as Trump over the last four years. Not Richard Nixon in his worst year or Lyndon Johnson when weighed down with the albatross of the Vietnam War. In that regard, Trump is the creation of his opponents.
With his endless tweets and confrontational manner, Trump has brought a persona to the presidency unlike any in the nation's history. Imagine, however, reaching the highest office in the land and carrying the weight of relentless attacks by the left-wing media and Democrat politicians. Only a warrior like Trump could endure the onslaught and still accomplish all he has accomplished. A soft-around-the-edges politician such as Mitt Romney couldn't do it. A forever-youthful Marco Rubio couldn't do it. A Ted Cruz could likely survive, but only through the sheer force of his intellect, something that would set him apart from the opposition.
Trump, meanwhile, has been nothing if not a metaphorical middle finger to the Chuck Todds and Whoopi Goldbergs amongst us, people armed with huge megaphones and shallow minds. He stood and fought against the radical tide as only he could.
That is something conservatives should celebrate, even as conservatism has undergone a rebranding under Trump. Here again, however, the conservative movement has become a reaction to the radicalism of the far left. In politics and in life, you either adapt or become irrelevant.
That takes us to what Trump has accomplished, and nowhere is that more pronounced than in the economy. His pre-pandemic numbers were especially strong, indicating a historically low rate of unemployment.
As previously pointed out in this space, the median household income last year grew 6.8 percent and was the highest annual increase on record, according to the Wall Street Journal. The same article pointed out that the poverty rate last year declined to its lowest level in 60 years.
Those three statistics—low unemployment, increased household income, reduced poverty—may represent the most meaningful numbers for low-to- middle class Americans.
Trump's success with lowering the tax rate, including bringing corporate taxes down to 21 percent, and his willingness to remove regulations from the backs of businesses large and small, helped overcome what had been a slow-growth, over-taxed and over-regulated economic monstrosity of Barack Obama's presidency. As has been pointed out numerous times but is still relevant, the Obama years produced the slowest economic recovery since the Great Depression.
Even in the midst of a surge in Coronavirus cases, there are signs that the economy is slowly on the rebound, particularly in job growth, which has been steadily on the rise since plunging in February. The months of September and October each produced an increase of over 600,000 jobs, according to the Labor Department.
With a Joe Biden presidency looming large over the economy next year, don't expect the economic gains to be sustainable.
Consider this from a November article ("Bidenomics Failed the First Time") by Phill Gramm and Mike Solon in the Journal: "Mr. Biden plans to raise taxes by three times as much as President Obama did, increase spending by 2.7 times as much, and regulate the economy at levels never before seen in America."
And this: "The Obama-Biden administration blamed 'secular stagnation,' but when President Trump changed policies the clouds of stagnation lifted."
The article is worth reading as it compares Trump's economic successes to the failures of Obama.
When Trump's foreign policy is analyzed, there is one key component that jumps out: He exposed the abuses of China that had too long been ignored. That may or may not prove long lasting. Biden and his son Hunter have faced allegations of close financial ties with Chinese businesses, which is to say the Chinese government. Biden, in fact, is on record downplaying the China threat. Stay tuned.
Trump also brokered a peace deal between Israel, Sudan, Bahrain and The United Arab Emirates, the first such deal between Israel and Arab nations in over two decades.
One of Trump's themes over the last four years is that the United States under his watch would no longer be the benefactor for the rest of the world. No more one-sided trades deals, no more unnecessary wars, no more deals like the Paris climate agreement, with the U.S. contributing billions toward minimal gain.
Trump also exposed a far-left element in this country that likely had been simmering for years. His support of traditional American values—opportunity, hard work, sacrifice, freedom from the heavy hand of government, and individual accountability—brought radicals out of the woodwork, scurrying like rats exposed to daylight.
For months now we've witnessed their handiwork in major cities, in Portland, Seattle, Philadelphia and others. Fascists posing as anti-fascists, and other groups with Marxist ideology at their core, have given law-abiding citizens a glimpse of what true anti-American radicalism looks like. All the while, Democrat politicians, professional athletes, and mainstream journalists have looked the other way, refusing to condemn those who seek to destroy the fabric of this country—and often encouraging their extreme behaviors.
Will Trump's impact endure? Exposing the true economic and political climate with China at least brought much-needed facts into the public domain, offering perspective on a very real threat. Biden, of course, will determine our stance toward China, and that may be a perilous position for the U.S., particularly if the Biden-China connections are true.
For now, Trump's most impactful accomplishments long term are the three conservatives he appointed to the Supreme Court, in addition to the federal judges he has appointed.
How will the Trump administration be viewed by history? Much depends on the outcome of the Senate contests in Georgia, slated for January. The country needs a Republican controlled Senate to keep a Biden-Harris administration in check, to keep the Supreme Court at nine members, to prevent D.C. statehood, to prevent any number of harmful changes to our system of government.
Joe Biden, in fact, needs a Republican Senate to keep the radicals at bay. As this column has pointed out previously, radicals tend to eat their own, eventually.
Catch the latest in Opinion
Get opinion pieces, letters and editorials sent directly to your inbox weekly!