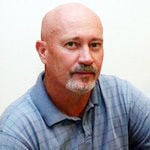 Longevity in the public eye does not guarantee a person's stellar reputation. Too often, the opposite is true for athletes, entertainers and politicians — people who spend years in the limelight only to have their flaws and weaknesses revealed.
That makes the decades-long celebrity status of Herschel Walker even more remarkable. His reputation has remained stellar, his integrity intact, his image largely untarnished. This is not a man marked by scandal or upheaval, or any of the other maladies that afflict many within the aforementioned groups.
Walker won the Heisman Trophy as a running back at the University of Georgia in 1982. He left Georgia as a junior after that season to become a member of the New Jersey Generals of the upstart USFL. He eventually landed with the NFL's Dallas Cowboys, but his time there is recalled mainly for a mammoth trade that new-coach Jimmy Johnson brokered with the Minnesota Vikings, with Walker as the focal point.
During his time with the Generals, however, Walker became acquainted with Donald Trump, who became owner of the Generals while Walker was with the team from 1982-85. Yes, that's the same Donald Trump who is now our president.
That brings us to Walker's appearance last Monday on the opening night of the Republican National Convention. His speech, which lasted 3 minutes, was memorable for its clarity and for its strength. The fact that Walker is a Black man is relevant only because that frames the narrative for his pre-recorded appearance.
It is worth noting that Republicans are obviously attempting to dispel the myth that their party is populated by racists out to prevent non-whites from prospering. Other Black speakers at the RNC helped shove that bit of foolishness into the garbage pile where it belongs, particularly appearances by Sen. Tim Scott, a South Carolina Republican, and Daniel Cameron, Kentucky attorney general.
What set Walker's speech apart from others, however, was the context of his friendship with President Trump. Walker was sincere and passionate as he detailed that friendship.
"I've known Donald Trump for 37 years," Walker said, "and I don't mean I just casually ran into him from time to time. I'm talking about a deep, personal friendship."
Walker pointed to something that appears to be a genuine trait of President Trump's. As owner of the Generals, according to Walker, Trump spent time getting to know the players and coaches on a personal level. Faking the sincerity required to learn about others on a personal level would be difficult, to say the least, especially when viewed through the lens of a 37-year friendship.
"I watched him treat janitors, security guards and waiters the same way he would treat a VIP," said Walker. "He made them feel special because he knew they were. He understands that they are the people who make this country run."
That's the side of Trump that comes through whether he's pardoning a convicted bank robber, as he did during the RNC, or whether he's conducting a naturalization ceremony, something he also did for the cameras of the convention.
Minus his Twitter account and free from the chronic negativity of his opponents, Trump is at his best when he is interacting with others on a personal level.
"He told me, 'Herschel, make an effort to get to know people. Remember their names.' That stuck with me," Walker said.
"It hurts my soul to hear the terrible names people call Donald," Walker continued. "The worst one is 'racist.' I take that as a personal insult that people would think I've had a 37-year friendship with a racist. People who (say) that don't know what they're talking about."
None of this will matter to those with deep-seated dislike of President Trump. That message will certainly fall into the abyss of dishonesty, ignorance, bias, and the total lack of self-awareness that afflicts many people — too many — in politics, and even more in the media.
Walker's message, nonetheless, is one that needs to be heard, right along with the strong economic numbers produced by the Trump administration before the pandemic. Those are numbers, by the way, that Trump and his advisers will likely produce again if he is re-elected.
The Republican National Convention was marked by other memorable speeches, by capable Republican leaders representing several ethnic groups.
Democrats continually preach a divisive brand of identity politics, an ideology that serves to create more division than unity. For proof, notice the rioting and looting occurring across the country, creating scenes that are reliably ignored by Democrats at the national level.
Juxtaposed against the division created by the left, it is increasingly apparent that patriotism, unity and opportunity form the foundation of right-wing ideology. Those are the traits that this country was built upon, and, yes, built by such men as Donald Trump and Herschel Walker — people who appreciate the value of individuals and respect the sanctity of freedom for all.
Democrats and their acolytes in the media have termed the RNC as "dark." They are obviously confused. The true darkness is contained within their own hatred of President Trump and the traditional values that have long defined this country.
Catch the latest in Opinion
Get opinion pieces, letters and editorials sent directly to your inbox weekly!