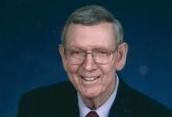 Considering the spiritual demise of the United States, I thought it would be appropriate to reprint the article I wrote in 2004 again.
The Independent Tribune published an article called "Assessing the Odds Whether God Exists." I knew immediately I had to comment on such a bizarre notion that man could compute the odds of whether God exists. God is creator of even the minuscule minds of those who would dare to participate in such a study. To question God's existence in a mathematical exercise would classify the participants in the same category as King David wrote, "The fool has said in his heart, 'There is no God.'" (Ps. 14:1a, NKJV).
The scientist's result was there is a 67% chance or (2-1) probability of God's existence. Aren't you relieved that this scientist did not completely eliminate the possibility of God? It would be a shame for mere man to completely discount the existence of God, whom Christians know as "The Almighty." The God who not only created all things but also sustains us through every day of this life and one day will take us home to live with him forever and ever.
Those of us who have experienced God's grace have no doubt about his existence. To the contrary, there have been those throughout history who have doubted. For instance, Ted Turner has been quoted as saying, "Christianity is a religion for losers." He has gone out of his way to ridicule Christians. The previous governor of Minnesota, Jesse Ventura, was quoted as saying, "Religion is just for the weak-minded." My question is, who are the real losers and the weak-minded? I have a pretty good idea.
At the same time, if mathematical formulas had proven God's existence by 100%, we would be left in the predicament of acknowledging God by formula, not by faith. The Bible says: "So then faith comes by hearing, and hearing by the word of Christ." (Romans 10:17, NKJV) This is true no matter how man may predict God's existence; a real relationship comes from knowing Christ by faith. This faith is revealed through God's word.
I don't think God is pleased when man puts him into a formula rather than reaching out to him in faith. The Bible says, "But without faith, it is impossible to please him, for he who comes to God must believe that he is, and that he is a rewarder of those who diligently seek him." (Heb. 11:6, NKJV)
From Franklin Graham's book, "The Name," we find these quotes about the existence of God.
Author H.G. Wells said: "Christ is the most unique person in history. No man can write a history of the human race without giving first and foremost place to the penniless teacher of Nazareth."
Wolfgang Amadeus Mozart, one of the greatest composers and pianists in all of history, said: "It is a great consolation for me to remember that the Lord, to whom I had drawn near in humble, childlike faith, has suffered and died for me, and that he will look on me in love and compassion."
President Theodore Roosevelt said: "After a week on perplexing problems, it does so rest my soul to come into the house of the Lord and to sing and mean it, 'Holy, Holy, Holy, Lord God Almighty.' My great joy and glory that, in occupying an exalted position in the nation, I am enabled to preach the practical moralities of the Bible to my fellow countrymen and to hold up Christ as the hope and savior of the world."
These great men did not trust in some scientist for proof of God; they lived it day by day, and we need to do the same. By faith, and faith alone, we come to know Christ Jesus as the Lord our God.
Catch the latest in Opinion
Get opinion pieces, letters and editorials sent directly to your inbox weekly!