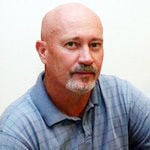 The first of three scheduled debates between presidential candidates was noteworthy for all the wrong reasons. What may have been a highly anticipated event quickly became something even candidates in a local county commissioners' race would have found embarrassing.
With the news that the president and first lady have tested positive for COVID-19, the remaining two debates could be in jeopardy. Nonetheless, the next one is set for Oct. 15, past any standard time frame for a quarantine.
We were aware of Donald Trump's impulses before Tuesday, and several times we saw him at his worst. In fact, he may have done little to gain support from undecided voters, assuming any remain with the election one month away.
Joe Biden's performance, meanwhile, was marked by a repulsive smirk, frequent laughs, name calling, and an unwillingness to give telling details about his policy plans should he win election on his third try for the presidency. His tactics were similar to those used against Paul Ryan in 2012, something referenced in this column a few weeks ago.
Much of the blame for this fiasco goes to debate moderator Chris Wallace, a journalist of supposed unimpeachable skills.
Chris the Magnificent — arbiter of truth, justice and high journalism — committed more errors than a drunken shortstop. This from a man with a Harvard degree and more than five decades of experience as a reporter and TV show host. As son of a legendary CBS newsman, the late Mike Wallace, few in the profession can match his pedigree.
Yet Wallace was confrontational with President Trump on multiple occasions, attempting to maintain the aura of a moderator in charge but arguing wildly and wobbling on shaky journalistic legs. We've seen past debates where a moderator's biases — recall Candy Crowley in 2012 — were laid bare for all to observe. But at no time can we recall a debate moderator jumping into the fray in the manner of Wallace the Magnificent on Tuesday.
So much for fair and balanced.
The debate should have hinged on several key points, including: the Supreme Court and Democrats' plans to alter that esteemed body, taxes and the Trump tax cuts, and violence in the streets of major cities in recent months.
What we witnessed was much less.
Had Wallace accomplished what a reasonable moderator would have done — allowing Trump to have the floor unimpeded — then the impact of Trump's flareups would have diminished. Instead, all Wallace managed to do was fan the proverbial flames of Trump's ire. At times, that appeared to be Wallace's mission.
His bias overshadowed any journalistic skills he was presumed to possess, and his performance exemplified why Trump so often gets defensive with the media.
Case in point: While Wallace pressed Trump to condemn white supremacists — and they should be condemned — no such pressure was applied on Biden regarding Antifa or the more radical elements of Black Lives Matter. Never mind the violence marking many parts of the country — violence by these same left-wing radicals — Wallace apparently deemed it unnecessary to press Biden on the topic. This despite Biden's insistence that Antifa is not an actual group of militants but an ideology, as if that excuses the mayhem wrought by those morons.
This, of course, is the same Biden who, for months, refused to condemn the rioters and looters pillaging major cities, until Trump's poll numbers began to trend upward.
There were many other missed opportunities by Chris the Magnificent, areas where he should have pressed Biden for aforementioned policy details.
Biden clearly dodged a Wallace question about the Supreme Court — essentially changing the subject and looking directly into the camera to appeal to voters — in a way that was difficult to watch as Wallace allowed another opportunity to pass. Opportunity, by the way, that should have been dictated by simple journalistic integrity. When you get an obvious dodge, press the one dodging.
Biden similarly dodged Wallace's question on taxes, but was not pressed by Wallace.
The Democrats' acolytes in the national media regularly pull such stunts, but the hope was that Wallace as moderator would not forsake journalistic credibility in favor of his own biases.
Biden was obviously well-coached, but his smirks, laughs and outright disrespect overshadowed his strong points. When a presidential candidate stands on stage and calls the president of the United States a liar and a clown while repeatedly telling him to shut up — pool-hall banter, at best — then that speaks to the character of the name-caller, regardless of Trump's personality.
This leads to the larger question: Do debates really matter? In the modern era, where multiple news and information outlets are available 24/7, there is little reason to believe that debates have a major impact. Given the nature of Trump versus Biden last week, the only likely result was to discourage potential voters already less than passionate about the process.
Trump on his worst day, which we may have witnessed in the debate, is a safer and better choice that Biden on his best day. Issues matter. Shouting matches like we witnessed last week are best left for TV talking heads and viewer ratings. Voters should decide on substance — not political theater.
Chris Wallace, of all people, should know that.
Catch the latest in Opinion
Get opinion pieces, letters and editorials sent directly to your inbox weekly!