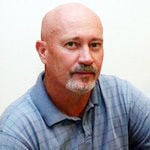 Just hours after the world learned of President Donald Trump's coronavirus illness, one of the hosts on NBC's "Today" show was aghast at something that demonstrates her propensity for knee-jerk commentary more than anything worthy of a national television show. Members of Trump's entourage, she pointed out — with video evidence — had dared to touch a handrail as they individually climbed stairs onto Air Force One.
The same commentator later in the week referred to Trump as "working hard to look strong" (whatever that means) simply because he climbed steps at the White House, and then stated that he was "tearing off his mask" when he merely removed it. Stupid, mindless banter posing as commentary is an ugly occurrence no matter the source.
These episodes made it clear that Trump's illness would provoke liberal commentators and politicians deeper into the realm of the absurd, as if they needed more provocation.
A few days later, the Sunday version of the same NBC morning show turned to the network's chief buffoon, Chuck Todd, for his analysis of the events from the previous week. Speaking of the uncertainty marking the election, Todd twice referred to the "unchartered" territory faced by observers trying to predict an outcome. This is a man with a top position at a leading network, yet he obviously doesn't know the difference between "unchartered" and the word he should have used — uncharted.
Such is the media world we find ourselves navigating, where the Latin phrase caveat emptor — let the buyer beware — has more relevance than ever before.
When news leaders regularly display their ignorance, let alone their biases, then there is little hope for objective, accurate journalism to ever make a comeback.
On another Sunday morning show, one dedicated to analyzing the media, a news clip was shown of an outdoor news conference held by Trump's team of doctors. Questions from reporters could be heard, although they were off camera. One questioner, in particular, used a bitter, condescending tone to question the lead doctor.
When the show returned to a group of panelists for commentary, Mollie Hemingway, a conservative columnist and senior editor for the Federalist, said the group was acting like "a pack of hyenas." It was an accurate analysis — harsh, but accurate. Hemingway was particularly critical of the double standard practiced by journalists, pointing out that Joe Biden's cognitive decline never received scrutiny from the press on the level of that related to Trump's health.
Leave it to none other than a Clinton flunky by the name of Philippe Reines to respond to Hemingway with — what else — bitter condescension.
"Mollie, one of them is in the hospital, and one isn't," Reines said with a snigger, scolding Hemingway in a way that only liberals can scold those who dare to disagree with them. He called it a "false equivalency" to compare Biden's mental decline to Trump's coronavirus.
Reines was actually correct — it was a false equivalency, but not in the way he meant. Trump will recover from coronavirus, and he looks well on the way to doing so, but Biden's cognitive decline will only worsen. This was clearly a false equivalency.
Then there's the Sunday morning television segment by Ted Koppel, who built a decades-long career on ABC using the springboard of a popular nightly show during the Iran hostage crisis in 1979. Turns out Koppel is now working for CBS (who knew?) and filed a segment last week on how people in the heartland (whatever that is) obtain their news and information.
Koppel was flabbergasted to learn that much of America gets its news from somewhere other than traditional news outlets, defined by Koppel as ABC News, NBC News, CBS News, New York Times and the Washington Post.
One of his sources was a New York Times columnist, Kevin Roose, who pens a technology column for the Times. Roose referenced Ben Shapiro, a popular and erudite commentator among conservatives, who received 51.4 million interactions on his Facebook account in a recent 30-day period. Roose pointed out that the total is more than five times as many received by the Times. "And it's more than CBS, CNN, NBC, ABC combined," he added.
Koppel said he was "speechless," and Roose countered that those statistics are partly to blame for so much "misinformation about things."
What the segment failed to acknowledge is that the mainstream media — those very news outlets Koppel referenced in his report — long ago lost credibility among consumers of news. How has that happened? Mostly to blame is the hyper-partisan views and, yes, misinformation, put forth by so-called traditional news outlets. Hyper-partisan, by the way, is a term used by Roose to describe news outlets other than those considered "traditional."
The New York Times is a market leader in terms of misinformation and the very hyper-partisan views Roose described. Recall the Russian collusion narrative the Times maintained for years, then read editorials in the Times on any given day.
Like Roose and the other examples above demonstrate, there is no shortage of irony whenever "traditional" news outlets try to place blame for their own shortcomings.
Catch the latest in Opinion
Get opinion pieces, letters and editorials sent directly to your inbox weekly!