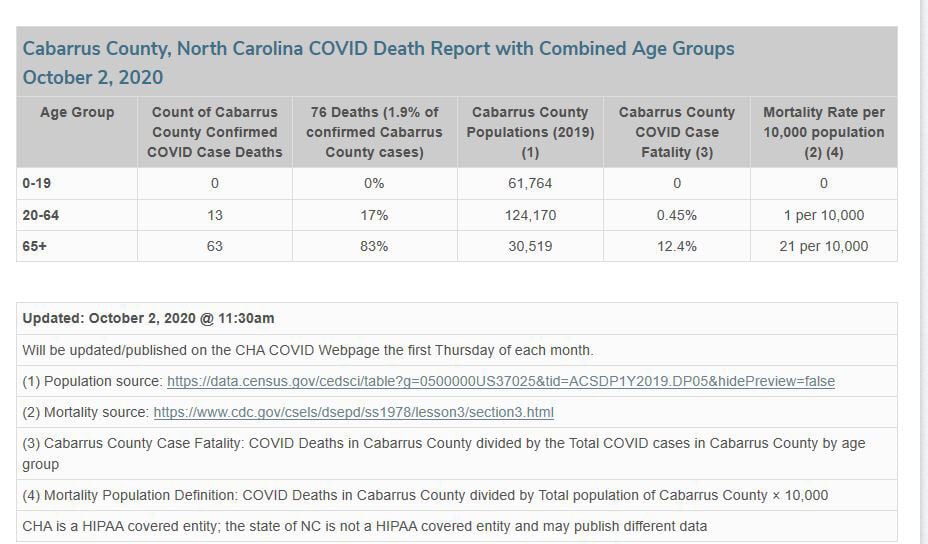 EDITOR'S NOTE: While the chances of dying with COVID-19 for most people are very low, it is each of our responsibilities help minimize the spread for those who might be at higher risk.
We have all heard national, state and county health officials state that their COVID-19 decisions regarding the economic shutdown, social distancing and face masks are guided by data and science. The majority of data cited publicly are at the aggregate level, making it difficult for individuals to get a pinpoint perspective on COVID-19's risk to you and your family.
In September, I asked Cabarrus Health Alliance Director Dr. Bonnie Coyle to drill down on the aggregate level data related to Cabarrus County COVID-19 fatalities. I asked her to break the data up into age ranges. Dr. Coyle had her epidemiologist complete this task.
• Out of all youth through age 19, there was a 0% case fatality rate, meaning that of everyone in this age range that was a known COVID-19 positive, 100% survived.
• Out of all adults ages 20 through 64, the case fatality rate was .45%, meaning that out of everyone in this age range that was a known COVID-19 positive, 99.55% survived.
These aren't estimates. This is actual data, on individuals in Cabarrus County who were positive with COVID-19 from March to Oct. 2, 2020.
In October, I asked Dr. Coyle to drill down further on the age range data by removing fatalities associated with long-term-care facilities from the age-range data. In short, 53 out of the 83 COVID-19 fatalities in Cabarrus County, as of Oct. 14, were associated with long-term and congregate-care facilities.
• Out of all adults ages 20 through 64, the case fatality rate decreased from .45% to .3%, meaning out of everyone in this age range that was a known COVID-19 positive, 99.7% survived.
The above rates are most likely even better. We know that COVID-19 cases can be asymptomatic or so minor that the individuals who are positive never get tested. These cases are not counted in the above case fatality rate. If they were included, the case fatality rates would be even lower.
Then there is the issue of comorbidity. Adults of any age with the following conditions are at increased risk of severe illness from COVID-19: cancer, chronic kidney disease, COPD, heat conditions, immunocompromised states, obesity, sickle-cell disease, smoking and Type 2 diabetes. I asked the CHA to remove fatalities involving comorbidities from the age-range data so I could see what the case fatality rate would be for a typical healthy individual without the above conditions; however, I was told this is not something they will do for the Cabarrus data at this time. The CHA did refer me to N.C. data showing that 69% of all statewide COVID-19 fatalities had at least one high-risk underlying health condition. If the same is true of the Cabarrus data, it could result in a case fatality rate as low as .1% for individuals ages 20-64 with no comorbidities; or 99.9% survivability. We cannot know for sure without the CHA running the Cabarrus data. Hopefully, they will revisit this decision.
The CDC reports that 8 out of 10 COVID-19 deaths reported in the U.S. have been in adults 65 years old and older. N.C. reports that 81% of COVID-19 deaths are among people 65 or older. Both figures are similar to the CDC's estimate that between 70-85% of seasonal flu-related deaths have occurred in people 65 years and older. The CDC states this is due to changes in immune defenses with increasing age.
This bears out with the Cabarrus COVID-19 data. For individuals that are ages 65-plus, the COVID-19 case fatality rates from March through Oct. 2 were as follows:
• 12.4% with long-term-care fatalities included.
• 6.2% with long-term-care fatalities removed.
H.P. Lovecraft wrote that "The oldest and strongest emotion of mankind is fear, and the oldest and strongest kind of fear is fear of the unknown." I hope the above data brings knowledge to Cabarrus residents who read this column so they may understand more completely the fatality risk that COVID-19 poses to them as an individual and to their family.
Doug Paris is the town manager for Midland.
Catch the latest in Opinion
Get opinion pieces, letters and editorials sent directly to your inbox weekly!