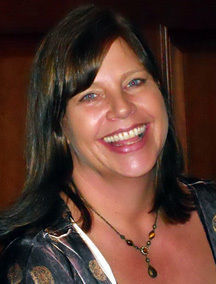 Ever since I was a small child, I had a round belly that stuck out more than my cousins and friends. Mama called it "baby fat" and said I would outgrow it eventually. Even with diet attempts and exercise, it remains a part of me and has taken on a life of its own. Turns out, it could be the subconscious trauma of being separated from my birth mother as an infant.
Two years ago, I was set to write a column about a local acupuncturist and interviewed her with sincere curiosity about her practice. But after two hours of talking to her, I left with tears streaming down my face. I had taken pages of notes and she sent me home with several pieces of paper that left me confused, concerned and even more curious. Turns out in this state, she has to call herself an acupuncturist because she's not allowed to promote "Chinese Medicine". But that is what she offered me. Ancient Chinese secrets.
I insisted that I didn't have any childhood trauma, that in fact the "adoption" was a blessing and gave me loving parents (I use the quotation marks because it wasn't your standard adoption, it was more of a fraudulent plan well played out for my benefit). This medical provider insisted that I was speaking and feeling from my conscious mind, but my child-self had different emotions. It breaks the laws of nature when a child and mother are separated, no matter the reason. I'm not an advocate for either side of the adoption argument, I'm merely repeating her words. Breaks the laws of nature. Silent trauma is the price you pay.
While you may not be adopted or suffer from a belly that's bigger than you want, your gut could still be the culprit that clings to your trauma and is holding you back from comprehensive and happy health. We now know that gut health is directly tied to overall wellness, and your immune system relies on it to be healthy and functioning as intended. Without a healthy digestive system, we are doomed for disease and health issues that show up throughout the body and in multiple organs.
There are more neurological connections from the gut to the brain than vice-versa, which explains why brain fog is also a side effect of our American diet. Gut tissues form a close relationship with cognitive function and can affect your daily mood. "Leaky gut" sounds gross, but it's not a medical diagnosis. Leaky gut is a condition many of us have, when there are gaps in the intestines that allow bacteria and other toxins to pass into the bloodstream. It keeps serotonin levels down and causes systemic inflammation, as well as skin problems and seasonal allergies, and much more.
So eat your vegetables and do some self-reflection on deep seated trauma that could be affecting your gut. I highly recommend the "Grief Recovery handbook" to identify your life's losses; it offers a specific plan to deal with loss in a methodical, healthy way that helps you recognize and embrace your trauma. It's part of you, like your belly. It doesn't serve you to stay under the proverbial rug, so get it out and rub it like a Buddha. Lovingly, and knowingly.