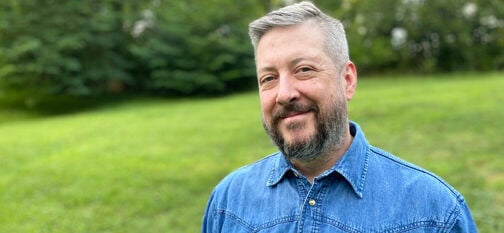 In Southern parlance, I've been snake bit, bus left and heart broke, but bee stung has been the worst of the bunch.
About a month ago, I was mowing grass on a hill above the house, walking behind a mower that has survived three seasons despite my inadvertent attempts to kill it by running over a hidden piece of firewood, a mysterious hunk of metal and a blade-tangling length of wire left behind by utility contractors.
In a patch of clover on this particular day, a bee stung me on the ankle. I can't begrudge the bee's reaction. If someone tried to run me over, I would likely retaliate.
I've been stung by bees before. Many, many times.
As a child of the '70s growing up in rural America, I participated in most, but maybe not all, of the typical kid activities of the time, such as wading creeks near straight piping, throwing rocks at the mailman and mooning girls at the rec pool (which is even more frowned upon than throwing rocks at the mailman).
With plenty of other outside activities, especially after being banned from the rec pool, kids of this era had a tendency to tangle with bees.
My early encounters hurt, left a welt for a while, but were usually eased quickly with home remedies passed down for generations by people who just wanted kids to shut up.
The latest sting hurt like a multisyllable curse word, and the swelling was more than I remembered from the last time I was stung.
A week later, a bee got me on the back of the upper arm while mowing. This time, it hurt like two multisyllable curse words strung together and my arm swelled from 4 inches above my elbow to 4 inches below.
Though I kind of liked having a giant Hulk arm when I looked in the mirror, it was a bit alarming.
Dr. Google told me this was a later-in-life allergic reaction to bee venom.
"If you've been stung by a bee and didn't have a reaction, there is still a chance of reacting in the future," Dr. David Golden, of Johns Hopkins University, said in an ABC News article. "You can get stung many times in your life and not react, and one day become allergic to it. If you've actually had an allergic reaction to a sting there's a very high chance of reacting again."
Of course, I got stung again. Twice. Once in the back of the right leg and once on the left hand, about an inch from my thumb. The hand began to swell like a balloon.
I sought immediate emergency medical attention from someone who has a degree in public administration. It was the best I could do at the time. I took the lead.
"We're going to have to try one of the old home remedies," I told my significant other. "Run down to the store, get a pack of Beechnut chewing tobacco, put a big chaw in your mouth and get it wet, then rub that tobacco on this sting."
"That's disgusting," she said.
"If you think that's disgusting, wait 'til you hear about the next home remedy I'm going to suggest," I said.
She wasn't going for it. Instead, she made a poultice out of ground aspirin and some kind of other witchery and I took enough antihistamine to knock out a horse.
I lived to tell the tale, since this is a column and not an obit. The hand was swollen and ached for three days. The leg wasn't that bad, except for itching.
Now, the yard needs mowing again, and I would be less than honest if I said I wasn't a bit jumpy about it. I can deal with being snake bit, bus left and heart broke, but bee stung beats them all.
Scott Hollifield is editor and general manager of The McDowell News in Marion and a humor columnist. Email him at rhollifield@mcdowellnews.com.