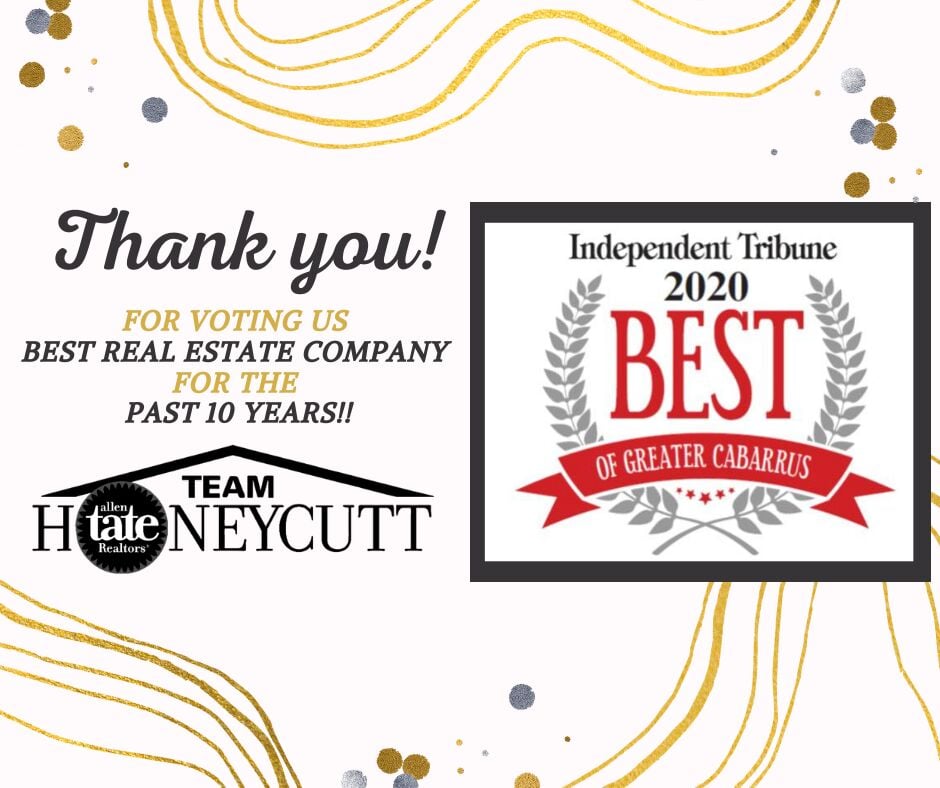 Primary Product of Service:
Real Estate team helping buyers and sellers achieve their real estate dreams!
Years in Business:
Celebrating 30 years this year
VIPs (Owners/Managers/etc.):
Diane and Betty Honeycutt/Owners-Team Leaders
Hours of Operation:
As full time, truly career professionals we are available during the hours that meet our client's lifestyle and schedules.
How did you choose this line of work?
Betty Honeycutt was married to Ed Honeycutt who was a builder and for years sold his homes when they lived in SC.
Upon moving back to NC, Betty received her NC Real Estate License and started in the business where she was joined in 1990 by her daughter Diane.
Nationally recognized but locally focused, Diane and Betty have built a team of Real Estate Professionals who care and value relationships.
We are now 13 Licensed Realtors but more importantly caring, professional and committed Realtors who make real estate their career and life passion! According to statistics, that makes them different from 85% of the Realtors in the country who are part-time Realtors. This commitment has resulted with Team Honeycutt working with over 5000 clients! The relationships these team members have created through the buying and selling process have created the opportunity for team members to work with 2 and 3 generations in a family thanks to the referrals of satisfied and happy clients. For Team Honeycutt, it is more than a business. The team takes very seriously the honor and privilege of working with clients in such an important moment in their lives. Treating clients like family is both a guiding principle and a way of life for the award-winning Team Honeycutt.
It's no surprise they are ranked consistently in the top 250 Teams in the USA of 2 million agents.
What is the best advice you've ever received and who gave it to you?
The best gift you can give is the gift of yourself! We heard this in a class recently and it just reinforces the core values of our team. Not only is helping our clients with all of their real estate needs, we also have a passion for giving back to the community.
Team Honeycutt's sphere of influence expands beyond the real estate world into the community at large. Their members are actively involved in and understand the value of their communities, its schools, and its different neighborhood dynamics. Their community involvement proves them to be not just real estate agents, but trusted advisors, neighbors, and friends.
The team's biggest accomplishment is their commitment to giving back to their community through more organizations than we can list. While the team has volunteered countless hands on volunteer hours since 2003, they have also contributed over $150,000 to non-profits in the community from the team Community Fund – which is created from a portion of every closing commission each agent has. In fact, Team Honeycutt was recognized by the Cabarrus Regional Chamber of Commerce as the inaugural Volunteer Business of the Year in 2018! This is a team who truly loves their community.
Truly this team's lives by the quote "Service is the rent we pay for living on this earth"!
Readers voted you one of the best, what does that mean to you?
Although we do the things we do because we believe they are the right things to do and they fall in line with our core values,
it is always nice to have people recognize your efforts. This community is so special to each of our members and we love giving back to hopefully make it even better. If we all do our part, this community and this world will continue to be a better place to live.
What is next for your industry?
One thing for sure is the real estate market and the industry as a whole is ever changing! This is another reason why our commitment to being full time, caring and passionate Realtors have brought the success it has. It is for sure that in Real Estate, experience counts. Our 30+ years as a team and over 250 years' experience as a team gives our clients a true advantage. Having our team as your Trusted Advisor will give you an edge when it comes to market knowledge, negotiations and service! It's for sure that whatever comes up next in the real estate market, Team Honeycutt will be on the forefront and ready to make sure our clients understand and are educated on where the market is going.
What has been the best day of your business life?
As cliché as it might sound, 100% of days in the real estate business are great day! What more could we ask than to help
our clients find the home of their dreams where they will create their memories that will last a lifetime! Even the few days that come with unexpected challenges and problems, helping your clients work through them and moving the dream forward makes it a great day in the end.
This content was produced by our advertising department in collaboration with the sponsor. The news and editorial departments had no role in its creation or display.