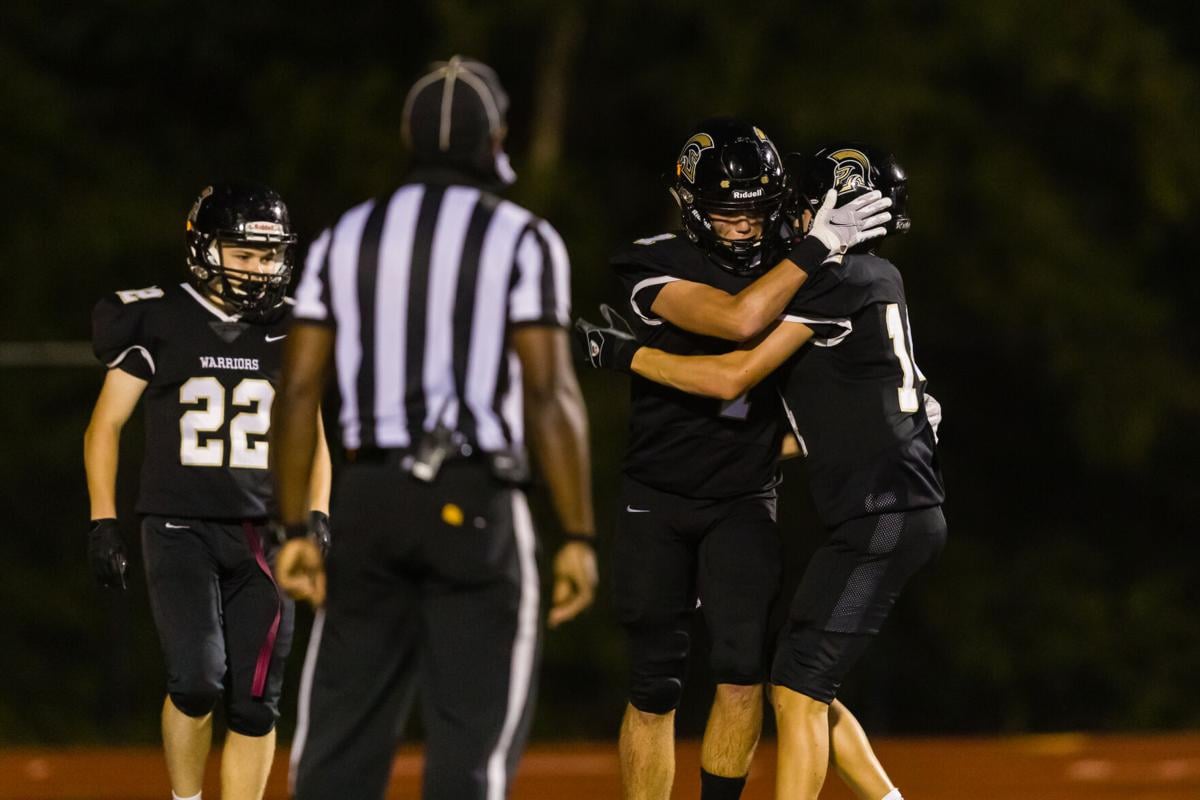 CONCORD – As the 2020 high school football season dawned for the Cabarrus Warriors, first-year coach Jamie Bolton had a good feeling about his inexperienced team.
But what the underclassmen-laden Warriors did this year surprised even the optimistic Bolton.
After a victory over High Point Christian last week, the Warriors clinched the N.C. Independent Schools Athletic Association Piedmont Conference championship.
This is no small feat for the program featuring players from Cannon School and Concord Academy. It's the first title for the Warriors, who are in their second year as a combined team, while neither Cannon nor Concord Academy has ever won a conference football crown.
Heading into tonight's game at Matthews Covenant Day, the Warriors have a 4-2 overall record, which includes a perfect 3-0 league mark.
It's a far cry from the Warriors' debut campaign last season, when they finished 2-4 overall and went winless in four conference games.
"It's been a wild run," said Bolton, a Gastonia native. "It's been fantastic."
Cabarrus set the tone this year when it opened with a come-from-behind victory over North Raleigh Christian (21-14) and then a rout of Covenant Day (31-3), both in home games at Randy Marion Field.
The Warriors sustained a mighty blow when they went down to Georgia's Rabun Gap Nacoochee, minus five starters, and came back with a 49-0 defeat. But they bounced back impressively against Indian Trail Metrolina Christian the following week, taking a 24-21 victory.
"I thought that was one of the biggest games of the year to see where we were because we're a young team," Bolton said. "I wanted to see how we matched up against some good competition. It took both sides of the ball and special teams to win that one, but our guys put the Rabun Gap game behind them and played well."
But there would be more challenges ahead.
A week after experiencing the high of downing Metrolina Christian, the Warriors suffered a tough 16-15 home defeat to Hickory Grove Christian. They had a pair of touchdowns called back in that game because of penalties.
But they responded positively to adversity again.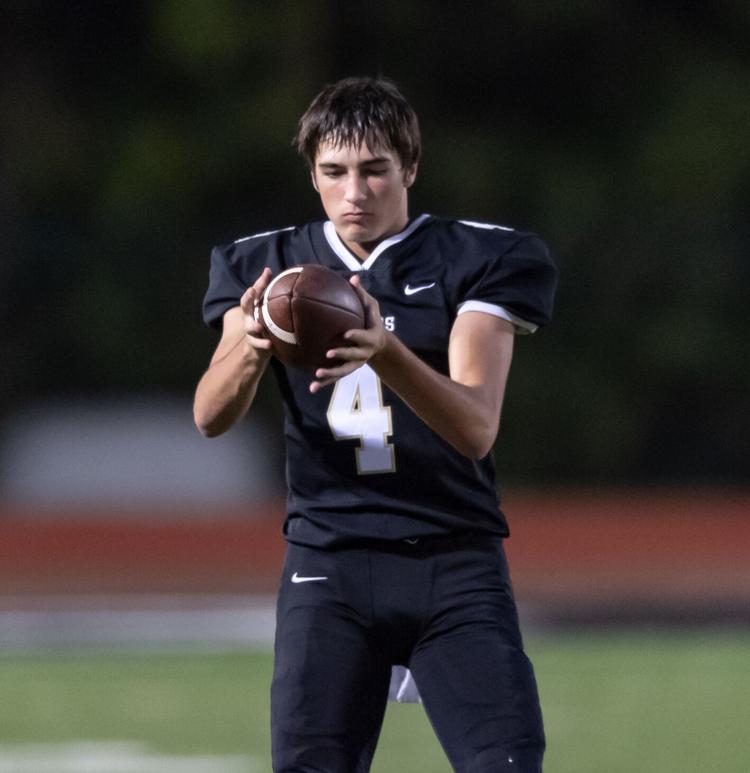 On Oct. 30, the Warriors had to face High Point Christian – which, like Cabarrus, was 2-0 in conference play -- in a game that would decide the Piedmont Conference titlist. And they answered the call.
In a hard-fought contest that saw the pendulum of momentum swing back and forth, the Warriors rebounded with a narrow 28-27 win over High Point Christian. The game featured a pair of rushing scores by freshman Will Jones and an interception return for a touchdown by junior defensive lineman Ashton Cunningham. In addition, freshman quarterback Tyler Green hit senior Zack Kellman for a touchdown.
The Warriors' coach beamed with pride after his team secured its first conference crown.
"They've never been in this position before," Bolton said of his players. "Before we played High Point, they'd never competed for a conference title, but they showed up.
"Moving forward, that's just a step in the direction we want to go. It's been a focal point this week to say, 'Hey, we're not finished. It doesn't really matter what the scoreboard says or what our record is, we've got to go 1-0 this week and play our best football.' And I think our kids are buying into that."
There certainly is still a lot at stake for the Warriors.
The postseason is set to begin next weekend, and just four teams earn bids to the NCISAA Division I (11-man) playoffs. As the Warriors prepare to close out the regular season tonight, Bolton doesn't want his team taking anything for granted. Just because Cabarrus beat Covenant Day earlier this season and the Lions are just 1-4 on the year, doesn't mean another blowout should be expected, he warned.
"(The Lions) are much better than they were earlier this season," Bolton said. "Much better."
There's also the fact that Warriors will be playing tonight without five starters, all on defense.
Standout senior linebacker/receiver Michael Dickens is out for the season with a concussion, and freshman cornerback Cole Frood has the same injury but could return during the playoffs. Talented senior defensive end Waylon Petiote and freshman cornerback Correll Johnson are in quarantine; neither has the coronavirus but the move was taken as a precautionary measure because of possible contact with a victim. Cunningham also will also miss the game with a shoulder injury.
"We've got several guys out, and that may impact the game, obviously," Bolton said. "But right now, (our players) are excited, and they know that we have to finish strong to have a shot in the playoffs and get a good seed."
One thing that's been evident about the 2020 Warriors is that they aren't afraid of tough circumstances. It's a characteristic Bolton said he noticed as the players convened in the preseason, not long after he arrived from a successful stint as an offensive assistant at much bigger public-school programs in South Carolina.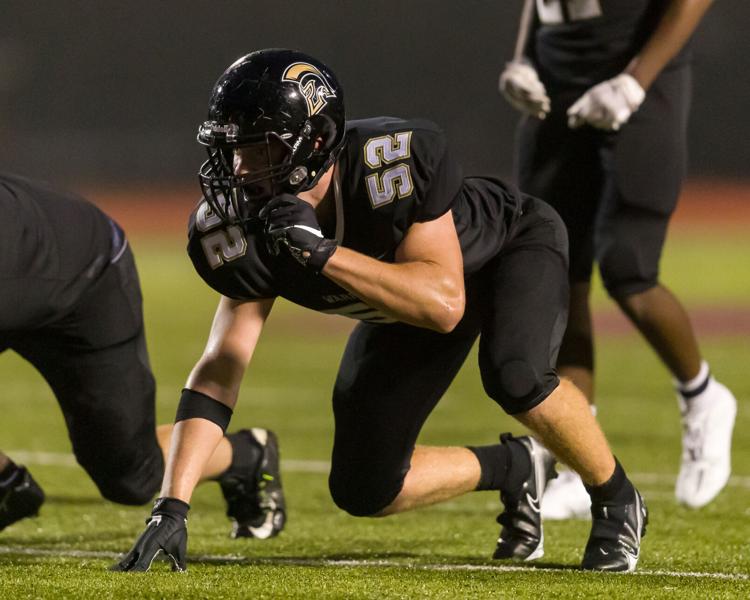 Still, Bolton has been amazed by what he's seen take place within his still-new program.
"I've never been around a group like this before," the coach said. "We've got a lot of freshman that are resilient; they play very hard. We're also starting four sophomores, and those guys have stepped up each and every time, and played hard and made some big plays.
"Our receiver, Max Riley, had 146 yards off seven catches against Metrolina -- as a freshman. We've had several guys step up like that. Tyler has been very consistent. Will Jones has got six touchdowns on the ground."
Bolton said there's a reason the team is ahead of schedule with its goals, and it isn't just about football.
"It's a testament to not only our freshmen but also to our leadership from our seniors," Bolton said. "Michael Dickens, Zack Kellman – those seniors are very good leaders for our young group. And the way those groups have merged this year, I think, is kind of the story of our team. The older guys have kind of taken our younger guys under their wings and provided that leadership we've needed down the stretch."
Myriad Warriors have played key roles for the team.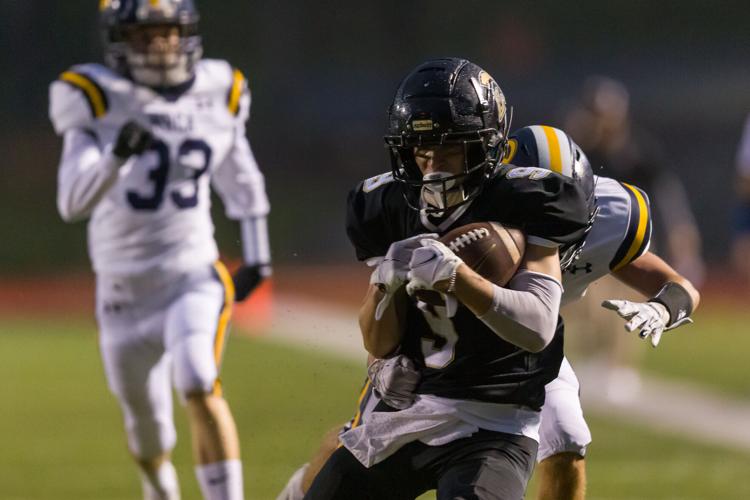 Green is among the state leaders as a quarterback, passing for 1,124 yards and six touchdowns, while Jones has been a workhorse at running back and linebacker. Riley leads with team with 20 catches for 342 yards and two touchdowns, followed by Kellman (17 for 255 with a touchdown), Jones (15 for 142) and Gavin Powell (14 for 141 and a touchdown).
Defensively, Jack Schultz leads the Warriors with 32 tackles, including seven for loss, and is tied for the team high with six sacks. Myles Stafford has three sacks, while Cunningham, Randy Marion III and Jackson Scurlock have registered two sacks apiece.
Cunningham, Joshua Reid, Gavin Powell and Eli Snodgrass all have an interception, while Frood (three), Dickens (three) and Powell lead the team in deflected passes.
It's all been a recipe for a conference title, and Bolton hopes it could lead to something more once the postseason begins.
"I can't speak enough to the resilience of our football team," Bolton said. "There have been some ups and downs. We've won some games that were tough and still put ourselves in a position to be conference champion, so I'm really excited about our young football team."
Be the first to know
Get local news delivered to your inbox!