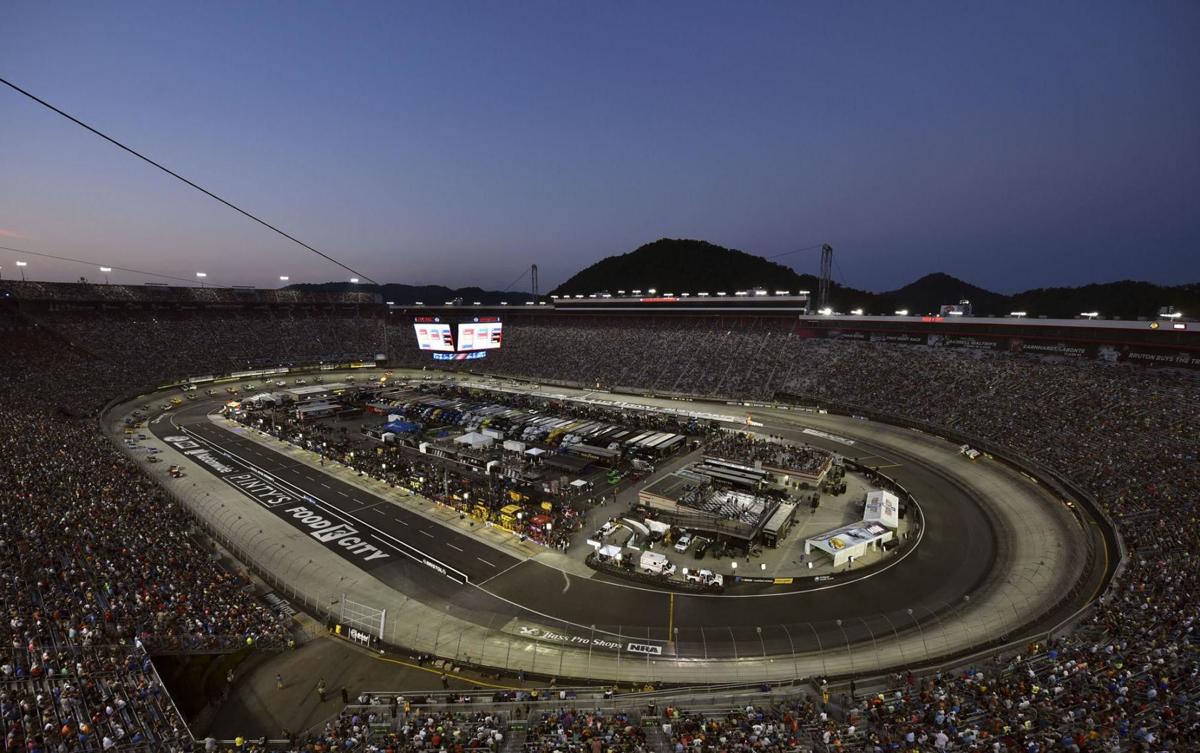 BRISTOL, Tenn. -- The NASCAR All-Star race has been moved to Bristol Motor Speedway on Wednesday, July 15, and up to 30,000 spectators will be allowed.
That Monday afternoon news flash created a buzz in the NASCAR world and beyond.
"Oh my goodness, we're thrilled and honored to be able to host such a legendary race," said BMS Executive Vice President and General Manager Jerry Caldwell during a Monday night Zoom media session.
The all-star event was originally set for Charlotte Motor Speedway, but a recent rise in COVID-19 cases and positive infections in North Carolina forced the sudden move.
While the number of COVID-19 cases in Tennessee has been low in comparison to other states, Caldwell said "lots of measures" will be put in place to assure social distancing at BMS. The 7 p.m. event will be shown on Fox Sports 1.
"The beauty of having a facility that can hold 155,000 is that we can put 30,000 people in here and keep them really spread out," Caldwell said.
Due to COVID-19 concerns, no fans were allowed for the May 31 Food City 500 Sprint Cup race at BMS or for the June 1 Xfinity race.
A crowd of 1,000 military members attended Homestead-Miami Speedway for this past Sunday's NASCAR Sprint Cup race. Up to 5,000 fans will be allowed to attend Sunday's Cup event at Talladega Superspeedway.
"We're thrilled and honored to be one of the first major sports to take place with a significant fan presence in our country," Caldwell said. "We also realize that this opportunity comes with great responsibility to make sure we do it in a safe manner for the industry, the fans and the community."
As for tickets, Caldwell said everyone is welcome.
"We're obviously going to make sure that we honor the folks that currently have tickets for the all-star race down in Charlotte, and we're going to make sure that we're taking care of Bristol customers that weren't able to come for the Food City 500. But this is open for NASCAR fans," Caldwell said.
Bristol Motor Speedway earned national fame in 2000 and 2001 after placing red clay around the track surface for a pair of dirt late model and sprint car races. More acclaim came in 2016, when an NCAA record crowd of 156,990 filled BMS for the Battle of Bristol football game between Virginia Tech and the University of Tennessee.
"And this event fits right in perfectly," Caldwell said. "People will want to be here to see it, and it's going to be talked about for years to come. Night racing at Bristol with a million dollars on the line, how could you not get fired up?"
Traditional NASCAR fans who crave the intensity of short-track racing have long lobbied for the all-star race to be held at BMS. That effort continued after the eventful Sprint Cup race on May 31.
"The racing at Bristol has always been wonderful, but the past few races have been very exciting," Caldwell said.
In addition to social distancing in the grandstands and in the concession lines, the safety protocols at BMS will include enhanced cleaning and sanitation in high-touch, high-traffic public areas; added hand-sanitizer stations; limited guests in suites; and infield admission for race team and operation personnel only.
Fans will be allowed to bring in one soft-sided clear bag with food and beverage. Coolers will be prohibited to reduce checkpoint contact between spectators and speedway staff.
Speedway Motorsports owns both Charlotte Motor Speedway and BMS. Speedway Motorsports CEO Marcus Smith said Monday that his staff had been looking at options regarding the all-star race over the past few weeks.
"And things came together over the past several days to be able to make the announcement today," Smith said. "Tennessee Gov. Bill Lee and Sullivan County officials have allowed for up to 30,000 fans. We're grateful for the continued support from both governors and all the state and local officials as we work with NASCAR to bring fans back to live sporting events."
Steve O'Donnell, NASCAR executive vice president and chief racing development officer, offered insight into the timing of Monday's move.
"It came up fairly quick, so this was one of those curveballs, but in a good way," O'Donnell said. "We're tremendously excited. I want to thank Marcus, Jerry and everybody at Speedway Motorsports. And thanks to Gov. Bill Lee and everyone in Sullivan County who stepped up and said that not only can we race but let's expand that."
The all-star race has been held in Charlotte every year except one since its inception in 1985. BMS will be the first short track to host the event.
"With every challenge comes some opportunity," O'Donnell said. "I think this is an opportunity to showcase our sport and do something we've always talked about. Let's take a chance and see how it works."
According to Caldwell, the immediate response to the all-star news "was tremendous."
"I think every fan will want to see this race," he said.
Be the first to know
Get local news delivered to your inbox!