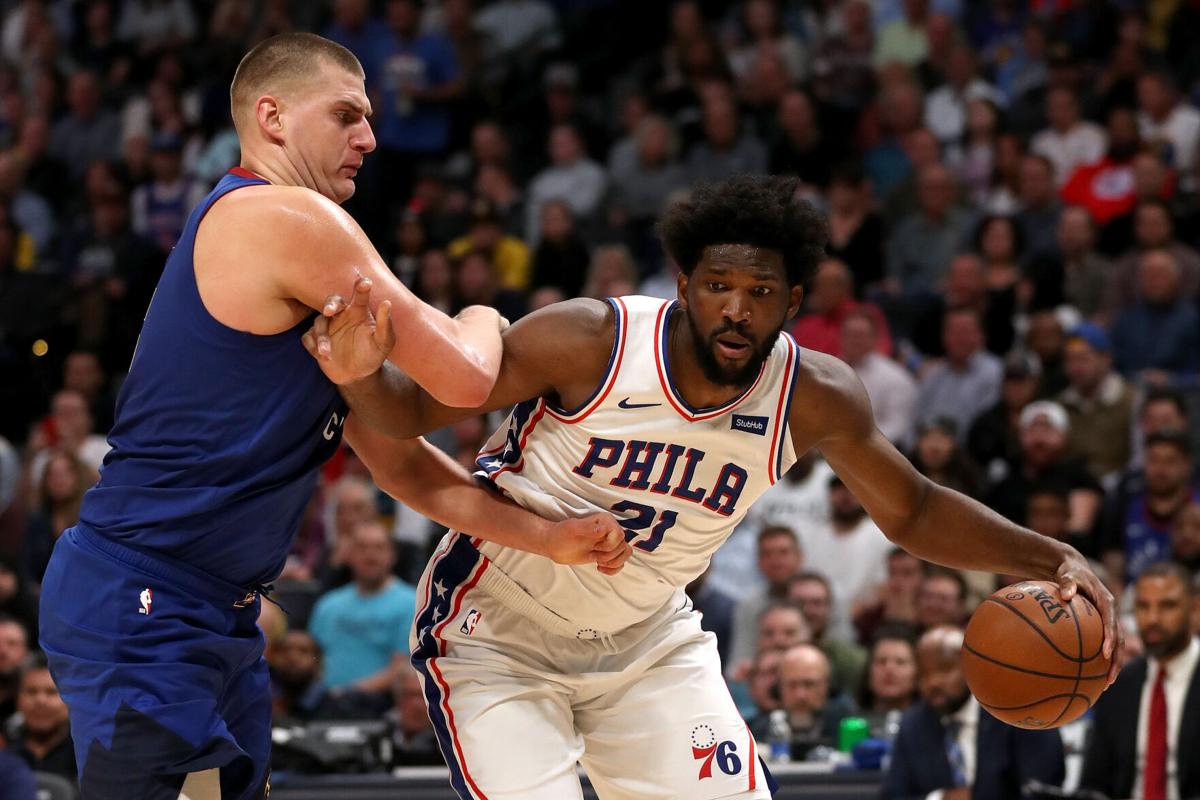 PHILADELPHIA — Joel Embiid makes a persuasive argument for why he deserves to be the NBA's MVP.
The 76ers center has been an offensive force, scoring at least 30 points in 15 of his 39 games played heading into Wednesday's contest against the Phoenix Suns. A solid two-way presence, Embiid is also averaging a career-best one steal to go with 1.4 blocks.
He's a major reason why the Sixers (39-17) were a half-game ahead of the second-place Brooklyn Nets in the Eastern Conference.
"As far as the MVP, I've been dominant all season," Embiid said recently. "I'm not going to be out here trying to push myself [for the award]. But I know that I've been dominant all season. We got a No. 1 seed. When I get the ball, it's either foul or bucket ...
"I feel like I'm right there. That's mine ..."
The four-time All-Star has been dominant all season. He's also the best player on the conference's best team. And aside from a couple of rough shooting stretches, his touches often end with being fouled or a made basket.
Embiid leads the league in free-throw attempts at 11.8 per game.
All those are reasons why Embiid deserves to be the first center to win the MVP award since Shaquille O'Neal won it while with the Los Angeles Lakers in 2000.
But what about the 18 games Embiid missed? Will voters hold that against him?
With three weeks remaining, Embiid and Denver Nuggets center Nikola Jokic are the leading candidates for MVP.
Both are having phenomenal seasons.
Yet, Jokic has been this season's version of an iron man.
He is scheduled to play in his 58th game this season Wednesday night against the Portland Trail Blazers.
That's a major accomplishment when you consider the other MVP candidates — Embiid, the Brooklyn Nets' James Harden (12 games), the Phoenix Suns' Chris Paul (one), the Portland Trail Blazers' Damian Lilliard (five), the Golden State Warriors' Steph Curry (eight), and the Milwaukee Bucks' Giannis Antetokounmpo (nine) — have all missed games.
In addition to being durable, Jokic is 10th in the league in scoring (26.4 points per game), eighth in rebounds (11.1), and fourth in assists (8.8) heading into Wednesday's game. He also leads the NBA in double-doubles (51) and is second in triple-doubles (15).
Embiid is 15th in double-doubles (25) without any triple-doubles. He's averaging a career-best 29.9 points to go with 11.2 rebounds. He also has career highs in overall field-goal percentage (51.2) and 3-point percentage (37.8).
But that's where the games missed could factor in.
Embiid played in 68.4% of the Sixers' games prior to Wednesday night. His scoring average would rank third in the league behind Curry (31.4 points) and the Washington Wizards' Bradley Beal (31.1) if he played in 70% of his team's games. He also would be tied for seventh in the league in rebounds and tied for 10th (1.4) in blocks.
However, his averages aren't recorded because he is just shy of the percentage needed to qualify. Including Wednesday's contest, Embiid needs to play in 12 of the Sixers' final 15 regular-season games to be added to the rankings.
That's doable, and would strengthen his argument, especially if the Sixers finish first in the conference.
But there are some who point out that Jokic has better percentages in field goals (59.6 to 51.2), 3-pointers (41.9 to 37.8), and free throws (85.4 to 85.3) through Tuesday.
A lot can change before the Sixers conclude the season May 16. Embiid can score with the best of them, and continuing to produce 30- and 40-point performances will go a long way with voters.
Plus as Embiid said last week, he's "been dominant all season, and I'm not going to stop."