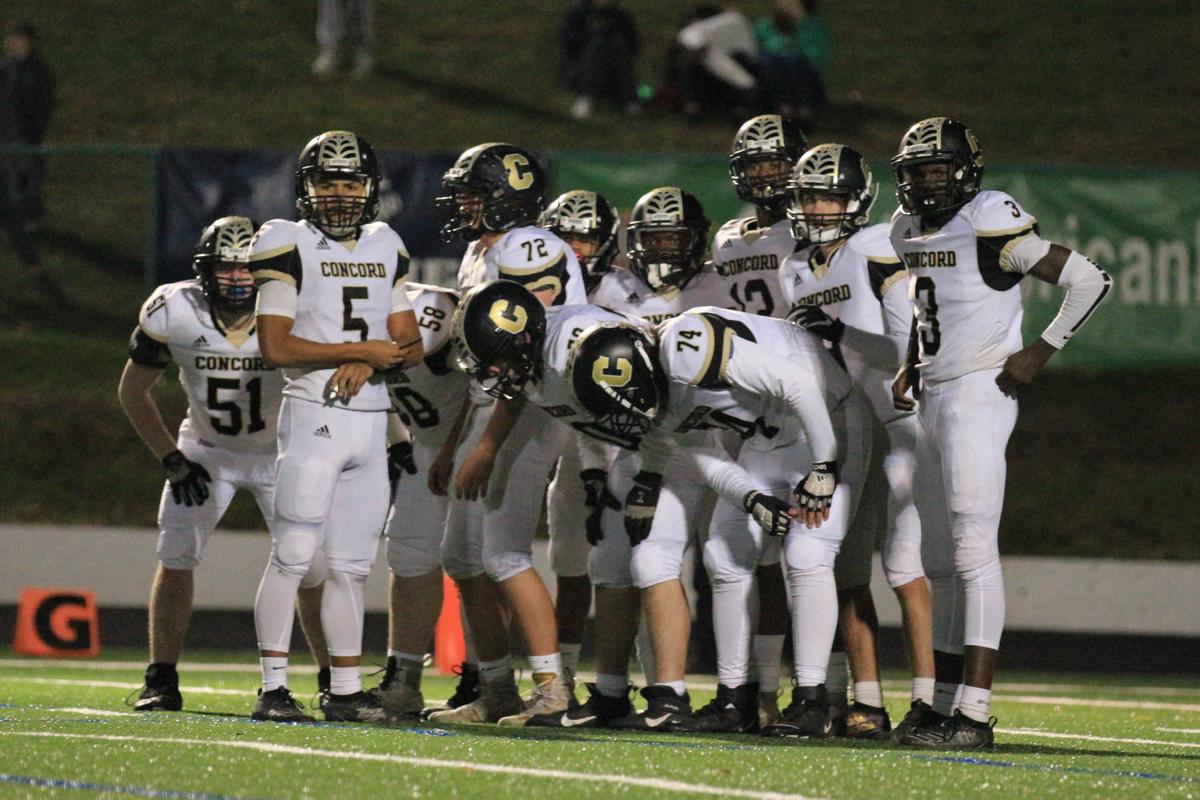 KANNAPOLIS – A.L. Brown set the tone early in Friday's "Battle for the Bell," jumping out to a two-score lead before the first quarter could end.
The Wonders beat Concord, 59-21, as Kannapolis Memorial Stadium played host to the highly publicized football game between the two rivals.
The Spiders' final record for 2019 was stamped at 1-10 overall, 1-4 South Piedmont 3A Conference, their second consecutive one-win season.
For the storied Spiders, the last two years have been tough, and Friday was just the icing, as they have now lost five straight Bell games.
The win gave the Wonders (7-3, 3-2 SPC) a series tie at 43-43-4 and ended the Spiders' season, one that was filled with a variety of struggles.
Despite battling through a slew of injuries and a thin roster, second-year Concord coach Marty Paxton said the Spiders never quit on their season and continued to show fight. That bodes well for Concord teams to come, he said.
"It's big for our program and big for the seniors," said Paxton of his team's consistent effort throughout this year. "(We) just kept fighting, and it looks good for the future."
The Wonders jumped on the Spiders early and had a 38-point lead before the Spiders found the end zone. The Concord score came on senior Nijel Robinson's kickoff return right before the end of the first half. It may have been the first score of the night for the visitors, but it immediately lit up their sideline and brought their crowd back to life.
After the break, the Spiders came right back, showing the momentum was theirs to keep for a little longer.
They used Robinson again, this time for a 51-yard touchdown catch from senior quarterback Deonte Brown, to make it 38-14.
Though the scoreboard was still highly in he Wonders' favor, the Spiders weren't going away without a fight, something they prided themselves on this season despite the mounting losses.
"Coming into the season, we lost a couple people, but we still had a lot of talent on the team, so everybody just had to work," said Robinson.
The losses Robinson is referencing are of former teammates. The Concord program lost a few talented players after last year's struggles, when it also went 1-10.
Those players were missed, but it didn't help that a number of injuries throughout the team, along with several player transfers, left some valuable pieces off the field for chunks of the season. Senior quarterback/safety JoJo Bond is just one player that missed significant time with injury.
"Everybody knows we want the Bell, but at the end of the day, we tried our hardest," said Brown. "We gave our best; we did that the whole year. It may not have looked like it, but we did. We had injury after injury, but we kept fighting."
And they did that Friday night in the "Battle for the Bell," even adding a late touchdown in this game when junior running back Trey Wilson had an 18-yard breakaway late in the fourth quarter.
The Spiders' fight was led by the team's leadership.
Players such as senior cornerback/receiver Jaden Smith played a large role in that. He said he was proud of the effort his team showed.
"This is our last go around, so this was our last shot at (the Wonders)," said Smith.
Concord seniors say they take this season as a lesson and that, more than anything, it shows them to never let situations that surround them ruin their work ethic.
"Everything happens for a reason," Brown said on this year's lesson. "You might have everything against you, but it's there for you to get through it and for you to persevere."
After all the magic that the Wonders were able to put together on Friday night, clearly playing to send a message to anyone deciding their playoff seeding, it was easy to see the respect A.L. Brown had for its fiercest rival.
Wonders coach Mike Newsome said that mindset is a testament to the Spiders' head coach.
"They didn't (quit), and you never expect that from a Marty Paxton-coached team,´ said Newsome. "They're never going to quit, they're never going to give up."
As for his team's next move after a long season of ups and downs, Paxton has one thing on his mind.
"Get back in the weight room," he said.
Be the first to know
Get local news delivered to your inbox!