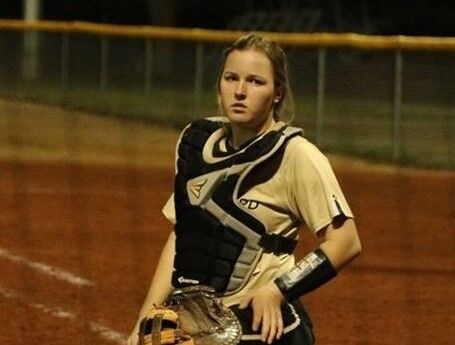 Editor's note: This story is part of an Independent Tribune series titled "Senior Spotlight" on high school athletes who are currently missing their senior seasons because of the novel coronavirus.
CONCORD – Some athletes are born for the big moment.
It's the last inning, the fourth quarter, or the second half. The moment gets larger and larger, and with it, the pressure is mounting.
Some athletes fold under that pressure; other athletes crave it.
For Concord softball player Caitlyn Gable, high pressure situations are where she thrives.
Whether it's a diving catch to win the game or a crucial hit during the most pivotal moment, Gable lives for the spotlight.
Most of that pressure comes during the game, yes, but Gable seeks a different kind of pressure before the game as well: she sings the national anthem before every Spiders home softball game.
What a tense moment: no music, no accompaniment. It's just Gable and the microphone. All eyes and ears are on her as she stands and flawlessly belts out the most well-known song in America.
And what does she do after? She puts on her catcher's gear and leads the Spiders out on the field.
And lead, she does. Gable sets a precedent for all her younger teammates with excellence on the field. For her career, Gable has only struck out 21 times. You read that correctly: 21 times. That's fewer than seven strikeouts per season.
Gable is now ready to continue her playing career at Bluefield College in Bluefield, Virginia. There, she will be under even more pressure playing at the college level.
Gable recently talked about her career as well as a few other topics in a question-and-answer session with the Independent Tribune. 
Where were you when you heard the news about the season being suspended?
I was in my bedroom with some of my friends on the team. When we heard the news, we all started crying because our senior season was over.
What made you decide to sign with Bluefield?
I have a good opportunity to play there, plus I like that it is one hour away from my favorite ski resort (Winterplace).
What position do you play?
I played catcher at Concord but at Bluefield, I will be playing third base.
Which of those positions do you prefer to play?
I prefer to play third base. Third base and shortstop are my favorite positions, and I can also play first base. The corners (third base and first base) are what I was recruited for by Bluefield. I played catcher at Concord because I was the only senior catcher on the team and was teaching the younger catchers on the team by setting a good example. 
At what point did you realize you could actually play softball in college?
I had been playing showcase softball since my freshman year, but during my junior year, I began to feel burned out. I had to take a step back for a season, and it made me realize how much I loved the sport. The next year rolled around, and I realized I didn't want to hang up my cleats after just one more season. I was already talking to college coaches, so I tried to make it work out.
Do you sing the national anthem at any other sporting events?
No, I only sing at our softball games.
Is singing something you enjoy?
I enjoy singing. In front of a crowd, it can be very nerve-wracking, especially when singing on my own and with no music. I started doing the national anthem in my junior year, and after doing it for a while I started to get used to it. I'm still nervous picking up the microphone, but I just take a deep breath and remind myself that I have done this before. People's reactions after the anthem make it worth it. I finish singing, and a bunch of people high-five me as I go to the dugout. The home-plate umpire will always give me a high-five and talk to me about it.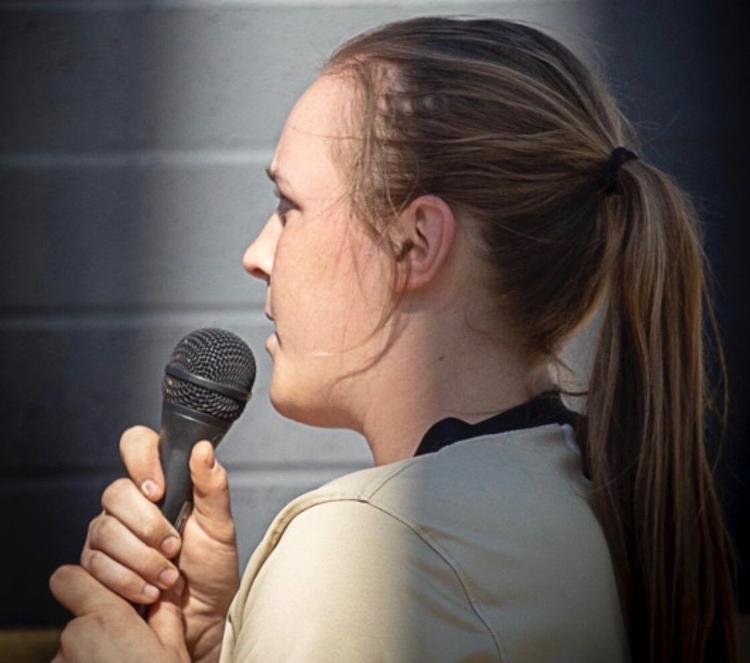 What has it been like to play softball at Concord?
It has definitely been a learning experience. We started from the bottom, and though we weren't the most successful team, our scores were getting closer and closer. I feel that if the season hadn't been cut short, we would have taken the cake. I think we had a good shot at winning at least the (South Piedmont 3A) Conference championship.
What will you miss most about playing for CHS?
I'll miss the environment and the players. There isn't any drama. We're all friends with each other, and we don't exclude anyone.
What is your favorite memory from playing softball for CHS?
Our final game during my sophomore year, we were playing A.L. Brown. I believe we won, 2-1. But in the last inning, their tying run was on third base after hitting a triple, and their best hitter was up to bat. I made a diving catch and got her out. That was a great way to end the season, and it is something that will always stick out to me.
What are your hobbies besides softball?
I like to do art sometimes and make cards. I like to do that as a creative outlet, even though I'm not a great artist. But I enjoy doing it, and that's what's important. I also like to sing in my (spare) time. Also, over quarantine, I have been reading.
What type of books do you read?
I love action-fiction books. My favorite books are the Harry Potter books, but right now I'm reading 'The Chronicles of Narnia.'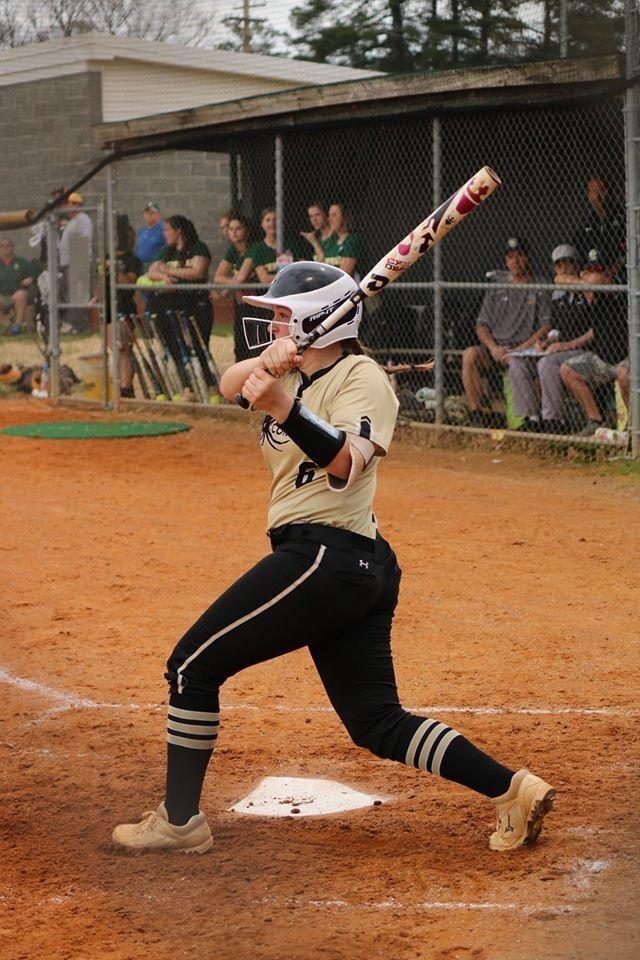 Is there a Netflix show you've been binge-watching lately?
My favorite show is 'Supernatural,' and I'm watching it with my boyfriend. I've already seen all of it three times, but I'm watching it again because I love it so much.
Where is your favorite place to eat?
I really love Highway 55 in Harrisburg. I had my birthday there a few times.
What has been your favorite class in high school?
During my junior and senior years, I enjoyed sports, exercise, and health science. I had four of my best friends in that class, and I was interested in the material.
If you won a million dollars, what would you do with it?
I would share it with my family. Then with my portion, I would put it toward my education while also donating to research for mental disorders. I have a neurological disorder, epilepsy, so I would want to contribute as much as I can to that.
If you could meet and have dinner with anyone from history, living or dead, who would it be, and why?
I would say, my grandfather. He passed away very suddenly when I was a freshman. I didn't get a final conversation with him because no one saw it coming. I have his car, so I always have a piece of him with me, but if I could talk to him again, that would be amazing.
Where do you see yourself 10 years from now?
Hopefully, I'll have graduated from college and picked a career path. I'll also hopefully have started a family and settled down. I'm going to get my master's degree, and after I get settled enough and have enough money, I'll hopefully get my doctorate.
Be the first to know
Get local news delivered to your inbox!