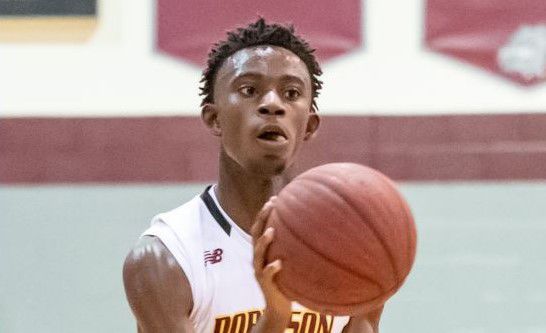 CONCORD – Jay M. Robinson boys basketball coach LaVar Batts Sr. describes "Bulldog Basketball" as limiting turnovers, and the South Piedmont 3A Conference squad did exactly that on Tuesday night in a 79-63 home win over the Mount Pleasant Tigers.
With the win, the Bulldogs move to 1-1 on the season, while Mount Pleasant of the Rocky River 2A/3A Conference keeps searching for its first win at 0-2.
In their first game of the season, a loss to Hickory Ridge on Thursday, the Bulldogs had 22 turnovers. On Tuesday, they only had three.
"We do a lot of drills," said Jay M. Robinson guard Justin Boateng, who had 22 points. "Every time we get a turnover, we do a lap, so we try to limit the turnovers, and that prepared us for the game."
Instead of running laps, the Bulldogs ran all over the Tigers.  They were defensive hounds, recording 19 steals as a team and pushing tempo and drilling shots.
In the second quarter, the Bulldogs went on a 14-5 run to turn a 21-18 lead into a 35-23 advantage. During the run, Carson Beane scored six points, and Kam Robinson hit two 3-pointers.  In that quarter alone, Charles Reed had three steals that turned into five points for the Bulldogs.
After that 12-point separation, the Tigers were never able to make it any closer than eight points.
"We gave them second, third, fourth and fifth chances at the rim on certain possessions when we cut it to eight or cut it to six," said Tigers coach Jody Barbee, formerly of Cox Mill. "And then all of a sudden, it's back to 14. It's just things like that we have to correct, but I think we're on the right path."
In the third quarter, the Tigers cut the lead to 48-40. The Bulldogs missed a 3-pointer, but Boateng got the rebound and was fouled, hitting one of two free throws. Then, the Tigers committed a turnover. In the next two Bulldog possessions, Boateng got second-chance rebounds and added four more points to make it 54-40.
In the middle of the fourth quarter, the Tigers were down, 60-50.  They committed three turnovers in the next four possessions and fouled the Bulldogs each time. Jay M. Robinson nailed five of eight free throws, and the score was out of reach again at 65-50.
"(We were) actively staying locked in," Batts said of his team's defense.  "(We were) trying to speed them up a bit and make them run into mistakes a little bit."
Josh Abee and Reed led the Bulldogs with six steals, and Abee added 21 points as well. Kam Robinson finished 3-for-5 from on 3-pointers, totaling 12 points.
For Mount Pleasant, Hunter Sloop scored 26 points, adding two blocks, while Jamal Williams scored 13 points.
Mount Pleasant   13     15     15     20 -- 63
Jay M. Robinson  16     22     18     23 -- 79
MOUNT PLEASANT -- Hunter Sloop 26, Jamal Williams 13, Jacob Price 11, Pruitt 6, Duke 5, Carnes 1
JAY M. ROBINSON -- Boateng 22, Josh Abee 21, Kam Robinson 12, Chambers 6, Ingles 6, Beane 6, Reed 2, Dameron 2, Geerts 2
Be the first to know
Get local news delivered to your inbox!