CONCORD – It's fair to say that Adriel Miller was not having his best game against visiting A.L. Brown Friday -- at least not for the first 31 minutes and 58.4 seconds. But lucky for him, and his Central Cabarrus teammates, high school basketball games run a full 32 minutes.
Usually one of the Vikings' top players off the bench, Miller had a pair of rebounds and a couple of steals but was scoreless almost the entire game, missing his first three field goal attempts and turning the ball over a few times.
But in the last 1.6 seconds of the game, Miller turned a forgettable performance into the most memorable of his brief career.
Coming out of a timeout and A.L. Brown inbounding the ball under Central Cabarrus' basket, the sophomore shooting guard stole an inbounds pass, turned and heaved a 3-point attempt from the right wing that banked in for an exhilarating 68-65 Vikings' triumph.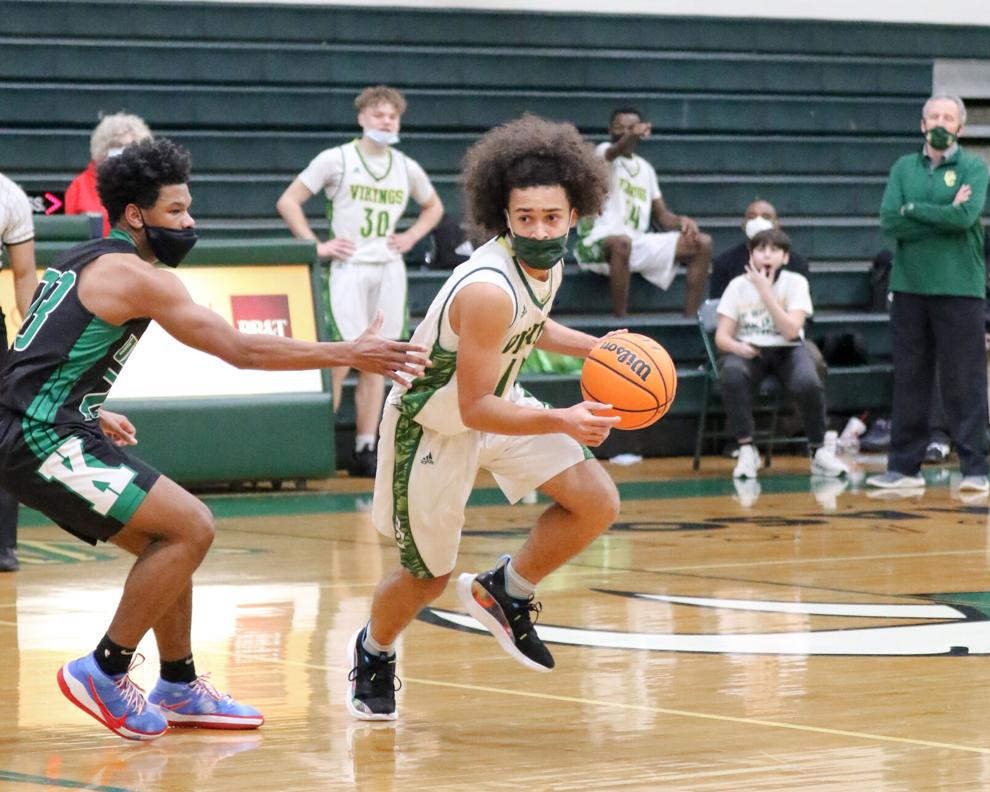 The victory clinched the South Piedmont 3A Conference championship on Senior Night for Central Cabarrus, its first conference title since 2005-06, which was current NBA player Ish Smith's senior year. It was the regular-season finale for both teams and state tournament brackets are scheduled to be announced this weekend.
"I feel great," said Miller. "It was a team win. It wasn't just me. Those were the first points I even scored (for the game). So it was everybody else that did it for me. Congratulations to the seniors too."
Friday's victory continues a storybook season for the Vikings, who have seniors Tre Bost, Te'veon Glover, Jordan Hill and Michael Pope but depend on a strong group of sophomores and freshmen. Central Cabarrus finished the regular season 11-1 overall and in the league and will host a first-round playoff game on Tuesday.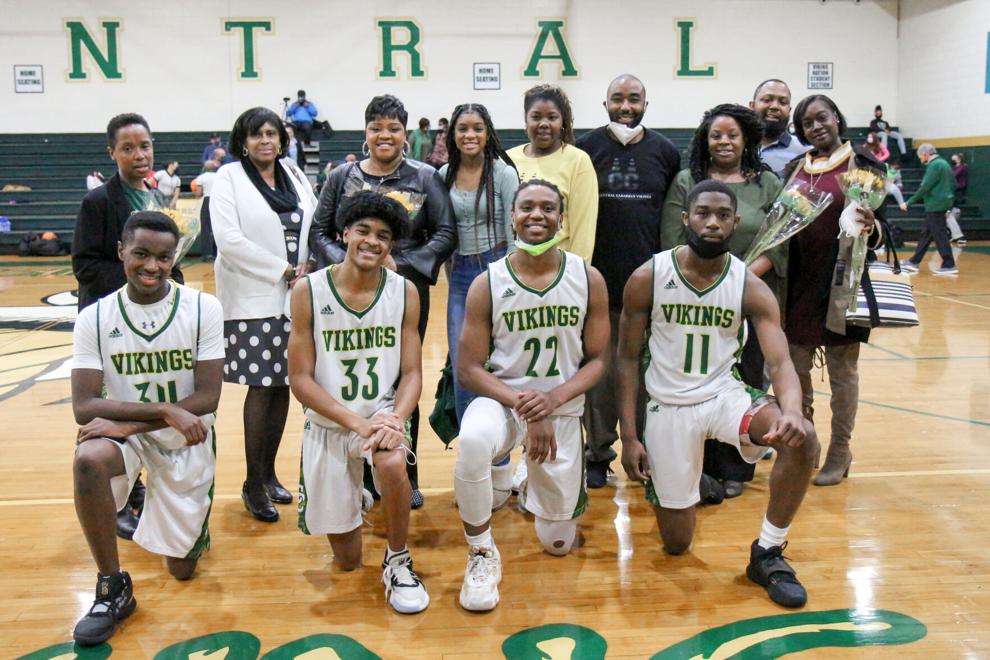 "Actually at the beginning of the season I called this championship before it even happened," said Bost, who had six points and six rebounds Friday. "I saw the team we had, the way we gelled together and the chemistry we have, and I saw we were going to have a good year."
After paltry win-loss records in coach Jim Baker's first two seasons, Central Cabarrus returned to the state playoffs last year and advanced to the second round. Still, the way the Vikings rolled through the SPC schedule for most of the year – winning their first 10 games - was a bit of a surprise.
"I'm proud of my kids," said Baker, in his fourth season at Central Cabarrus. "To come from where we were. In my first year, we won four, then we won six, then we won 17 last year and finished second (in the conference).
"They just learn how to win," Baker said of his players. "If we would have made a layup, we might have beaten (the Wonders) over there (in Kannapolis on Tuesday) – they're good. They're better than their record. They didn't have a couple players early on. They're well-coached."
A.L. Brown (7-6 overall, 6-6 conference) handed Central Cabarrus its first loss of the season in overtime on Tuesday by a score of 64-61. The Wonders finished in third place in the SPC and may qualify for a state tournament wild card berth.
"It was a lot of fun," said A.L. Brown coach Andy Poplin, who also expressed how far his team has come in his first season. "I thought it was two pretty good basketball teams going head to head. We lost some games early, so we didn't have a chance to play for the championship, but I believe it was two championship level teams (tonight).
"One team was going to get a break or make a play. It looked like it was going to be overtime again, but they made the last play. Sometimes the basketball gods shine on you, and sometimes something crazy happens …"
There were times Friday when it looked like the Wonders might sweep the season series from the Vikings, especially when they built their largest lead of 45-39 midway through the third quarter. A.L. Brown's defensive mixture of man-to-man and a two-one-two zone kept Central Cabarrus out of a consistent flow.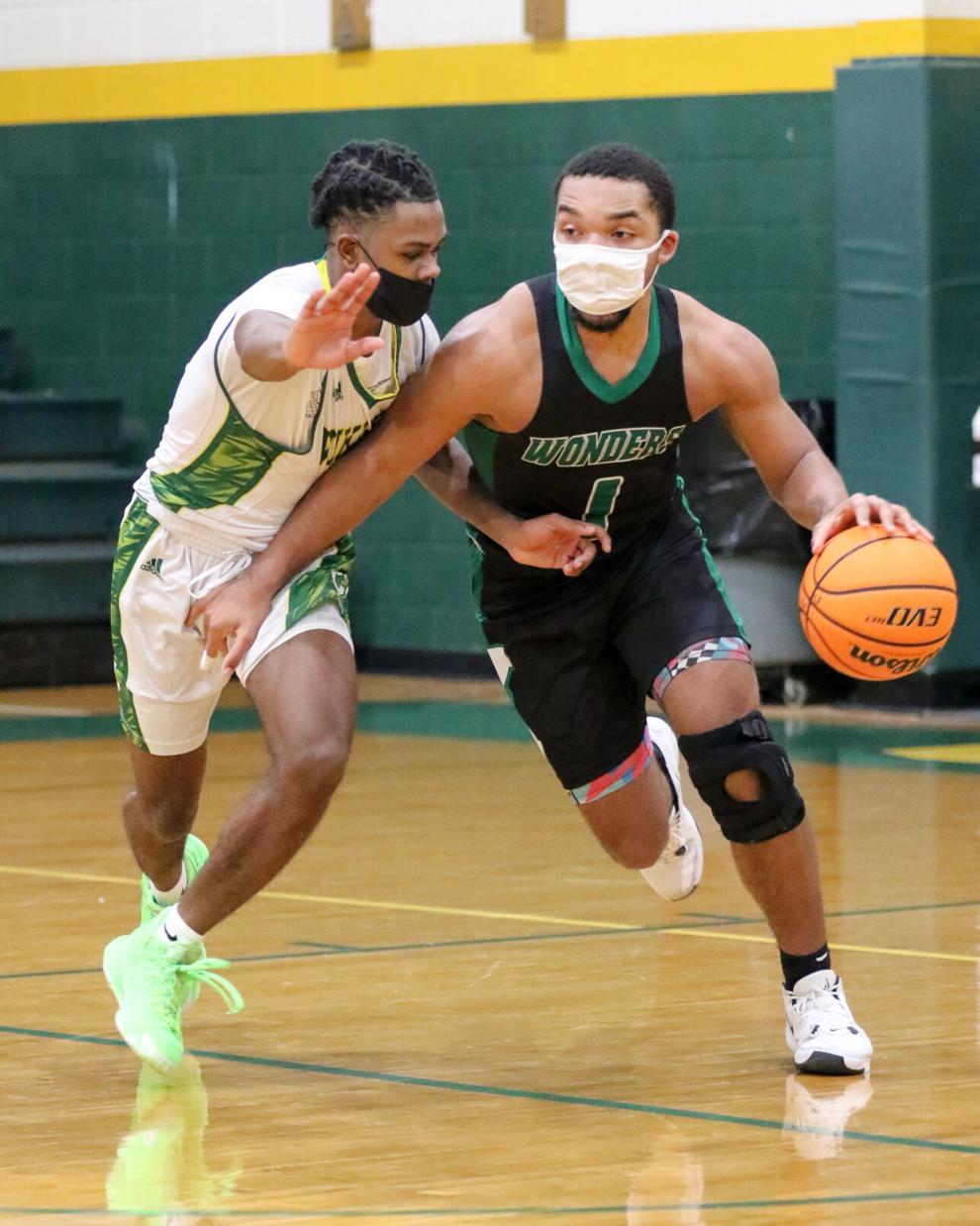 Junior point guard C.J. Wilson was steady for A.L. Brown, scoring all of his game-high 23 points over the first three quarters. Sophomore forward Teddy Russell scored eight of the Wonders' 14 fourth-quarter points and finished with 12 points and seven rebounds.
Normally a starter, but coming off the bench on Senior Night, sophomore forward Gavin Bullock kept Central Cabarrus close with his outside shooting. He had a game-high four 3-pointers, including two in the first quarter, and led the Vikings with 17 points.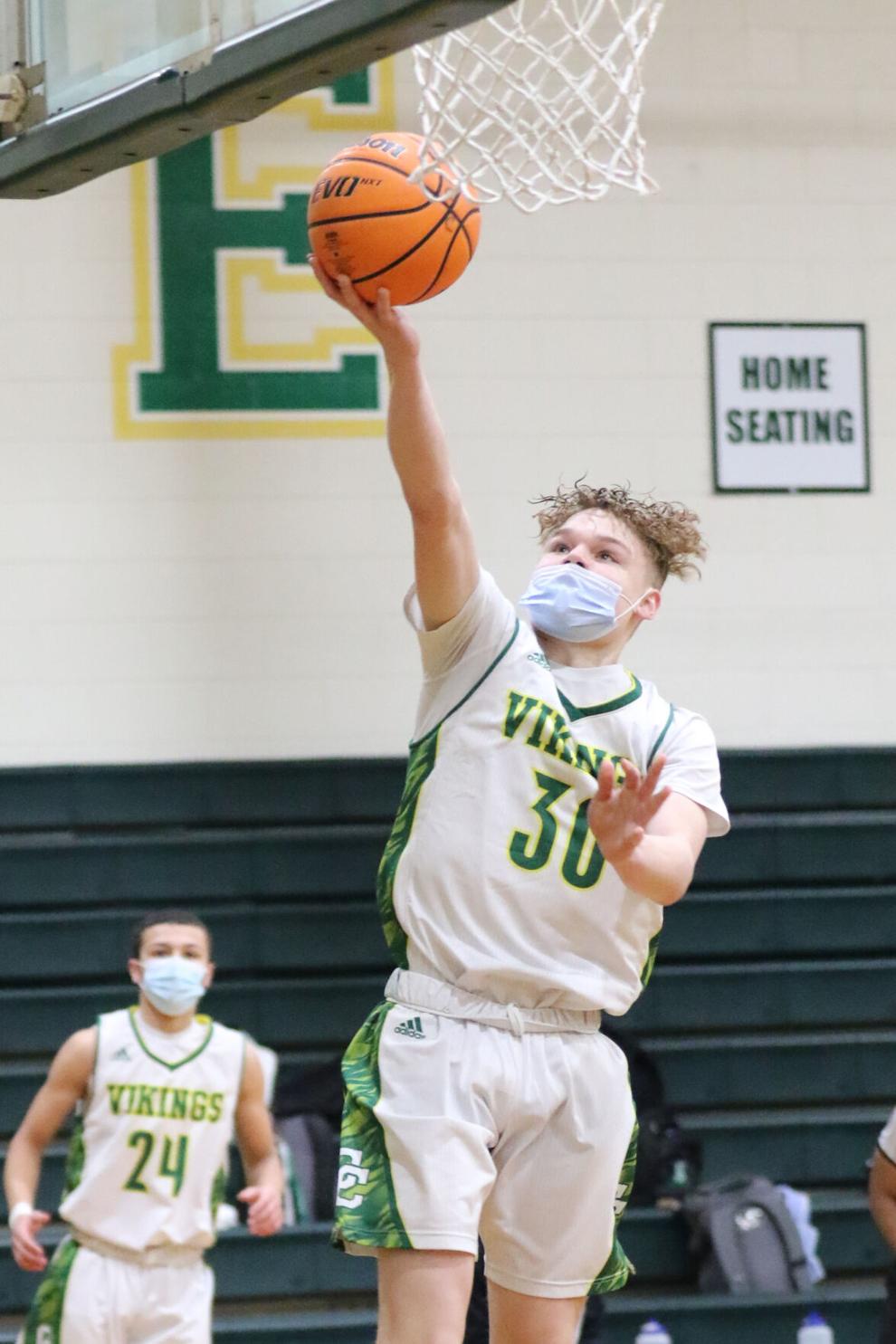 Trailing for all of the third quarter, except for a brief 48-48 tie, Central Cabarrus took its first lead of the second half when freshman guard Chase Daniel (14 points, six rebounds) made a layup following his own steal for a 63-62 advantage with 3:21 remaining.
The lead changed hands twice over the next minute-and-a-half until A.L. Brown's Koby Scott (15 points, eight rebounds) made the second of a two-shot foul for a 65-65 tie with 1:52 remaining.
Central Cabarrus' Jaiden Thompson (nine points, eight rebounds, six assists) missed two free throws with 1:15 left, and A.L. Brown's Kheni Briggs (12 points, 13 rebounds) missed a pair with 28.4 seconds after being fouled near midcourt by Miller.
The Vikings wound down the clock and settled for a jumper from the free throw line by Glover. Wilson rebounded the miss and immediately called timeout with 1.6 seconds remaining.
During the timeout, Baker instructed Glover to cover the person throwing the ball inbounds, Isaiah Black, and not let him make a deep pass. Miller was covering a Wonders player to the right of Glover.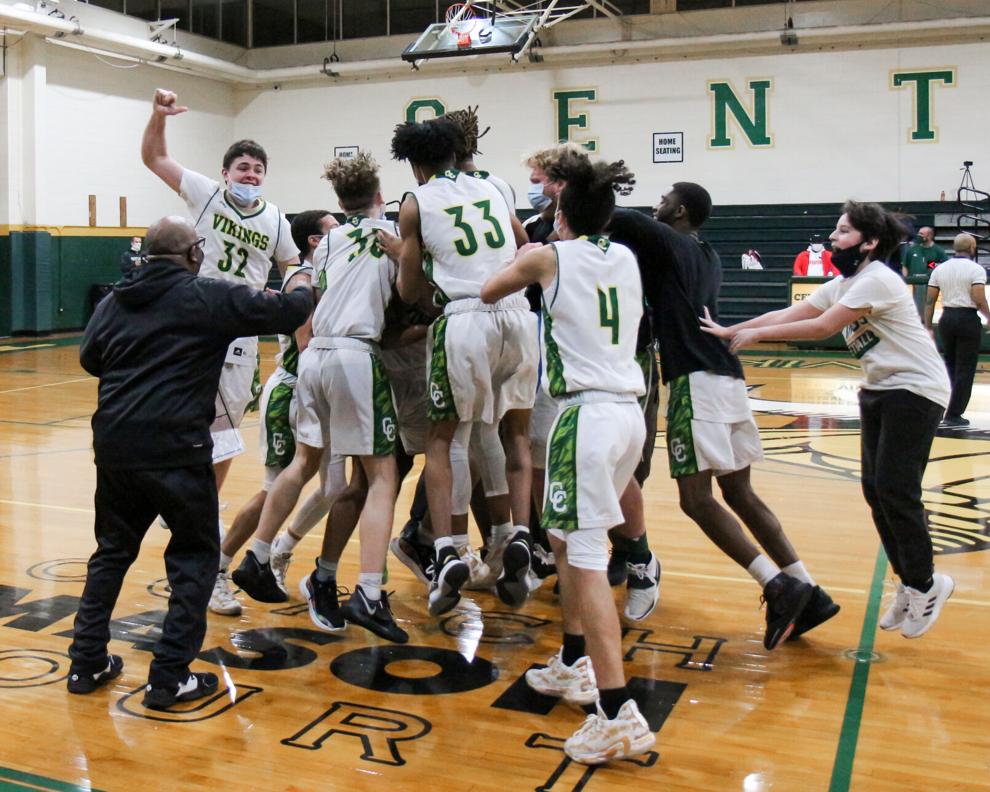 "I read the inbounder's eyes all the way," said Miller. "I just tipped it and got the shot off."
They were his only three points of the game.
When asked if making a 21-foot bank shot as time expired was skill or luck, Miller contemplated the right answer for a couple seconds, smiled, and coyly offered this enthusiastic explanation:
"It was all skill," Miller said. "I'm just going to say that. It felt good when it came off. I wasn't expecting to bank it in, but I shot it well, so …"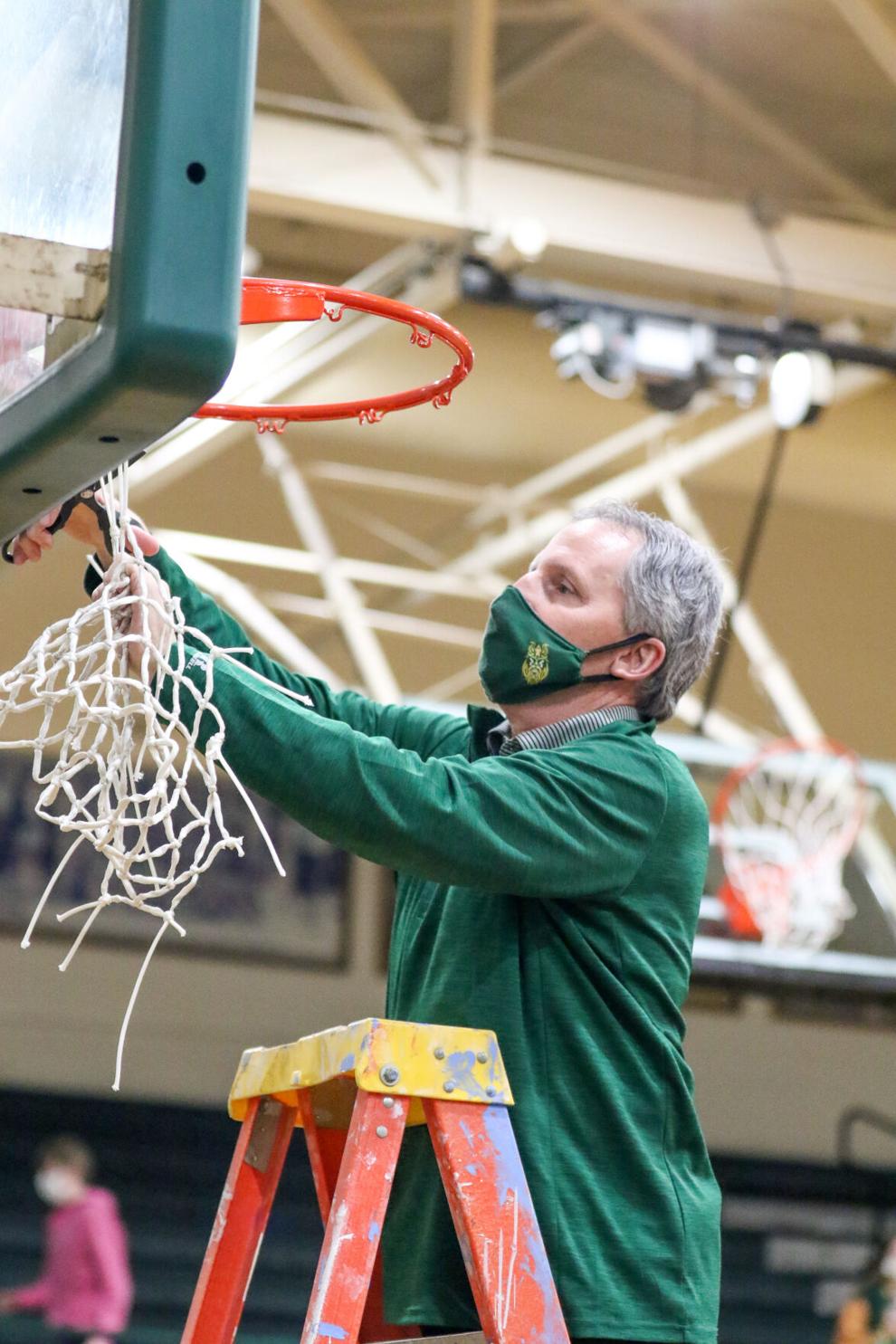 Miller's teammates allowed him to climb the ladder and take the first snip during the post-game net-cutting ceremony. Baker scissored through the last few strands and twirled the remains into a cluster of his players.
"I have great kids," said Baker. "I love them to death. And they'll play for me."
A.L. Brown                     14        17        20        14 -- 65
Central Cabarrus         16        13        21        18  --68
A.L. BROWN – C.J. Wilson 23, Kheni Briggs 12, Wallace 3, Teddy Russell 12, Koby Scott 15