WINSTON-SALEM – Playing in its first state championship game in program history Saturday, the Concord Academy boys soccer team fell victim to an opponent that employed one of its own defensive strategies.
The Eagles like to say that a team can't beat you if it doesn't score, but that's exactly what Winston-Salem Calvary Day did to the visitors.
The Cougars scored the game's only goal in the 51st minute, and the Eagles couldn't push any of its nine shots past Calvary Day's long and lean goalkeeper Adam Carter, as Concord Academy dropped a 1-0 decision in the N.C. Independent Schools 3A title game.
"It was a battle back and forth, and it was basically who was going to make the first mistake," said Scott Wagner, Concord Academy's fifth-year coach. "The other team capitalized on it. Unfortunately, we gave up a free kick down toward the box, and it created a dangerous situation for us and they capitalized on it. That's soccer. Other than that, I thought it was an even game."
With just under 30 minutes left in the second half, Concord Academy's Christian Ruiz fouled Calvary Day's Josiah Winters about 20 yards away just right of the goal.
Awarded a free kick, Winters' shot crashed into Eagles' goalkeeper Ismael Ortiz, who couldn't wrap his arms around it. Traffic from both teams in front of the net obstructed Ortiz's view, but the Cougars' Ryan Connors was able to settle the loose ball.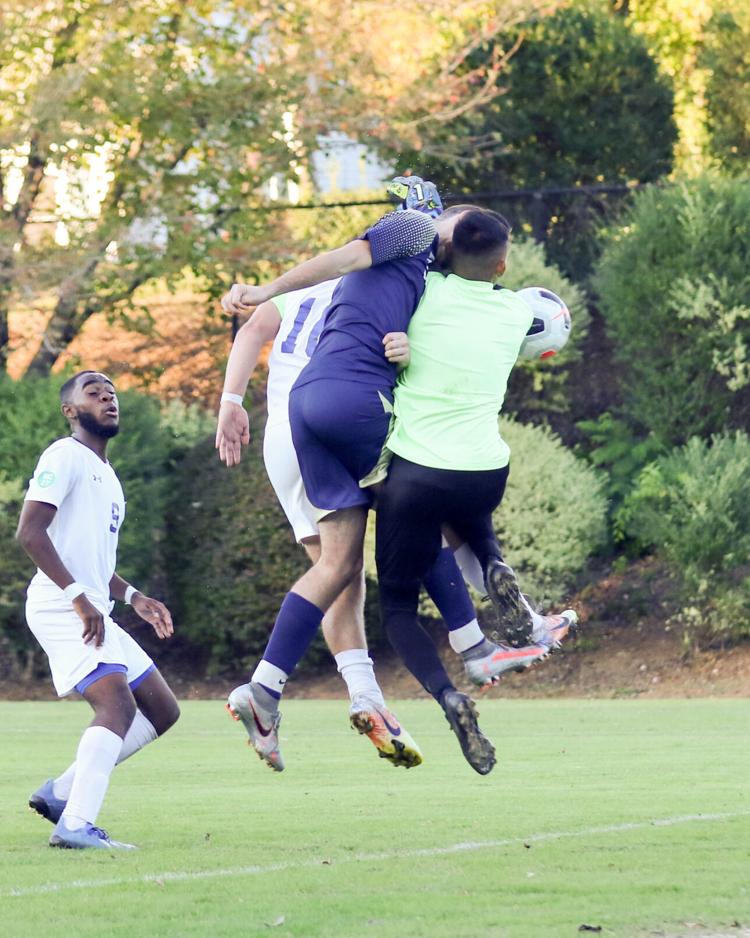 Finding an open slot on the left side of the net, Connors fired a shot that Ortiz had little time to react to. It was Calvary Day's first shot of the second half, and the only one it needed as it broke the scoreless tie.
"It was just a lucky bounce," said Ortiz, a senior. "I can't argue with anything. A goal's a goal. There were two players blocking my way so I couldn't see anything."
Having been limited to four-second half shots, Concord Academy's last chance to score came down to the final 31 seconds. Eagles' freshman Cuicui Gonzalez had just gained possession and pushed the ball across midfield when a hard-charging Winters collided with him near the Concord Academy bench.
Winters showed immediate remorse and concern for Gonzalez, but was still assessed a yellow card. Gonzalez lay injured on the turf for a couple minutes, and when he got to his feet, he limped off the field favoring his right leg.
Taking advantage of the direct kick opportunity, Wagner tabbed Ortiz to assume the honors.
The right-footed Ortiz's shot was directly on path with the goal, but he got too much lift on it. It sailed a good 20 feet above the cross bar into a net raised behind the goal, keeping it inside the stadium's chain-linked fence that was lined with spectators who weren't allowed in due to COVID-19 precautions.
It secured Calvary Day's championship and an undefeated 14-0 season. Concord Academy, which had outscored its three state playoff opponents by a combined score of 17-1, was shutout for the first time this season and finished 11-3.
"(Concord Academy) is the best team we've played this year," said Calvary Day coach Ben Kerth. "And we've played a lot of tough teams … but this was our toughest matchup. They gave us everything they had, and it took everything we had to win this game."
Calvary Day controlled possession early in each half before Concord Academy became more aggressive. The Eagles had a couple of shots inside 26 minutes of the first half and may have had their best scoring chance of the game in the 15th minute.
Positioned on the left side of the goal about 30 yards away, sophomore Alex Guzman rocketed a shot toward the right side of the net. It mildly deflected off a Cougars defender and the goalkeeper, Carter, moving to his left, made a two-handed diving save.
Carter made another diving stop moving to his right against Concord Academy senior Richy Medina in the 39th minute.
The Eagles' Ortiz was also excellent in net, making four saves, and benefitted by two Calvary Day shots hitting posts in the second half.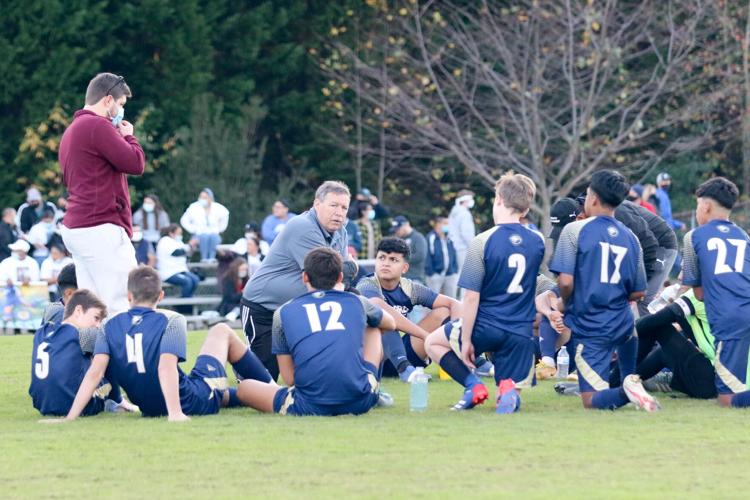 Inside the final 16 minutes, the Eagles' Ricky Garcia launched two similar shots from about 30 yards away from the left side. Carter made easy saves both times by cradling them in his chest.
One of eight seniors on the team, Garcia was proud of Concord Academy for making its deepest playoff run in program history.
"Our school had never made it this far," said Garcia. "That's something that I can hold on to. Unfortunately we didn't win, but we're glad to make it this far. A lot of bonds were made. We all lost together. This just might help us be even closer as a family."