CONCORD – I'll be honest: I'm not a North Carolina Tar Heels fan, and I don't particularly care for the Duke Blue Devils.
Nothing personal. I just happen to have two other college basketball teams that mean everything to me: North Carolina Central University, where I spent, let's ballpark it "around five years" of my life chasing an English degree (hey, it's a long story), and Georgetown University, which owns my heartstrings but always rips them apart in March.
On Saturday night, however, I was all about Duke and UNC.
Or more specifically, I was all about two players from those teams: Wendell Moore Jr. and Leaky Black, a pair of Cox Mill High School graduates who once won a state championship together.
Clearly, it was easy not to cheer for either team, but it was impossible for me not to cheer for those two players. And that's what made it so emotionally exhausting watching this game from my home office as I finished putting together Sunday's issue of the Independent Tribune.
I was all in, as were many people who know Black and Moore. As a longstanding personal rule, I don't openly cheer for athletes I cover while they're still in school. But once they graduate and start taking on the world outside Cabarrus County, my allegiance is clear: It's all about the local heroes, all the time.
So when Moore's last-second layup gave Duke a 98-96 overtime victory over the Tar Heels Saturday night, I, of course, was thrilled for him. But I was also crushed for Black, especially when ESPN cameras caught him sitting on the North Carolina bench with his head in his hands, heartbroken as the Blue Devils celebrated his homeboy.
But I also couldn't help but think about what a special moment this was for Cabarrus County, the place we at the Independent Tribune affectionately call Hoopsville, N.C.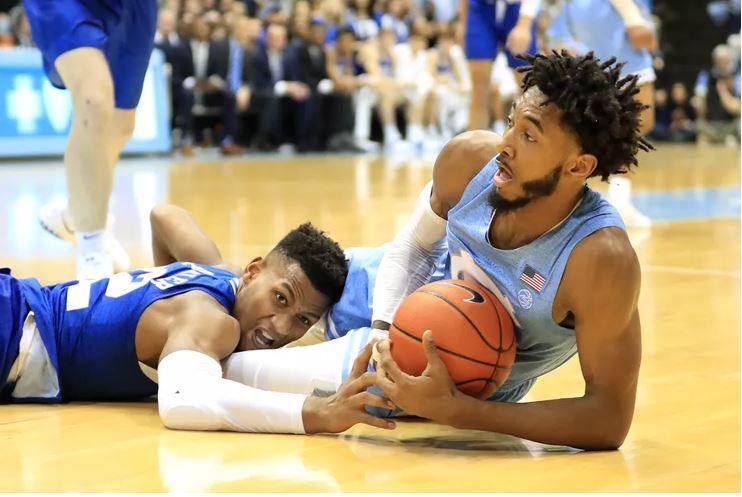 This was huge. Huger than huge.
Two kids from Concord, going at it in what annually is the grandest regular-season college basketball game in all the land. (Some folks actually might consider it bigger than the Final Four, but that's another column.)
Both players come up big for their teams, and there really does seem to be an extra zest in their step in their first college game against one another.
And, finally, one of them winds up hitting the game-winning shot that will forever be a burning image in this great rivalry's history.
Let that sink in for a minute.
Has there ever been a bigger singular moment for a Cabarrus County athlete?
I've only been affiliated with sports in this county for about five years, so I'm not sure. I just think, with sports exposure at an all-time high and the fact that this occurred in THE college basketball game that captures everyone's attention, it would be pretty hard to beat.
Over generations, the county certainly has sent its share of athletes onto the big-time stage.
There have been football players who've made Pro Bowls in the NFL, like Ethan Horton from A.L. Brown.
There have been basketball players who've had their own huge moments in college, such as former Concord star Kenyan Weaks playing in the Final Four for the University of Florida.
We've even had Northwest Cabarrus graduate Corey Seager be named Major League Baseball's National League Rookie of the Year, and he nearly won a World Series with the Los Angeles Dodgers.
But as far as one moment, where it was all about a person from Cabarrus County and his/her name was on the national, if not international consciousness? What Moore did last night is going to be hard to beat.
The only thing that might rival it, at least that I can think of, is the late, great Kannapolis native Dale Earnhardt – arguably the best racer of all time – finally winning his first Daytona 500 in 1998.
Perhaps if social media were around back then, Earnhardt's accomplishment might clearly surpass what Moore did with his buzzer-beating basket Saturday night. And, hey, maybe it does anyway.
The point is, a kid from Cabarrus County is front and center right now. He's leading all the sports highlight shows. He's trending on Twitter and virtually all the other social media platforms. Punch his name into Google, and it turns into the Wendell Moore Show, where you could literally spend hours sifting through all the photos, videos and written details of his big play.
And when people who didn't know who he was before his game-winner decide to dig deeper and find out more about him, they're going to learn that he began laying the groundwork for his big moment in Chapel Hill right here in Concord.
By the way, should those of us who have been here for Moore's ascension really be surprised he's where he is this morning?
With nearly 3,000 points, he is Cabarrus County's career scoring leader among boys. He's the county's only McDonald's All-American. He got his first major college scholarship offer before he ever played a game at Cox Mill, and the general consensus among folks who've been here for generations is that he's the very best player the county has seen.
Granted, Moore didn't burst onto the college basketball scene in dominating fashion this season. It's been a bit of a learning process, and he just came off surgery for a broken hand.
And let's not forget that he was just 17 when he first left for college; he didn't turn 18 until it was halfway to October, but by then he'd already supplanted himself as a starter among the group of players that replaced Zion Williamson and R.J. Barrett.
But after some growing pains, and I truly believe the motivation of going against his former teammate with the world watching, Moore blossomed Saturday night. Especially in the second half.
All of a sudden, he had that familiar look in his eyes and body language. You could tell he believed he could out-jump everybody else on the court. You could tell he knew he was faster than the person guarding him. Time after time, when a ball was loose, you could see his long arms separating from the gaggle of other long arms. He had a bounce in his step, determination that I honestly hadn't seen since he was pursuing his second state title his junior year at Cox Mill.
Remember how he used to put his head down and drive to the basket and get points like that? He was doing that Saturday, and it resulted in career highs in free-throw attempts (10) and free throws made (seven).
So as Duke began to whittle away at the Tar Heels' 13-point lead in the late stages of the second half, I just had a feeling Moore was going to decide the outcome.
Call it corny, but I honestly did believe that, and I put it out on Twitter to be ridiculed if it didn't happen.
I'd seen that look – I'll make it happen -- countless times, whether it was in a Tuesday night South Piedmont 3A Conference matchup or in the waning moments of the 3A state championship game.
Moore finished with 17 points, 10 rebounds and a blocked shot – all career bests.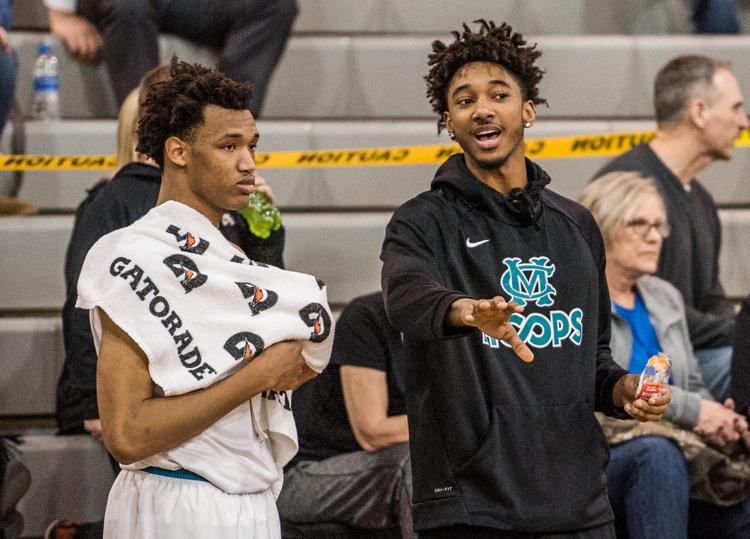 I was equally impressed by Black, who also played at Concord, first for George Walker and then Jason Stowe, before hooking up with Moore and coach Jody Barbee at Cox Mill.
Sometimes playing point guard at 6 foot 8, Black flirted with a triple-double – eight points, seven rebounds and a career-high nine assists – before fouling out in regulation.
The biggest lights came on Saturday, and these two young men shined right with them.
It truly was a moment in the sun for Cabarrus County, and the great thing is it's only going to get brighter.
Black's just a sophomore, and Moore's only a few minutes removed from walking the hallways at Cox Mill. They will both get better, and these Duke-UNC games are only going to feature them more prominently.
Think about where Moore placed himself in this rivalry's lore with his late-game heroics.
Older fans (no offense) can still fondly recall Walter Davis' 30-footer that forced overtime and helped the Tar Heels win a meeting in 1974.
A younger generation of fans still talks about Jeff Capel's near-halfcourt shot that sent the 1995 game into double overtime before Jerry Stackhouse and Rasheed Wallace eventually powered UNC to victory.
And a newer generation certainly continues to recall Austin Rivers' buzzer-beater that gave the Blue Devils a dramatic win in Chapel Hill in 2012.
And now, folks will reflect – some more fondly than others – on the image of Moore hustling in and leaping to grab an errant Tre Jones jumper while, without coming back down, putting the ball in for the win in 2020.
On this very day, at 18 years old, Wendell Horace Moore Jr. has one of the most recognizable faces in the world.
And whether you're a Duke fan, a UNC fan, or the fan of a program that has nothing to do with this rivalry, that's reason for all of Cabarrus County to feel proud.