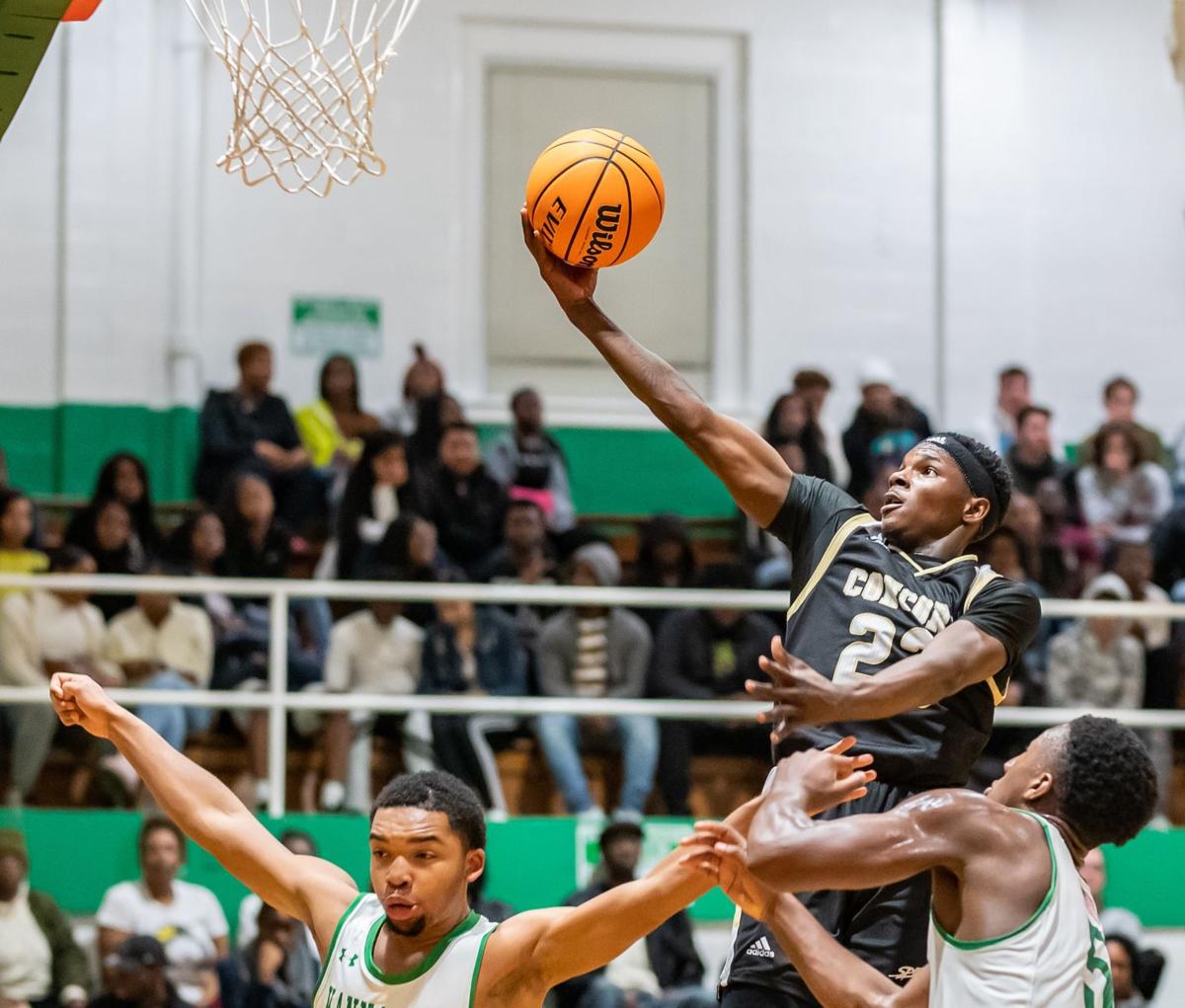 KANNAPOLIS – As much as today's young basketball players like to get individual trainers and go through hours of drills and practice their 3-pointers so they're ready to become the next Stephen Curry, good, old-fashioned "want-to" still is a powerful thing.
And it's often the difference-maker.
When athletes have all invested the same amount of time honing their skills and their talents are roughly the same, effort and hunger often can be the separator.
And that's what Nijel Robinson has.
On Friday night, the Concord senior had it on full display, and he used it to help the Spiders pull off the upset victory of this still-young basketball season, as they took down Cream of Cabarrus No. 3-ranked A.L. Brown, 55-54.
Of course, Robinson wasn't the only reason the Spiders won, but there's no denying what he meant to the surprising outcome.
Just when the Spiders needed a rebound, he got it.
And just when they needed a steal, he swiped it.
And just when they needed clutch baskets as the Wonders were making a run to pull away, he got them.
And on a Bullock Gym floor that was absolutely loaded with talented players, the 6-foot kid in the headband just kept showing up in the fray and making the play.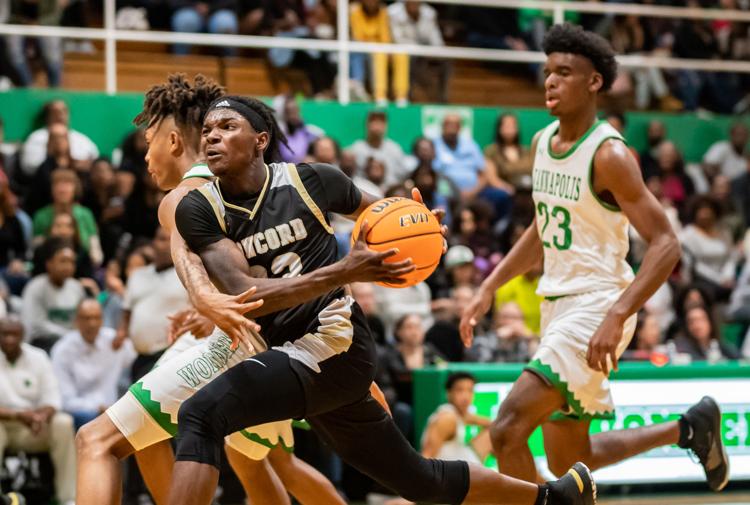 Robinson finished with a team-best 14 points, but it was much more than that. It's something that's not really measured by statistics. It's something innate. It's about doing the little things and having arguably the biggest impact on the game at the same time.
His coach knows exactly what it is.
"He's the heart and soul of our team," said first-year Concord coach Barrett Krueger. "He really is. When he is upbeat and he's engaged and he's ready to play, the rest of the guys follow him. He's our leader.
"He just makes a world of difference," Krueger added. "He's only 6 feet tall, but he plays like he's about 6-4 or 6-5. He really does. He can do it all."
Krueger's not exaggerating. On a Concord team that's green, Robinson believes he has to be a leader, although for him that extends well beyond telling guys how to act in the locker room or how to conduct themselves during practice.
Robinson might do those things, too, but the thing he's best at is playing his heart out. All 165 pounds of him.
With freakish athletic ability, he seems to think he can beat everybody on the court to the basketball when it's loose. And even when it's not loose, he's going to give his all to take it from the opponent.
It was amazing Friday night to see all those great athletes on the court – and there were plenty of them – jumping around for the basketball. Then suddenly, you'd see a hand reach up and grab the ball, and Robinson is emerging from the group, on his way down the court trying to make something happen for the Spiders.
It's like Robinson has his own fast-forward button and everyone else is playing at regular speed. It has to be a joy for basketball purists to watch, unless, of course, they were cheering for A.L. Brown Friday night.
Asked where he gets his considerable athleticism, Robinson shrugs his shoulders.
"I have no clue," he said, seeming to honestly be confused by his powers. "It's just God-given, I guess. I don't know, it was probably my grandma."
Robinson's referring to Teresa Burrell, who he said played softball and basketball back in her day and from whom he draws inspiration.
"I just play hard," Robinson said.
But make no mistake: Robinson isn't just some athletic kid who tries really, really hard; he's got skills, too.
On multiple occasions Friday night, just as A.L. Brown was making a strong push, Robinson calmly stroked 3-pointers that swished through the nets. Then, he'd raise three of his fingers, letting everybody in the building know that he'd spent time doing just as many shooting drills as his peers.
So, as Krueger said, Robinson is a multi-dimensional player. He can score. He can rebound. He can definitely defend. And he can be a playmaker for his teammates.
Old-school folks, just picture Dennis Rodman with a jumper.
New-school folks, just picture Russell Westbrook with a jumper.
I asked Krueger what Robinson's assigned position on the team is. Is a guard? A center?
After all, he leads the Spiders in scoring (12.2 points per game), rebounding (5.8), assists (3.4) and steals (2.8). And he's one of the team's top shot-blockers, most of them of the SportsCenter-highlight variety.
"Look, he's everything," Krueger said with a laugh. "He's all over the place – point guard through center, that's what you can call him.
"His energy is the difference. I know (the Wonders) made a run early in the contest, but he just kept positive. That's the leadership he provides us. And I think the guys followed his lead. He means everything to us."
Robinson's had a similar impact on the Concord football team over the years, standing out at multiple positions, particularly wide receiver. This past season, he led the team in receiving yards, and his 668 all-purpose yards were nearly 300 more than the next-closest Spider.
Robinson wants to play a sport in college, and I honestly believe he could play both at the right, small school. He's gotten some overtures from a few tiny colleges, mostly for football.
But it doesn't necessarily matter to Robinson which sport he does at the next level, if he's fortunate enough to get an athletic scholarship. He's going to play hard, no matter what.
"Basketball's No. 1 in my heart, but I love football," Robinson said. "All I need is the opportunity."
On Friday, he took advantage of his opportunities and gave his team some to come out on top. It didn't matter how many points he scored or how badly his knees could've gotten scraped when he leaped into the crowd onto a reporter to try and snare a loose ball.
He just wanted the Spiders to win, and his effort showed that.
"I feel like this win right here really boosted us, and we're going to have more confidence going into the next few games that we have, because everybody's going to be tough," Robinson said. "I really wanted to win this."
For the record, when Robinson fell onto the reporter in the crowd, he actually took a split second to apologize.
"Sorry about that!" he said before pulling himself up and sprinting back onto the court.
Robinson had business to take care of.
And his burning desire to do that was on display all Friday night.
Be the first to know
Get local news delivered to your inbox!