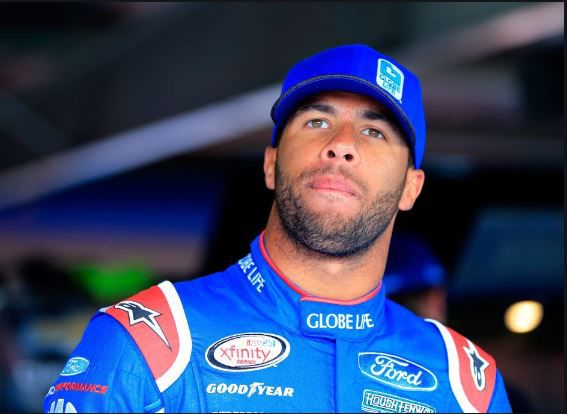 CONCORD -- Hopefully, everyone here in Cabarrus County knows how much we love Bubba Wallace, the Northwest Cabarrus High School graduate who climbed through the racing ranks and earned a ride at NASCAR's highest level with the iconic Richard Petty.
Here at the Independent Tribune, we try to keep you abreast of all the great things Bubba does, on and off the track, because we consider him "one of our guys," along with drivers like Kannapolis-bred Daniel Hemric and Cannon School grads Harrison Burton and Austin Cindric.
But Bubba messed up recently, and we've got to talk about that, too.
Last Sunday, during the third installment of the eNASCAR iRacing Pro Invitational Series, Bubba decided to, what gamers call, "rage-quit" the Food City Showdown at virtual Bristol Motor Speedway after getting frustrated because of a series of run-ins with Clint Bowyer.
On just the 11th lap of the 150-lap virtual event, Bubba was literally tired of playing games.
"Y'all have a good one," Wallace could be heard saying on his Twitch stream after the wreck. "That's it. This is why I don't take this (expletive) serious. Peace out!"
That didn't sit too well with many fans trying to satisfy their NASCAR jones by watching the 32 drivers compete during a live broadcast on FOX, and they made it known on social media.
Let's just say he didn't apologize to his fans for unceremoniously leaving the race.
"Bahaha I'm dying at my mentions right now ...," he wrote. "I ruined so many peoples day by quiting..a video game.. Bahaha. A video game. Damn quarantine life is rough"
It was bad form by our hometown hero. Seriously.
GTK where you stand. Bye bye Bubba. We're interested in drivers, not quitters.

— Blue-Emu (@BlueEmu1) April 5, 2020
No, it wasn't a real race. And maybe he wasn't particularly excited about essentially playing a video game while he practiced another week of social distancing on Sunday.
But you can't just quit, Bubba. Not an event designed to give sponsors much-needed exposure and entertain fans until the real racing returns – whenever that might happen.
And I'm guessing FOX wasn't happy with it, either.
Unfortunately, even though it wasn't a real race, there certainly were real consequences.
One of Wallace's sponsors, joint/muscle cream company Blue-Emu, was so bothered that it pulled its sponsorship. And it went to social media, too, writing "(Good to know) where you stand. Bye bye Bubba. We're interested in drivers, not quitters."
Listen, we know Bubba's not really a quitter. That hasn't been a part of his reputation at all. You don't climb the racing ranks and become the first full-time African American driver on NASCAR's top circuit in 45 years by doing stuff like that. And you certainly don't land a spot driving for "The King," Richard Petty.
Bubba was just frustrated.
But this has to be a learning moment for him. He's only 26, so he still has plenty of time. But you have to wonder how much something like this could affect the overall racing career of a driver with zero career wins, zero poles and just two top-five finishes.
Losing a sponsor hurts any team. And let's be honest, Richard Petty Motorsports has been struggling a bit.
Do I think firing Bubba was an overreaction by Blue-Emu?
I really think there could've been a conversation with Bubba, one that didn't take place on social media, sternly encouraging him to offer a public apology.
Had he done so, the fans would've forgiven him, and Blue-Emu would've been just fine.
So here's to second chances. I'd hate for something that happened in a virtual race to have a longstanding impact on Bubba. After all, be it brawls or breaking the rules, NASCAR drivers have been known throughout the decades for crossing a line or two and irritating the fan base every now and then.
This shouldn't be any different.
Bubba's still our guy, but he's got to be better.
Be the first to know
Get local news delivered to your inbox!