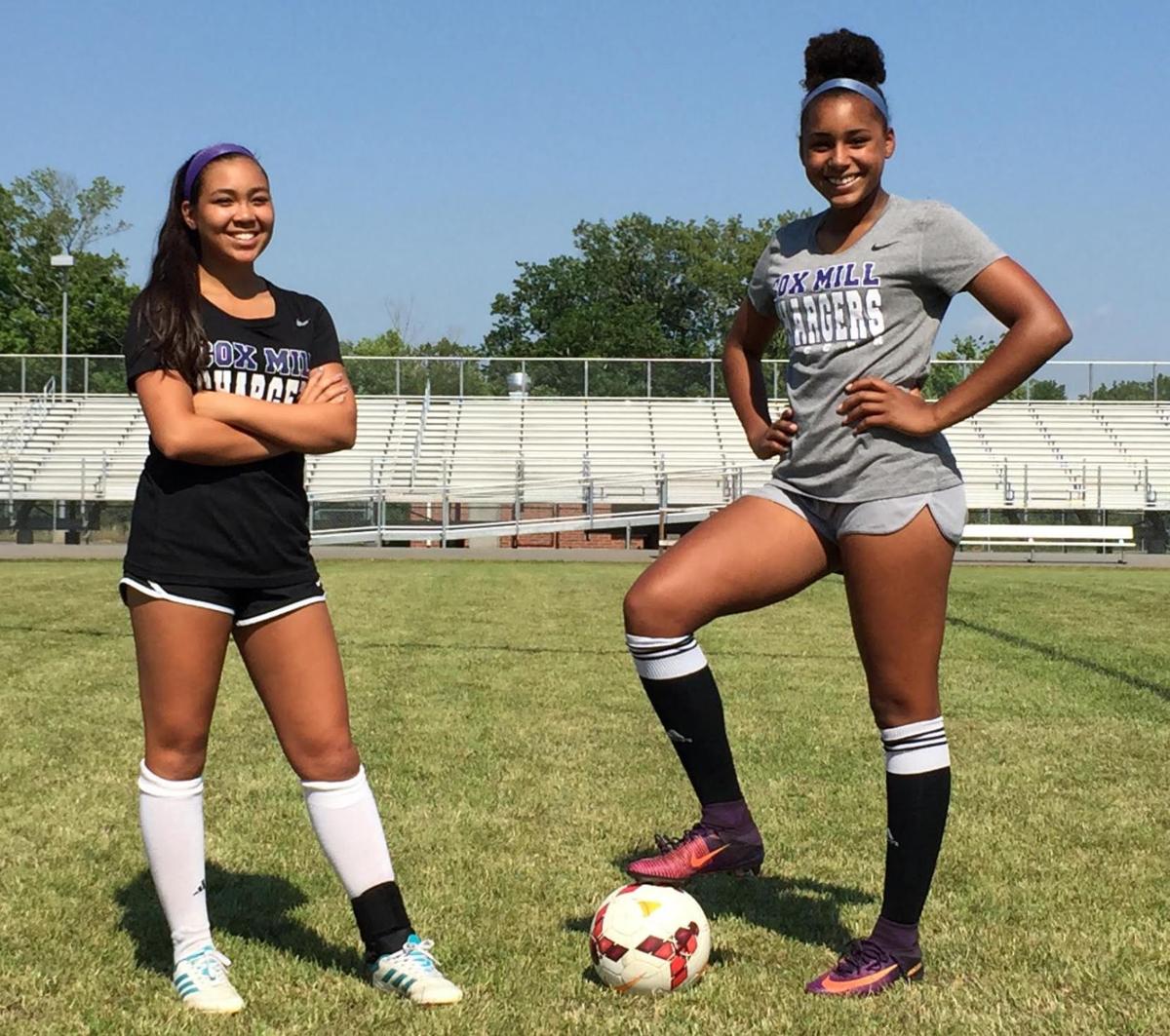 CONCORD – If you were to look at the Cox Mill girls soccer team's stat sheet from this season, the first thing that would likely jump out would be the Chargers' prolific offense that averages nearly seven goals per game.
This attack is less surprising, though, when you look at the roster, as the Cox Mill attack consists of a litany of upperclassmen who often look like they've been playing together their whole lives.
As impressive as the offense is, the defense for the four-time reigning South Piedmont 3A Conference champs may be even more daunting.
The back line for the Purple and Teal allows just 0.4 goals a game on average and has given up more than one goal in just two of their 22 games this season.
The defense that's shut down almost every opponent it has faced is led by two freshmen.
Sydney Smith and Rachel Frantz play the two center back positions for the Chargers and, as just freshman, have shown poise and skill well beyond their years.
Not only have these freshmen phenoms had the skill sets to keep up with the area's best forwards, but they have also quickly matured into the leadership role required of the center back position.
"They've just kind of felt it out in that role to where they're comfortable together," Chargers coach Kellie Pierrot said. "They understand they need to direct the defense, and they're not going to shy away from that. They've done a great job stepping up and communicating and not being hesitant at all."
That's not to say there weren't some growing pains and adjustments to be made at the beginning.
"In the beginning, it was very nerve-wracking," Smith admitted. "Playing with people I know I can fit in with really helped me to improve throughout the season and have fun while playing at the same time.
"Coming from playing middle school soccer to high school soccer, there definitely was a big difference in technical ability and things like that," Smith added. "But I feel like we adapted well as freshmen."
Those nerves did not last long, and Frantz said this had a lot to do with the support of the team around them.
"Our teammates around us got us pumped and made us feel more comfortable," Frantz explained. "They were so supportive, so you don't really get any nerves."
Frantz specifically said that the four seniors on the team – Mary Perkins, Madison Greenhall, Jordan Smith and Sally Calloway -- have really helped and inspired the freshman duo to do better.
"All of them have (helped)," Frantz said. "They push us to want to train harder and get better every day and keep growing as a team."
One of the most important seniors to their development has been Calloway, who is the only upperclassman to play defense for the Chargers this year.
According to Pierrot, Calloway has been a strong veteran presence who has acted as a bit of a safety net when the freshmen inevitably make the occasional blunder.
"Sally is a very smart player and works her tail off on the field," Pierrot bragged. "She's always quick to get back and help cover for them."
Another senior has helped Sydney Smith specifically: her older sister, Jordan.
"It did (help), because we could talk about things that were coming up in the season," Sydney said.
But ultimately, the two freshmen have been motivated by their competitive nature and the desire to do well for the team that has helped them so much this year.
"We would come out some games and not play to our highest ability," Smith admitted. "We thought about how if we played like that against higher teams we wouldn't succeed. So we just tried to get better."
Pierrot said Frantz and Smith's on-field maturity is what makes them so special.
"I think it just showcases the talent and the confidence that they have," Pierrot said. "They come out here, they put in the work, they ask questions and they're just growing into the role because they know it needs to be filled."
There has been statistical proof of their improvement, too.
The Cox Mill defense gave up six goals in the first eight games of the year. While this is by no means a bad number, the Chargers have given up just three goals in the last 14 games and have recorded shutouts in 13 of those.
Thanks to help from the veterans and coaching staff at Cox Mill, Frantz and Smith have quickly become some of the most reliable players on the squad and are looking forward to the deep playoff run the Chargers are anticipating.
"We're ready," Smith stated confidently. "We want to win. We want to make it far in the postseason, but we have to take it game by game."
Not only are the freshman defenders excited for a promising postseason now, but they are also looking forward to three more years of dominant defense.
"We're excited to grow and keep going year by year together, and playing together," Frantz said.
Added Smith, "We want to be able to move forward and get better and be able to set the same example that the seniors did for us in the next three years."
Be the first to know
Get local news delivered to your inbox!