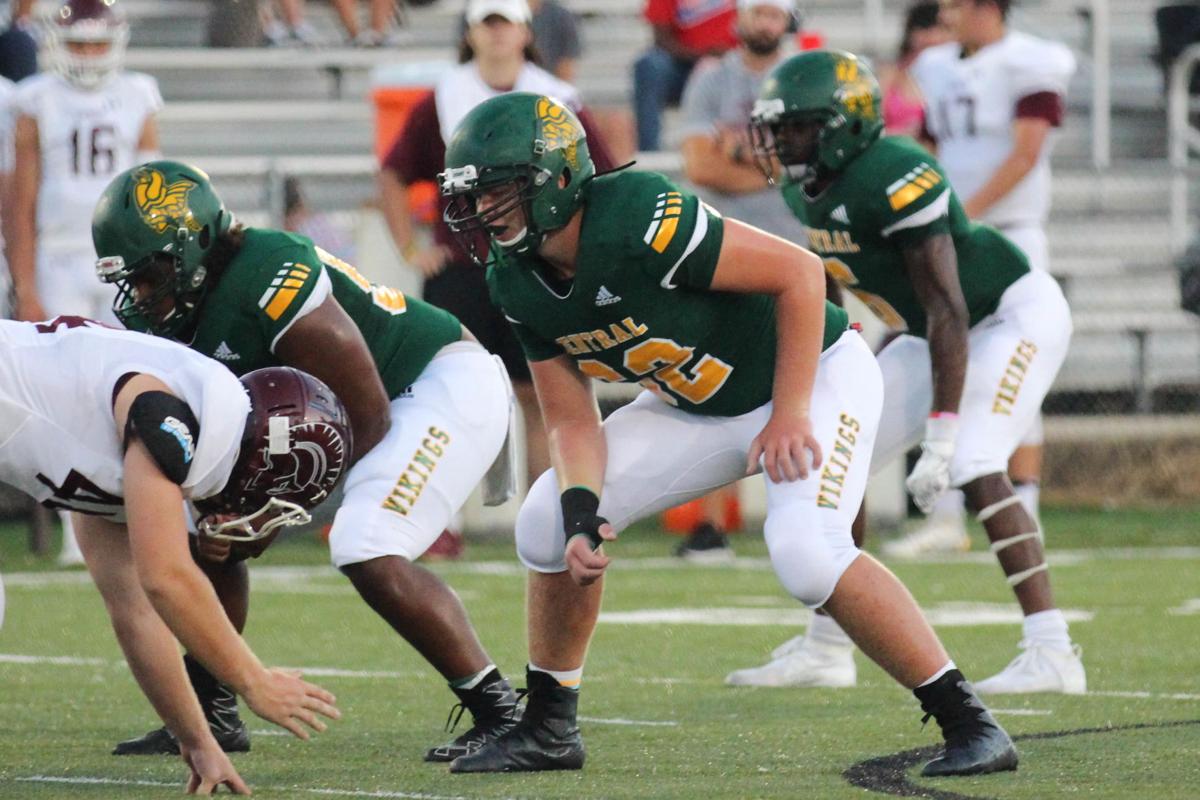 CONCORD – The Central Cabarrus football team went into halftime Friday night with a slim 8-3 lead over the visiting Sun Valley Spartans. The Vikings defense played lights out after surrendering a field goal on the Spartans' first drive, but there was no breathing room, especially a week after Central had lost to Hickory Ridge after letting a 20-point halftime lead slip away.
But the Central Cabarrus offensive line had things in control. Its focus was on one thing: running the ball early and often in the second half. The Vikings did that, and it led to a 22-point outburst in the third quarter, en route to the 38-3 victory.
"Our offensive line felt really good at halftime," Vikings coach Kenneth McClamrock said. "They were demanding that I run the ball at halftime, saying, 'Coach, run it, run it, run, it.' They were telling me what plays they wanted to have ran. When your offensive line does that, it usually is going to be a good night for football. They were right. They were better coaches than I was in the first half!"
When confidence is talked about when it comes to football, it often means a quarterback's ability (or inability) to shake off mistakes and make plays or a cornerback's ability to forget about the previous play and line up against the other team's top receiver to shut him down. On Friday night, it was the offensive line's confidence that gave Central Cabarrus the needed boost.
"We wanted the ball going through every hole," said senior offensive lineman Raymond Martinez. "We wanted it. We wanted to give our running backs some touchdowns. That's it."
Added senior offensive lineman Amir Weston, "It was effort, 100 percent effort. I just gave it all I had. I had to finish what I had to do. We wanted to show (our ball carriers) the spotlight. We wanted to get them some touchdowns, some yards, do what it takes to get them some highlights."
That effort, that confidence, gave the Vikings running backs the ability to make play after play in the third quarter. Junior running back DeAndre Boykins got the scoring started fewer than four minutes into the period with a 4-yard touchdown, his second of the night.
"What DeAndre forces defenses to do is to key on him, which is going to open up other players," McClamrock said. "Not that we want DeAndre to be a decoy, but he has become that a little bit the last two weeks, and we're OK with that. DeAndre doesn't care about his touchdowns, he doesn't care about (recruiting service) stars, any of that hype. That's not who he is. He just wants us to win, he wants our team to be successful. He's allowing other guys to be successful."
Boykins bragged on his offensive line.
"Our offensive line today – oh, my God," Boykins exclaimed. "They really stepped up from last week, I promise you. They stepped up huge. It feels so good. It was open holes for all of us backs. It just feels good. Before Hickory Ridge, we all loved each other. This game, though, I feel like we were all in. We were all together."
Then it was the Solomon Faulkner Show. With Central Cabarrus backed up at its own 11-yard line, Faulkner took the handoff and raced for a 27-yard gain to give his offense some breathing room. Three plays later, he exploded for a 47-yard touchdown. On the next Vikings possession, he capped the drive with a 40-yard touchdown.
"Our running backs were just through the roof," McClamrock said. "Solomon Faulkner was had some amazing runs. Solomon is one of our strongest kids. In the weight room, he works incredibly hard. Last year, he was kind of our fourth-quarter running back. When other teams were tired, we would put him in. He's starting to turn into a feature back. He's such a spark plug, man. He really lit the fire, got our guys going."
Faulkner finished the night with 140 yards and his two scores.
"Going into halftime, I just asked our guys to give the quarterback and us two extra seconds," said Faulkner. "They gave us three.
"It feels amazing," he added. "A breakout night like that really is a statement to the season. I personally could not have done it without my line. My o-line is the truth."
The offensive line paved the way for an electric rushing attack and turned a close game at the half into a dominant Central Cabarrus win. Then it was simply see the hole, hit the hole for the Vikings' running backs. And they did.