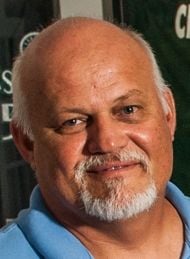 SAN DIEGO, Calif. – A Concord father and son were on a worldwide stage Monday night.
With his father, Jeff, pitching to him, former Northwest Cabarrus High School star Corey Seager participated in the popular Home Run Derby, which was broadcast live on ESPN.
Seager was eliminated in the first round despite hitting 15 home runs, but the highly regarded Los Angeles Dodgers rookie also is scheduled to participate in tonight's Major League Baseball All-Star Game at Petco Park.
Most of the Seager clan was in attendance Monday, including his mother Jody, and brother Justin, a former UNC Charlotte standout and current player in the minor leagues. Oldest brother Kyle, a star third baseman for the Seattle Mariners, remained in Washington State but remained in close contact.
Before the Home Run Derby, Seager said he wasn't sure whether he or his father would be more nervous when it was time to take the field.
"We can just be nervous together," Seager said during Monday's media session. "(My dad) told me he (was) going to try to not look at me and stare at the catcher. And I told him, 'Good luck with that.'"
For many baseball fans, the night will be remembered for the display put on by Miami Marlins slugger Giancarlo Stanton, who hit 20 homers in the final round to best defending champion Todd Frazier of the Chicago White Sox. Stanton finished with a record 61, shattering the single-night mark of 41 by Bobby Abreu in 2005.
Despite his first-round loss to current MLB home run leader Mark Trumbo, 16-15, Seager said the Derby was a fun experience overall for both him and Jeff, who he said taught him everything he knows about the game of baseball.
"It's one of those things where it's going to be a good memory for us," Seager said.
Although Jody and Jeff both flew to southern California from Concord to cheer on their youngest son, Corey wanted to make sure his father could at least grab some of the spotlight.
"Standing in front of (a crowd), there's nothing like that, so that's exciting for him," Seager said. "He got to experience what we do on a nightly basis in a way."
Although he's in his first full season in the big leagues, neither the Home Run Derby nor tonight's game mark Seager's first MLB All-Star experience.
The ex-Trojan was previously chosen to represent Team USA in the 2014 Futures Game in Minneapolis. Afterward, Seager stayed in town to watch Kyle play for the American League All-Stars.
Seager remembered how "unreal" the experience was for him. As he and his family waited for Kyle to come out of the clubhouse after the AL defeated the NL, 5-3, that year, then-New York Yankees star Derek Jeter came walking toward their direction. Jeff, who grew up in Poughkeepsie, New York, couldn't help but stop the famous shortstop to introduce himself.
Seager, who was 20 at the time, stood frozen watching his father and Jeter shake hands and was unable to take advantage of the moment to say hello to the future Hall-of-Famer he grew up idolizing.
"I buckled under pressure," Seager said jokingly.
Fast-forward two years, and all the Seagers were gathered to watch Corey and his father in the Home Run Derby, followed by the standout shortstop's first MLB All-Star Game performance.
"It's every little kid's dream," Corey said. "It's one of those things where I'm thankful to be able to do it, and I'm going to try and relive those kid dreams and soak it all in."
Seager, who was considered among the league's top prospects heading into the 2016 campaign, has met the sky-high expectations. This season, he is batting .297 with 17 home runs and 42 RBIs in 90 games.
Kyle, 28, said he was "unbelievably" excited when he found out Corey was included on the NL All-Star roster.
"That's such an unbelievable accomplishment," Kyle said. "For him to do it in his first full season, it's incredible. It couldn't have happened to a better person."
Kyle said he has talked to Corey about his own All-Star Game experience. He said the main advice he gave Corey was to just sit back and enjoy the experience.
"It can be a little bit stressful because you don't really know what's going on or what's happening, but it's such an unbelievably cool experience and it's just a once-in-a-lifetime opportunity," Kyle said.
Keeping up with the Seagers
Jody said her youngest son basically had no choice but to follow his older brothers' footsteps in playing sports growing up.
"It all started when Kyle fell in love with baseball, and (Justin and Corey) had no choice but to follow him around to the baseball fields to watch him play," Jody said.
With a wide age gap between Corey and his two older brothers, Kyle being six years his senior and Justin being two years older, the youngest Seager said everything from sports to video games felt extra competitive for him growing up.
"You're always surrounded by older people," Corey said. "You want to beat your brothers. And then you want to beat his friends. It was a lot of fun competing over pretty much everything."
Despite his recent accomplishments, Corey denies the idea that he's finally reached a point where he's caught up with his older brothers.
"I'm still working on catching up to them since they can beat me in a bunch of other stuff," Corey said. "It's one of those things where I might spend the rest of my life keeping up with them."
Be the first to know
Get local news delivered to your inbox!