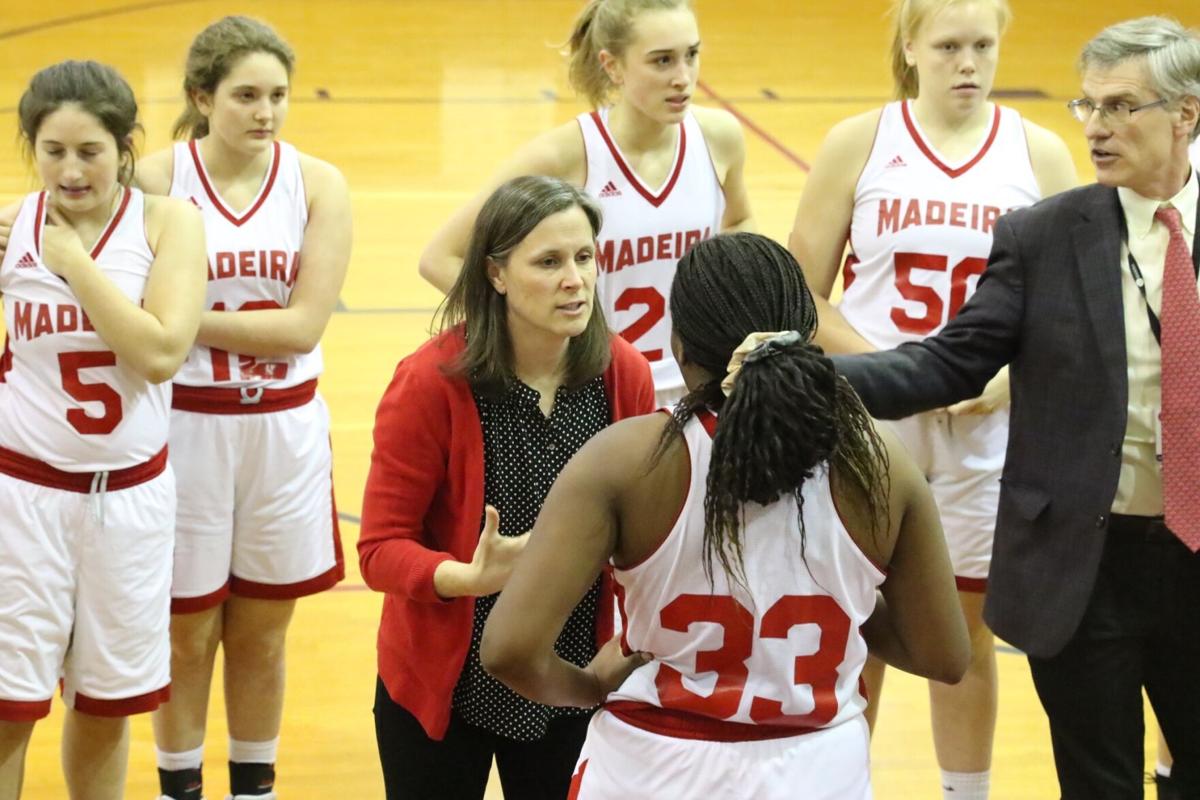 CONCORD — Katie LaRue knows all about overcoming difficult situations.
Once you overcome a life-or-death situation, as LaRue has, stepping in to run a high school athletics department in the midst of a pandemic can seems like a task you're equipped to handle.
LaRue, a Kernersville native, officially became Cannon School's athletics director on July 1 after having been at the Madeira School in McLean, Virginia, since 2016. She has more than 13 years of experience in independent schools, with some of her other stops including a five-year stint as the associate athletics director, girls basketball coach and volleyball coach at Mercersburg Academy in Pennsylvania; and four years as the assistant athletics director and girls basketball coach at Asheville School.
And if the LaRue name sounds familiar to diehard sports enthusiasts, that's because her older brother is former Wake Forest University multi-sport star Rusty LaRue, who also played in the NBA.
But that's not the only thing that makes her so qualified for her position at Cannon as the United States tries to handle playing sports amid the COVID-19 crisis. LaRue, you see, has a history of surviving — and thriving — when the odds seem insurmountable.
In 1999, after her freshman year as a basketball player at Charleston Southern University, LaRue broke her neck during a mountain-biking accident. She broke the C6 and C7 vertebrae in her neck, lost the use of her right arm, and had a metal plate and two screws placed in her neck during emergency surgery.
But that wasn't going to hold LaRue back.
During her nearly 1½ years of recovery time, LaRue didn't sit idly. She taught herself to play guitar and later made a triumphant comeback to the basketball court for her final three years of eligibility for Charleston Southern.
Since then, her inspiring return has seen LaRue make an appearance on the former national talk show "Katie," hosted by veteran journalist Katie Couric, and go on to release multiple music CDs while continuing her climb as an athletics administrator.
And now LaRue's ready to tackle the task at Cannon, replacing Pat Moyer, who resigned in June 2019 to accept a position as department head and professor of physics at Southeastern Louisiana University in Hammond, Louisiana.
LaRue and her wife, Rachelle, and their two daughters — Neely, 6, and Ellis, 2½ — arrived in Concord in late March. LaRue has been involved with coordinating Cannon sports ever since, and right now she's in the throes of getting the programs to compete this fall, as the N.C. High School Athletics Administration is allowing its membership to do at this juncture.
LaRue recently participated in a question-and-answer session with the Independent Tribune, during which she covered a number of topics, including her early time at Cannon, recovering from such a devastating injury, life as Rusty LaRue's kid sister, and her goals for Cougar athletics.
Question: What has your first month at Cannon been like?
A: I actually started helping out, consulting a little, simply because we were making so many big decisions at the end of the school year, sort of into June. So I was a little bit connected already, and it was really good that I got to know some of the coaches, and I got to know the staff here.
(Assistant athletics director) Rod (Rachal) and (athletics assistant) Becky (Ervin) have been here for a long time, and they are really knowledgeable, really welcoming, and were really helpful getting me kind of integrated before I actually came on campus. So July 1, once I started, we had already developed those relationships, which made it a lot easier for us to start talking about the really big stuff.
Q: You have a background as a coach. Will you do any coaching at Cannon?
A: As of right now, there's no expectation or plans for me to coach. I think when (Cannon School Head of School) Christopher (Jones) posted the job, he felt like this was a job that needed full-time focus and attention with the things we're going to try to do with the programs, so I will not be coaching right now.
I think eventually, if the option came up to help out somewhere, I would love to do it. But right now, we're really focused on growing the program, building team culture and just getting to know everybody, which I think is super important.
Q: (Were) all of your fall sports teams set to begin practicing on Monday?
A: We've been doing some sports already, but socially distanced, essentially. So (we started) doing more on Monday. I've put in place some minor restrictions, just so we're going in slowly. Everything, except football, will go to the next step of participation.
Cheerleading (started) for the first time, (we had boys) soccer, cross country, girls tennis, and (girls) golf (began) playing Monday. Football will be in that same space that they've been so far; we are adding helmets, but otherwise they're sticking with those NCISAA Phase Two restrictions.
Q: What are Cannon School's plans to handle COVID-19 with your athletic programs?
A: We have some restrictions in place for all of our teams, as far as the obvious: We're fogging the weight room every time there's a group of kids in there, we haven't had more than 10 kids at a time in the space. We've had 6 feet of distance up until now. Obviously, the rules say, 'You maintain 6 feet and (wear) your mask when you're not in play. But when you're in play, you can play.' But we are keeping it to a minimum with the sports that have that closer contact. We're keeping it to small sessions, small scrimmages, 15 minutes or less throughout practice.
For example, volleyball can scrimmage 15 minutes, and then they'll go to individual skill work and drills to where they're 6 feet apart and just spreading back out. We'll probably keep the doors open to the gym, our HVAC system's running fresh air through. We've got hand sanitizers and touch-free water bottle fillers, so (the athletes) will stop to hydrate and sanitize between drills. We have a rotation of the balls, so we're putting new balls in and cleaning the other ones as we go.
It's the same for football — a constant rotation of balls. Pads, if they get used by one person and passed to another, we have these weed sprayers, those big backpacks? We have sanitizer in those, so we just spray those things down. And when kids are coming to and from spaces, they must wear a mask.
Q: What are the biggest challenges for an athletics director during a time like this?
A: Obviously, you don't want to be the school that doesn't do the things that are asked of you and ends up in the news as the school that has (COVID-19). So you have to think really hard about your community — what you're comfortable with, what you believe that your community can adhere to, and I think we have to trust that our families are making good choices. And I think that can be difficult at times, to know for sure what people are doing.
We're doing everything we can to limit our exposure to each other at all times, and our kids have been REALLY good about following our guidelines we've set. And if they don't follow our guidelines, we ask them to leave. We haven't had to do that yet, fortunately.
It's been interesting to start to navigate those things you don't have to think about in a regular year. So my brain had to totally shift. I came in with all these ideas of things I was going to do when I took the job. But we weren't in COVID. But all of a sudden, when I arrive, it's like, 'Remember all that stuff you wanted to do? You've got to put that aside. You've got to think about … THIS.'
Q: What high school did you attend?
A: Northwest Guilford. I played four sports there: basketball, volleyball, soccer and softball.
I got a basketball scholarship to Charleston Southern, and I played volleyball freshman year. I broke my neck the summer after my freshman year, so I took a redshirt year. I graduated in 2003 and got my master's at Winthrop in 2006.
Q: What exactly happened when you broke your neck?
A: I was mountain biking. I worked an outdoor camp for many summers, and I still go there and work sometimes. My first summer on staff, I flipped over the handle bars on my mountain bike and broke the C6 and C7 in my neck. I lost the use of my right arm. Luckily, I'm a lefty. It didn't change everything, but it changed a lot. I was out for almost a year and a half, where I could not do contact sports and had to do rehab and recovery. It was hard. It was very hard.
Q: How did you get through all that?
A: Katie Couric had a TV show called 'Katie.' My Twitter handle is @katie, and so they found me and did this piece about me.
I play guitar and sing, and I didn't until I broke my neck. I had the guitar, and I said, 'Oh, I guess I can start to learn to use my right hand by playing guitar.' So I would learn cords and learn to hold the pick again. I ended up having sort of a music side gig, and I played shows in Asheville when I worked there. I recorded a few little CDs.
When I woke up from surgery, the first question I asked was, 'Can I still play sports?' At the time, they really didn't have an answer for me. Of course, they said, 'We don't recommend it, but we're not going to say no just yet. We want to see how things go.'
I did end up continuing to play sports and continued the rest of my career. There's definitely been some residual effects. I've had surgery since then on my arm, I've torn my labrum — and probably did it (during my accident) and didn't know it. I've gotten my wrist cleaned out from all the cartilage that I had and didn't know it because I couldn't feel my arm.
Q: What was it like growing up as Rusty LaRue's little sister? Did you compete against each other a lot?
A: He's almost 6 years older. People are always like, 'Did it feel awful to be Rusty LaRue's little sister?' I'm like, 'Well, actually, no, because I was never in high school with him; I was in middle school when he was in high school.
For me, I had this role model who was just an incredible athlete, was really a smart guy, and very focused. What a great sibling to have! He cared that much about what he did, and I got to watch that, and I really emulated that. For me, I wanted to be like him, rather than feel like, 'Man, I feel like I'm in his shadow.' I never felt that way. I always thought it was really cool to say, 'Yeah, that's my brother.' And I still feel that way.
Q: What made you get into athletics administration?
A: There's something about impacting the life of a kid at this (high school) age. They have so much opportunity, they have so much room for growth, and they're so open to it at this age.
Coaching at the college level, I just felt like it was really hard to connect on a different level, and a lot of times college athletes feel like they've arrived, and there's less openness to learning and growing. For me, being able to impact a kid at this age and see them go on and be that great kid and great athlete at the next level — or just graduate and call me and say, 'All those things you taught me have made me a better employee or have made my life better — is why I do this.
Be the first to know
Get local news delivered to your inbox!