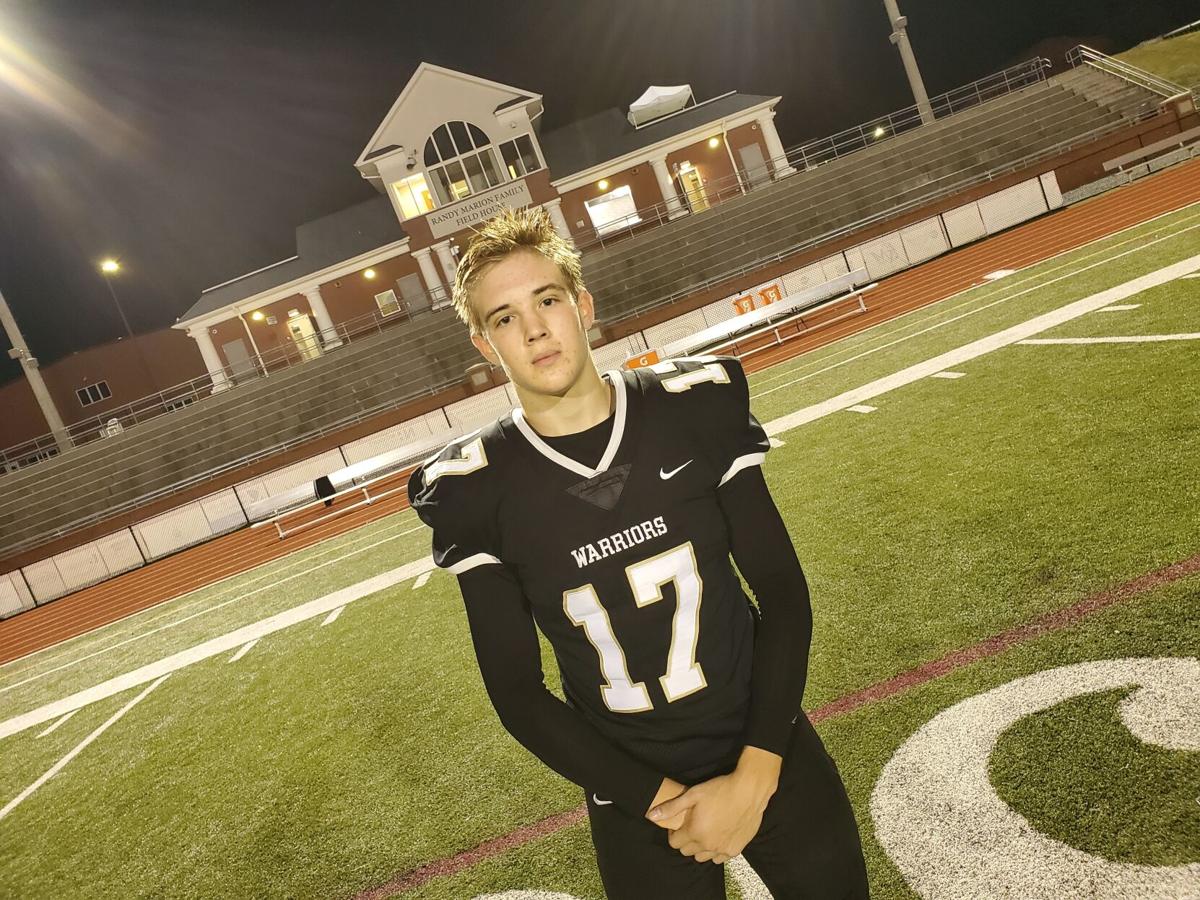 CONCORD – Every time Randy Marion III steps onto the field for a Cabarrus Warriors home football game, it means a little something extra.
There are several players on the Warriors' roster who probably feel the same way, but for Marion III, it really is different.
The Warriors' home turf at Cannon School, you see, bears Marion III's name.
Or rather, his grandpa's name: Randy Marion Field.
And Monday's Warriors victory over visiting Matthews Covenant Day just might have been Randy III's most memorable night on the 5-year-old field.
Marion III is a vital role player for the undefeated Warriors (2-0), but on this night he was a star. He shined on special teams, hurrying down to make tackle after tackle. He came in from his backup linebacker spot and helped the Warriors make life rough for Covenant Day quarterback Daniel Nelson.
But the thing that truly made this night magical for Marion III was a 10-second sequence in which he raced into the Lions' backfield in pursuit of Nelson, noticed teammate Jack Schultz had jarred the ball loose, and then scooped it up for a short trip into the end zone.
In celebration, Marion III threw the football into the ground, prompting a 15-yard penalty and a good scolding from a coach, but it certainly didn't take away from the moment.
Randy Marion III had scored a touchdown – ultimately the game-winning score – at Randy Marion Field.
Talk about a dream come true.
"It was really a great thing," Marion III said as he stood at midfield following the 31-3 victory. "My coaching staff put me in a great position to go get that ball, and Jack Schultz really helped me out because he went and made the tackle. The ball was just there wrapped like a Christmas gift, and I just picked it up and ran it into the end zone."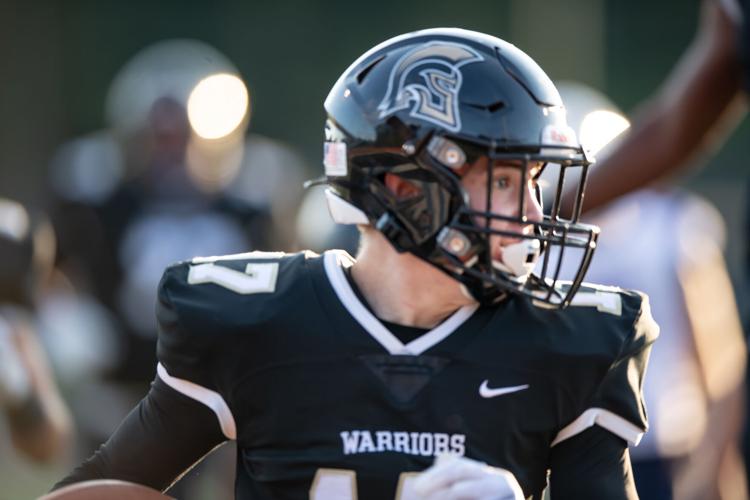 Marion III was composed as he began speaking. But the more he recalled the moment he scored, the more excited he grew. For one thing, he knew the touchdown was big on this night, whether his name was Randy Marion III or John Smith.
"I'm primarily a defensive player, so I don't get to score a lot of touchdowns," he said. "And getting a touchdown on defense was not only exciting for me but for the whole team. Those ultimately were the winning points."
But then, yes, there was the undeniable Randy Marion factor. The name itself looms large round these parts, as Randy Marion is one of the largest car dealers in the greater Charlotte area, with several successful locations in different cities.
Back in 2015, Cannon decided to name its new field after Marion, who gave the lead gift to fund the project to which 15 other families contributed. The facility also boasts the Randy Marion Family Field House, which serves as a permanent welcome center with a press box, restrooms and concession stand.
Playing on the field bearing the name he shares with his grandfather and father may bring a form of pressure for the Cannon School sophomore, but Randy III doesn't see it as a burden.
He just tries to be at his best each time he takes the turf.
"It's really a great honor," he said. "I appreciate the fact that my grandpa wanted to put his name, that I share with him, up there. It really means something to me when we have a home game. I've got to go out there and protect this field for my team because this is our home, but I've also got to go out and protect it because my name's on the field.
"I try to play it down as much as I can because I'm a guy who really doesn't like a whole of attention. But I just try to come out here and do my thing."
That's exactly what he did on Monday night.
The Warriors forced a turnover on the opening kickoff and drove the ball deep into the red zone. However, the drive stalled with an interception in the end zone, and Covenant Day took over on its own 20-yard line.
The Cabarrus defense quickly established itself, moving the Lions back to the 15-yard line on their second play from scrimmage. And then, the seminal moment came for Marion.
After Schultz hit Nelson while Marion III also gave pursuit, the ball came flying out. Marion III's eyes widened, and in a flash, he was trotting through the end zone, having given the Warriors a 6-0 lead with 7 minutes, 18 seconds remaining in the first quarter.
"When I first saw the ball, I was just thinking, 'Oh, my God! I've got a chance to score,'" Marion III recalled. "And then, I was like, 'Just run it into the end zone!'
"After that, I just kept (the ball) high and tight. Nobody was going to take that away from me."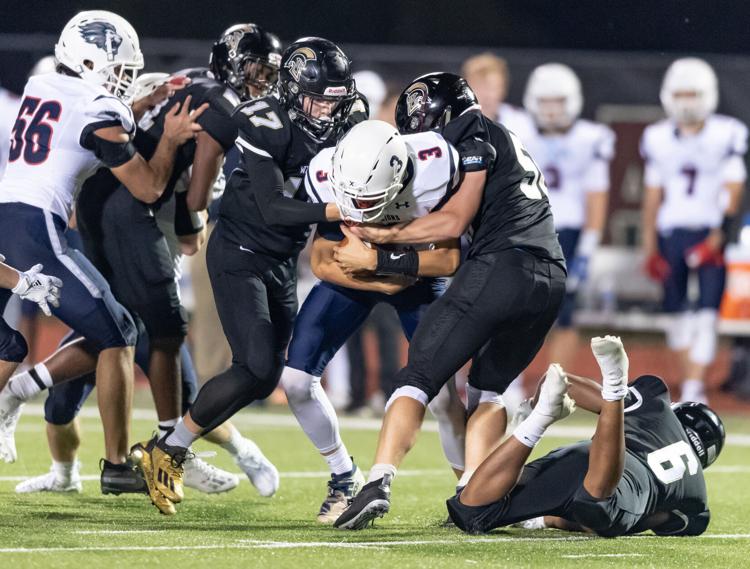 Because he doesn't get to make many trips to paydirt as a defensive player, Marion III said he didn't know quite what to do. In his excitement, he shoved the ball into the artificial turf field named for his grandpa.
"It was kind of like a split reaction," he recalled with a laugh. "I just ran through the end zone and said, 'What do I do with the ball?' I said, 'Well, they're going to have to pick it up anyway so I'm just going to spike it.'"
Yellow flags flew from the officials' pockets, and the 15-yard penalty ensued. And so did his coaches' ire.
As Marion III jogged gleefully back to the Warriors sideline, defensive coach Bobby Bolton, the father of first-year Cabarrus head coach Jamie Bolton, lit into him.
"Why are you spiking the ball in a high school football game?!" barked the elder Bolton.
Marion III shrugged his shoulder pads.
"Coach, it was the most basic thing I could think of to do!" he said.  
The flag, of course, was inconsequential in a game the Warriors dominated all night, especially with the way Marion III and the rest of the defense performed.
Despite the penalty, Marion III certainly got a vote of support from his head coach.
"Randy's a sparkplug for us," Jamie Bolton said. "He does a lot of good things. The biggest thing with Randy is he just has a motor. He's not the biggest guy, he's not the strongest guy, but he's always around the football. And if that ball's on the ground, he's probably going to get it. We love Randy and what he brings to our defense."
Jamie Bolton said Marion III has a bright future with the team. He certainly has the genes to be a crucial performer for years to come.
While football isn't big in the family history, strong athletes are. Marion III's grandfather was a baseball player who played in the Cincinnati Reds' minor league system. And his father, Randy Jr., ran track at Appalachian State and was the Southern Conference's 400-meter hurdles champion in his heyday.
The youngest Randy Marion doesn't know where his athletic endeavors will take him, but he said he wouldn't trade scoring a touchdown on the field with which he shares a name for anything in the world.
"This was one of the better games I've had, especially scoring a defensive touchdown and those being the first points of the game," he said. "That really got our team excited, and I was excited.
"This will stick with me for the rest of my life."
Be the first to know
Get local news delivered to your inbox!