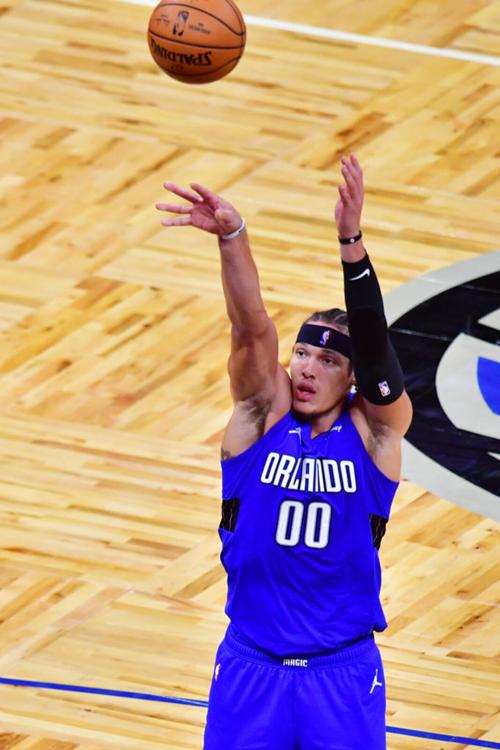 The NBA trade deadline is now just days away and the Orlando Magic may be close to making a move.
Starting forward Aaron Gordon reportedly has requested a trade through his representatives, according to multiple reports. This comes on the heels of a report last week indicating Gordon would be "open to a change of scenery."
Gordon, the team's first pick of the 2014 draft and the fourth overall selection, has been connected to a number of teams, with the Warriors, Celtics, Nuggets, Rockets, Timberwolves and Trail Blazers all reportedly discussing deals with the Magic, according to Shams Charania of Stadium and The Athletic. The Rockets reportedly are among the most interested, recently discussing a deal for Gordon. Kevin O'Connor of The Ringer reported the talks included Rockets shooting guard and former Magic first-round pick Victor Oladipo.
If Orlando were to acquire Oladipo, it could signal the team also is looking to trade fellow shooting guard Evan Fournier, whose contract expires after this season. Otherwise, the Magic and Rockets could be looking to include a third team with more interest in Oladipo, who also will be an unrestricted free agent after the season.
What Orlando wants in return is the bigger question. The Magic reportedly are seeking a first-round pick and a good young player or two first-round picks for Gordon — a seemingly steep price for a player who is not an All-Star.
Gordon certainly brings a number of quality attributes, most notably his defensive versatility and rebounding, and his presence would make the Rockets — for example — a more dynamic defensive team.
Plus, his athleticism is undeniable. While he's never quite found a consistent offensive role in Orlando, Gordon could thrive in a more up-tempo offense alongside Rockets point guard John Wall.
The Magic would have a few reasons for trading Gordon. First, the team has a logjam at power forward with Jonathan Isaac recently signed to a four-year extension and rookie Chuma Okeke building his NBA resume. Orlando has reserve forward Al-Farouq Aminu under contract for the 2021-22 season. While Gordon has played the small forward spot, he's better suited for power forward.
Second, Gordon's free-agent horizon is drawing closer. He's under contract through the 2021-22 season and would enter free agency in what would be his age 27 season. By then, the NBA could have a clearer post-pandemic financial picture and Gordon could be in line for a significant multi-year deal.
Gordon is averaging 14.7 points, 6.8 rebounds and a career-best 4.2 assists while shooting 40.2% from the 3-point line (also a career-high) in 23 games this season. He missed 15 games from Feb. 2 through March 3 with a sprained left ankle before returning March 12 against the Heat. Gordon played almost 14 minutes, then missed the next two games because of soreness in the ankle. He was back in the lineup last Thursday against the Knicks, then scored a season-high 38 points — going 7-for-8 from the 3-point line — the following night in a 121-113 win over the Nets.