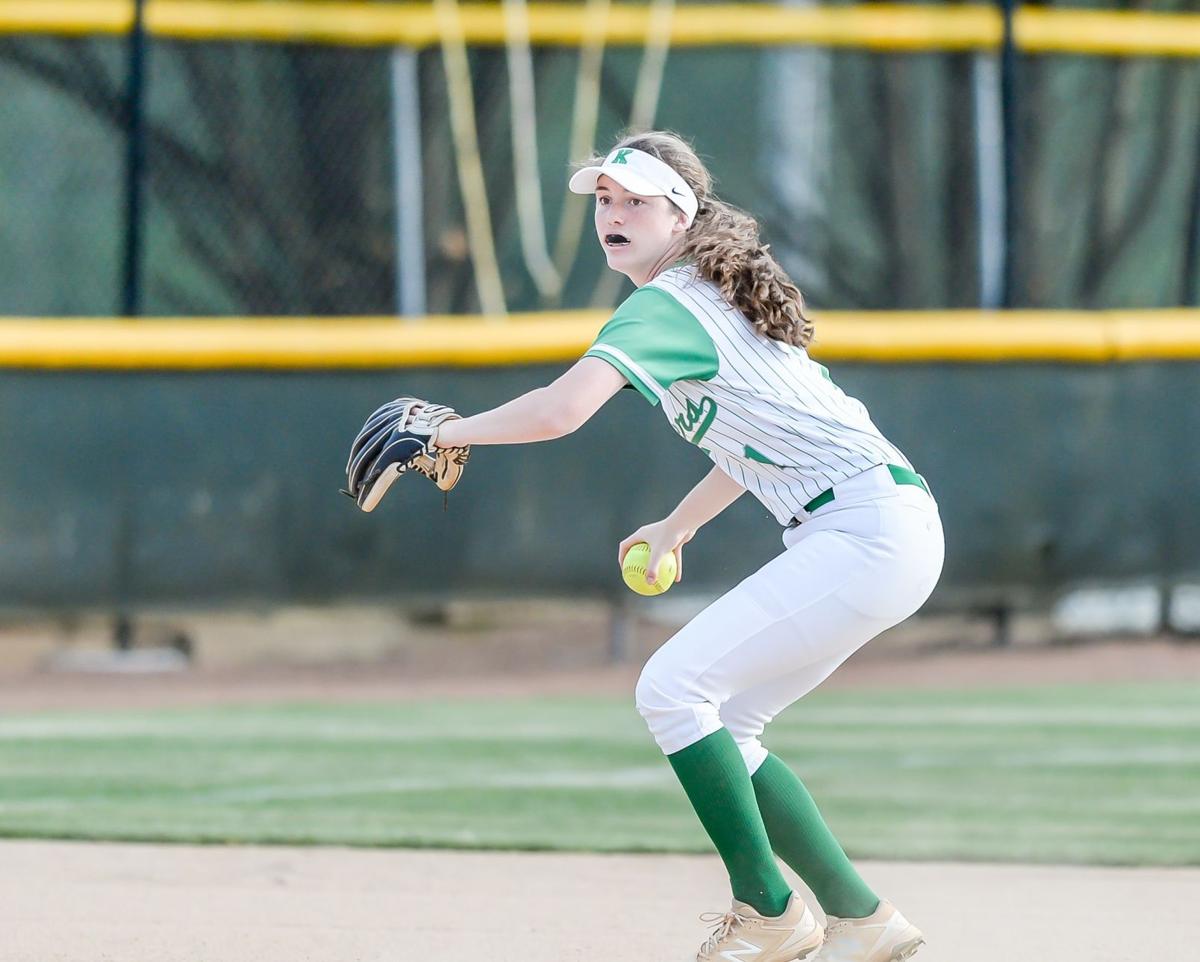 Editor's note: This story is part of an Independent Tribune series titled "Senior Spotlight" on high school athletes who are currently missing their senior seasons because of the novel coronavirus.
KANNAPOLIS – The one girl usually playing Kannapolis Dixie Youth baseball wasn't just there to fill out a roster.
She was tall, she threw heat, and she loved the looks on the boys' faces when they were sent back to the dugout after the umpire barked "Strike three!" following another one of her vicious pitches.
But when Lauren Ritchie turned 10 years old, she developed a new passion when a man named Chris Safrit asked her to be a fill-in on his travel softball team. That summer, she joined Safrit's squad, found her niche, went to places she'd never seen before, and her path on the diamond was changed forever.
The A.L. Brown softball program – and, of course, all those little boys in Kannapolis Dixie Youth back then – was better off for it.
Ritchie has been a starter for the Wonders since her freshman season. She's still tall – nearly 6 feet – and displays that rocket arm when she throws out runners from her regular spot at shortstop.
She's been a mainstay on the all-conference team and was set to finish off a strong career during this, her senior year, before heading to Lees-McRae College in the fall to play softball.
Unfortunately, the novel coronavirus caused the spring sports season to be suspended for high schools until at least May 18.
Fortunately for the Wonders, however, concerned that the 2020 season might be canceled entirely, A.L. Brown coach Scott Rodgers held Senior Night ceremonies during their last game, a home contest against rival Northwest Cabarrus on March 13. Rodgers made sure seniors from both schools were acknowledged.
It was an especially emotional night for Ritchie, and not just because she realized she might never play another game for the Wonders.
One of her personal role models was there, and it became a night she'll never forget.
While answering questions from the Independent Tribune, Ritchie recently talked about that night and much more, including her love for making dance videos.
What was your initial reaction when you found out the season was going to be stopped?
At first, before practice, I saw an article talking about how the season was going to be stopped for two weeks, and I was like, 'Oh, that's not true. I don't really believe that.' Because you can't believe everything on the Internet nowadays. But I got to practice and everybody was talking about it, and I was like, 'Oh, well, maybe this is true.' And Coach Rodgers was telling us about it, and I couldn't help but start crying, because he was saying that we didn't know if we would even get back to playing.
My assistant coach (Zebresha Blakeney) pulled me to the side and said it would be OK, but not having a senior season is really heartbreaking.
How was it when you found out it would be longer than two weeks?
That was even worse. But I was like, 'Well, even if I don't have sports, I can go to school and see my friends and stuff.' And then school got canceled, and I was like, 'Wow. What do I do now? The whole world has stopped.'
How are you handling things?
My college coach sent me some workouts, and I've been trying to knock some of those out. I've been doing a little bit of school work and playing with my cats (Chevy and Nala), playing in the house, trying to stay busy.
And making dancing videos?
Yes, making TikToks, of course. I make the videos to lighten the mood!
Was it pretty easy to convince your mom (Elizabeth) to get in the videos with you?
Well, not really. I love TikTok. I've been on that a little while now. My followers like to see Mom dance some, so I was like, 'Mom, just do it really quick. It's an easy dance. You can do it.'
Is being a fun person pretty much your temperament?
Any time you see me off the field, I'm probably laughing.
Do you play any other sports?
Yes, I play volleyball. I was the middle hitter for our school.
What's your favorite memory as a softball player?
Either freshman year, when we won back-to-back conference championships, or making the third round in the playoffs last year.
Do you have any softball role models?
I really love watching Sis Bates. She plays for (the University of) Washington. She's just a really good role model, because she's super good, and she has a good heart and a positive attitude all the time.
Why did you decide to go to Lees-McRae?
I knew I wanted to go to the mountains for college, because I've always grown up going to the mountains with my grandparents (Henry and Betty Wiley). We've been to WinterFest in Blowing Rock, and I just fell in love with the mountains and the atmosphere. And I was like, 'Well, there's Appalachian (State).' That didn't really work out, and I started working out at other places, and I found Lees-McRae (located in Banner Elk). Coach (Jaclin) Poole came to watch me one weekend, and she liked me. I went up there for a visit, and I fell in love right away. I was like, 'I know this is the place I want to be.'
What's your favorite song?
Pretty much anything by the Jonas Brothers. I've been a big fan of theirs since I was younger, and they made a comeback. I went to their concert and fell in love with them again.
What's your favorite movie?
Either 'Mamma Mia!' or 'The Greatest Showman.'
What's your favorite food?
I really like nachos from Kannapolis Dixie Youth. My mom's still on the Board over there, so during softball season, after practice, I would just normally go over there and buy a plate of nachos.
Do you have any shows you like to watch on TV?
'Stranger Things' on Netflix. I love that show.
If you could have dinner with anyone, who would it be?
Probably one of the famous TikTok'ers I watch, Addison Rae.
What's the best advice you've ever gotten?
Probably something that (former assistant coach Tyler) Buckwell told me. He's always been a huge encourager to me. He was always really good at knowing when I'm in my head struggling with something – softball or whatever.
He would always pull me to the side and just tell me, 'Never give up. Have confidence in yourself. There's no reason you should have doubts in your mind, because you're capable of doing whatever you want.'
This season, before he went to Cincinnati for his new job, He was like, 'The season's going to go great because you're going to have confidence in yourself and there's not going to be anything to knock you down, because you're going to work hard in practice and everything.'
Well, that lasted three games, but for those three games I was going strong.
Where do you see yourself in 10 years?
I want to get a college degree in either sports management or something. And if all goes as planned, I'll open my own YMCA-type thing and create programs for kids so they can get involved in things at an early age.
And I want to coach softball at A.L. Brown, if that's a possibility.
Do you have a role model in life?
I definitely look up to my Pawpaw (Henry Wiley).  He suffered a major heart attack last June and was not expected to live. He has always told me 'Choke up on the bat.' So we told him to choke up and keep fighting, which he did and continues to do so every day.
I am so thankful he was able to be there for my Senior Night in softball this year. And he has already told me he is ready to watch me play at Lees-McRae.
To nominate an athlete to be featured in the "Senior Spotlight," send an e-mail to Independent Tribune sports editor C. Jemal Horton at jhorton@independenttribune.com. Nominees must be in 12th grade and already have been on the roster of a spring sport at the start of the 2020 season.
Be the first to know
Get local news delivered to your inbox!