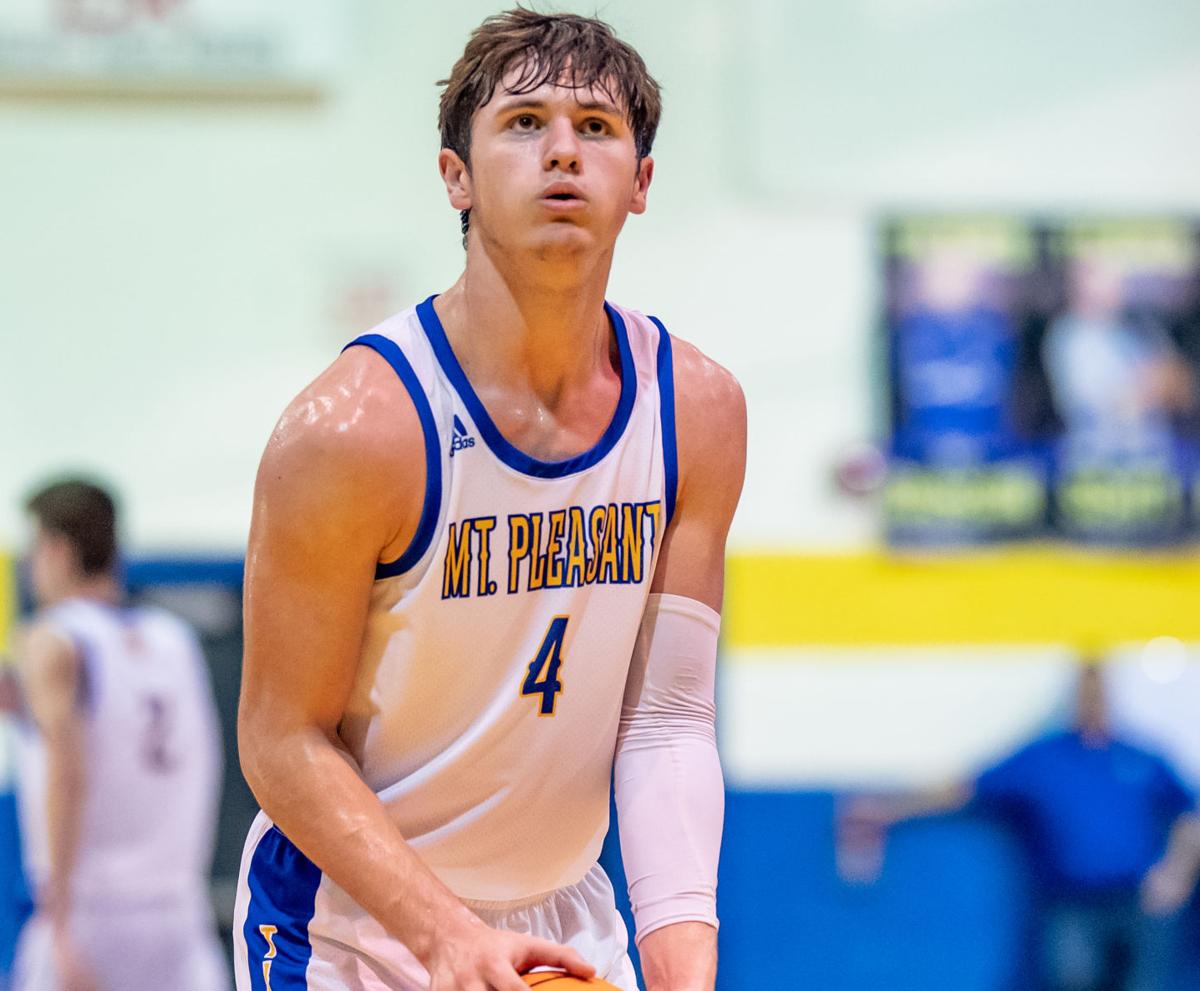 MOUNT PLEASANT – There aren't a lot of 6-foot-8 teenagers in Cabarrus County, and there are even fewer in Mount Pleasant, a town with a population just short of 2,000.
So, yes, Hunter Sloop stands out around town.
That pool of special people gets even smaller, on a national scale, when you start to consider just how many teenagers there are who are 6-8, athletic, and gifted enough to be one of their county's best high school basketball and baseball players all wrapped into one.
So, truth be told, Hunter Sloop would stand out anywhere, not just in his tiny hometown.
This spring, Sloop will play his junior season for the Mount Pleasant High School baseball team. And as a flame-throwing pitcher who was hitting the low 90s on the radar gun last year, it's likely he'll become a major prospect for either a big-time college program or even the Major League Baseball Draft.
This winter, though, Sloop is simply one of the best boys basketball players around.
The broad-shouldered forward ranks among the county leaders in several categories, averaging 21.7 points, 10 rebounds, 3.2 assists and nearly two blocks per game – all team bests for the Tigers.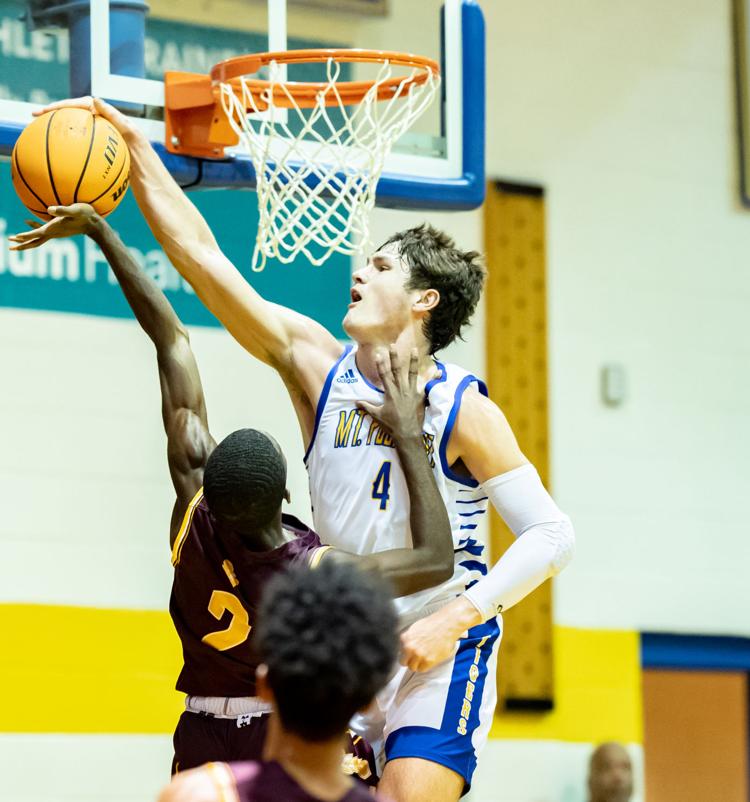 So right now, Sloop is simply focused on becoming the best basketball player he can be, continuing on a journey that began when he was about 7 years old – although he was much smaller and less accomplished back then.
"I always liked (basketball)," Sloop said as he sat in his stall in the Tigers' locker room after a recent game. "I wasn't always the tallest kid, though. Playing in the Mount Pleasant rec league, we were all about the same height. My friend, Ryan Tyson, we pushed each other because he was on another team. It was kind of a back-and-forth kind of thing, him getting taller than me and me getting taller than him."
But after a while, Tyson, now the starting quarterback for the Mount Pleasant football team at 6-feet tall, just couldn't keep up with his buddy.
Sloop's growth rate really picked up when he was in seventh grade. That year, he was 5-11 – taller than many of his peers but nothing extreme. Then, in eighth grade, he stretched 5 inches to 6-4, and he wore size 13½ basketball shoes.
But it wasn't an easy process, for Sloop or his parents, Chad and Brandy Sloop. It seemed like they were going shopping for new clothes and shoes every few months. And Hunter wasn't getting much rest in between.
"I'd wake up in the middle of the night with knee pain, hip pain," he recalled. "It was hard to sleep at night. I went through a lot of clothes and shoes back then. It was kind of crazy."
It didn't exactly slow down once he got to high school.
As a freshman, he stood 6-5, but his game was starting to catch up with his growth, and he earned a starting spot under then-Mount Pleasant coach George Walker.
But Sloop wasn't satisfied. In fact, he was frustrated. He had the size, people inside and outside the town limits were telling him how good he could be, but he wasn't seeing the results he wanted.
So he decided to dedicate himself to the sport.
"We kept losing to Forest Hills, and I was like, 'Dang! I've got to push myself,'" Sloop recalled. "I was only averaging about nine points a game, so I wanted to push harder and get where I needed to be.
"It didn't really come at first, because I was too big for my shoes, I guess you could say. I was kind of clumsy in my eighth grade year because I grew so fast. But my freshman year, our (former) skills trainer, T.J. Tolbert, he really put us through hard drills and pushed us and made me become the player I am today."
It also helped that Sloop got to spend the summer playing with some of the best players in the state.
Previously, Sloop had played AAU basketball with a team called the Queen City Stars. But a coach from Team Loaded NC saw Sloop playing in a tournament and invited him to come join the team.
Team Loaded NC isn't your run-of-the-mill, pay-your-500-bucks-and-you-play AAU team. It's a top-level organization whose alumni include Dennis Smith Jr. (New York Knicks), Bam Adebayo (Miami Heat), and Caleb and Cody Martin (Charlotte Hornets).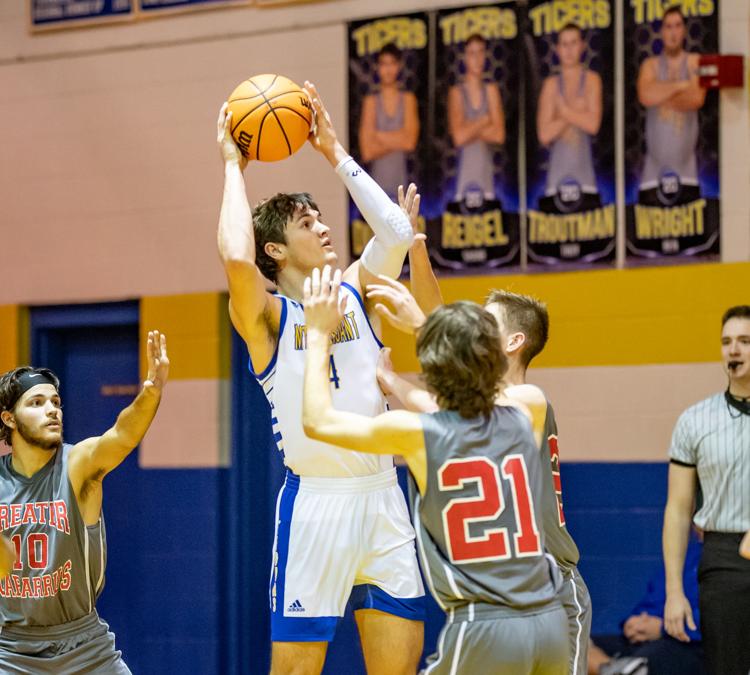 Sloop would have to earn his way on this team, even if he were the best player in Mount Pleasant. He admits it was a little intimidating at first.
"It's always awkward when you walk into a gym with a bunch of new people and, I guess, compare yourself with each other," Sloop said. "It was very hard, honestly. But you've just got to push harder and kind of go at people, I guess you could say, to get your spot.
"But it was a good experience, very humbling, travelling all over the country and playing," he added. "It was very humbling because the coaches saw something in me that nobody else did, and they picked me to be on the team."
When Sloop returned to Mount Pleasant for his sophomore year, he'd inched his way to 6-7, and his game began to flourish. He led the Tigers in scoring and rebounding on many nights and was the key to several victories as Mount Pleasant won a school-record 22 games and finished second in the Rocky River 2A Conference.
But he knew he could get better. He knew he HAD to get better. So last summer, after he'd completed a strong season on the mound with the Mount Pleasant baseball team, he again joined forces with Team Loaded NC.
He was more confident this time. He'd become used to being part of the 24-hour AAU recruiting cycle and competing with and against some of the nation's top high school players.
And he actually began to embrace it.
"There's always publicity everywhere," Sloop said. "Cameras are on you all the time.
"I got better because of the setting. It's kind of like a dog mentality – you always have to be going after somebody, or you've got to be putting your best foot forward when you're going out and playing against tougher competition. Because if you don't, you're going to go out there and lay a dude. You're going to look dumb."
This winter, after sprouting to 6-8 and lacing up size 15 sneakers, Sloop has undoubtedly transformed into one of the best players in Cabarrus County. There really hasn't been much he hasn't been able to handle in Tiger games this season.
He's developed a deft outside touch, smoothly draining 3-pointers when defenders think they're being smart by backing off the big guy and daring him to make them pay.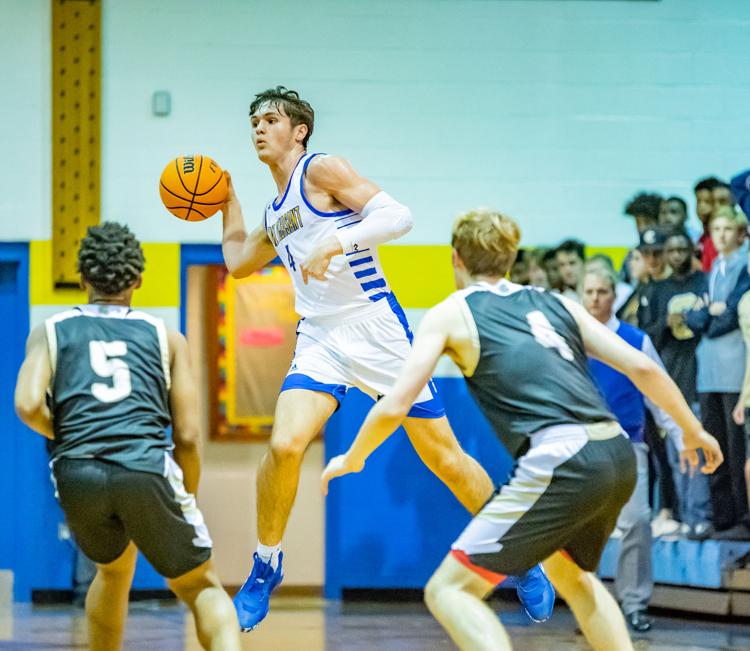 Sloop is confident shooting from deep after spending another offseason in the gym, often lofting 500-600 jump shots a day. At times, he works as the Tigers' primary ball-handler, other times he goes inside and posts up to shoot over smaller defenders or draw fouls.
The sweat equity from more offseason workouts with Tolbert and intense Team Loaded NC workouts is paying off.
"It was hard," he concedes. "I was constantly in the gym getting shots on the gun, working on ball-handling, doing a lot of cardio. T.J. Tolbert put me through all that. He made sure everything was with the ball. I might have to do full-court layups and make a move before I got to the basket or pull up for mid-range jump shots. It was a little bit of everything, but it's really helped my game."
He also got bigger and stronger. As a freshman, he weighed less than 180 pounds. Now, he says, he's about 210 pounds, and he's learning to use his size and strength to his advantage even more.
Colleges teams such as the Charlotte 49ers, The Citadel, Furman and George Washington has shown interest so far, Sloop said. But whatever happens, Sloop said he has one goal.
"To get my college paid for," he said. "Whatever the future holds, I want that to happen."
He's off to a great start. Plus, now, in addition to all the improvements Tolbert, Walker and Team Loaded NC helped him make, Sloop is getting the tutelage of new Mount Pleasant coach Jody Barbee.
Barbee previously was at Cox Mill High, where he mentored one of the nation's top prospects, Wendell Moore Jr., who became Cabarrus' all-time leading scorer and the county's first McDonald's All-American before signing with the Duke Blue Devils. Barbee also won a pair of state championships at Cox Mill and coached several other Division I college signees.  
While Sloop might not be at the level of someone like Moore Jr., he has a similar value to the Mount Pleasant roster.
"You've got to have him on the floor," said Barbee. "We struggle putting the ball in the hole without him out there. He's a kid that's a double-double every night in points and rebounds, and being halfway there in assists shows he's a pretty important player.
"Everybody on the team understands their roles and what he means to the team. But he has to show up and bring it every night. I think the sky is the limit for him; his potential is out of the roof."
But Barbee, who himself was an outstanding player at Mount Pleasant and went on to play at Belmont Abbey, said he sees the improvements Sloop needs to make to accomplish his goal of getting a free college education.
"I've always thought he'd be a special player," Barbee said. "He's 6 foot 8. At the mid-major level, he'd probably play a stretch (forward). He's got to get consistent at knocking his shot down, tighten up his handles, and defend. And I think if he can do those things really freaking good, at a high level, he's going to get to the level he wants to play at.
"I think that's the point I want to see him get to. And he can get to it, there's no doubt in my mind. He's a great kid, the kids love him in the locker room, he's got a great personality, and he's fun to be around."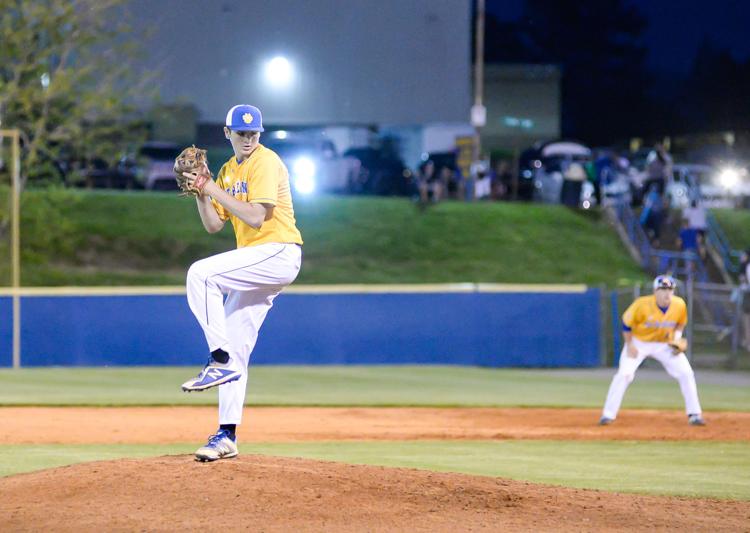 But just as he did with Moore Jr. and many other players that went through his Cox Mill program, Barbee said he's going to make sure Sloop puts in the work.
"I'm going to challenge him," said Barbee, who also coached Matt Morgan (Toronto Raptors NBA G League team) and Caleb Stone-Carrawell (Charlotte 49ers).
"I'm not going to make it easy on him," Barbee continued, "I'm not going to give him anything. I'm going to make him earn everything he gets, just like every other kid I've coached every year."
But even a life-long basketball man like Barbee knows that Sloop is a bit of a unicorn and is already separated from the pack in ways much different from some of his other stars.
"He can sling a baseball," Barbee said, shaking his head, his eyes spreading wide. "He's going to probably have his pickings of what he wants to do when he walks out the door here in another year, whether he wants to play baseball or he wants to play basketball. He's a heck of a pitcher."
And after years of painful growth spurts, offseasons of training in steamy gyms and earning his stripes against some of the nation's top talent, he's a heck of a basketball player, too.
Be the first to know
Get local news delivered to your inbox!