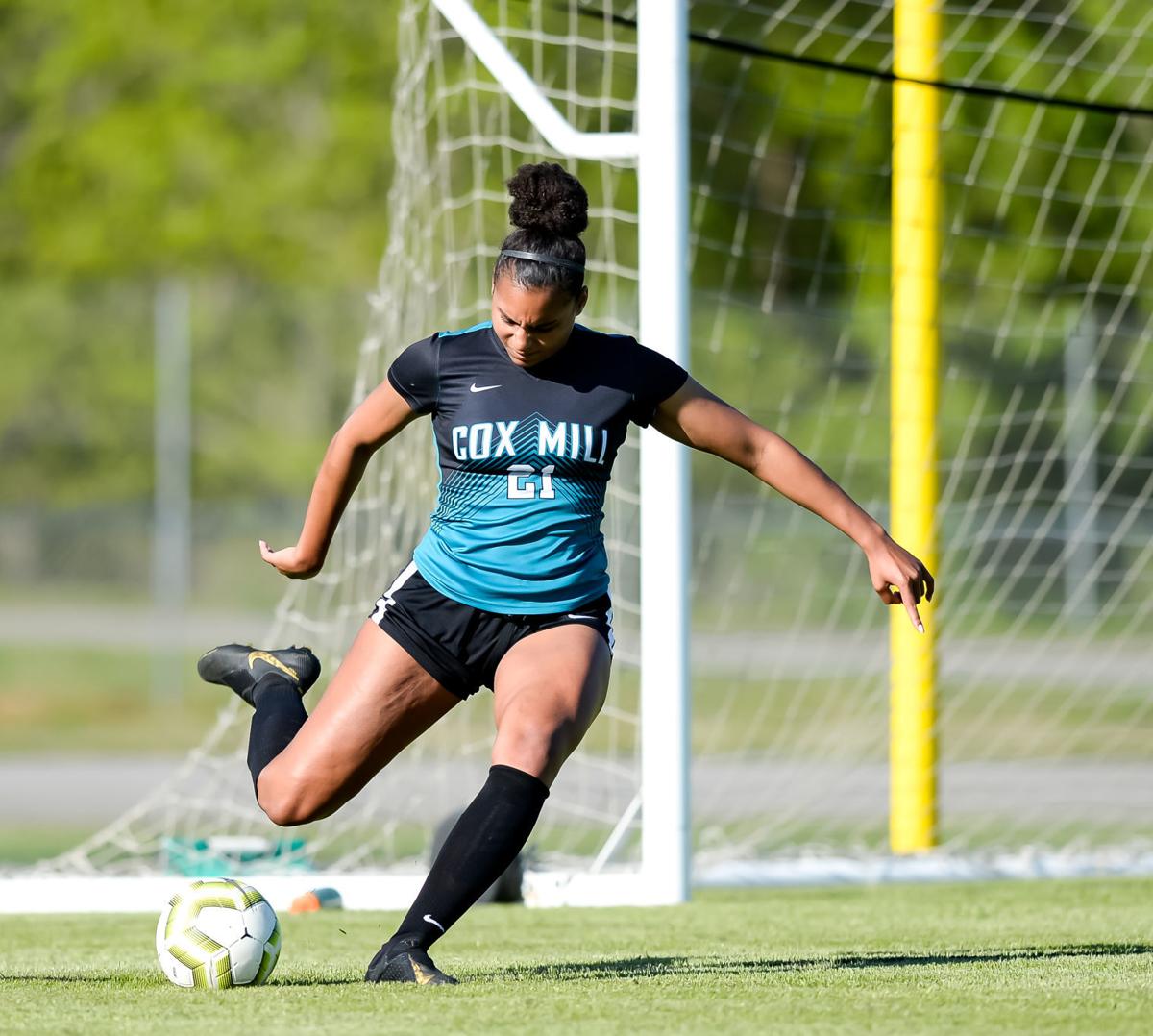 Editor's note: This story is part of an Independent Tribune series titled "Senior Spotlight" on high school athletes who are currently missing their senior seasons because of the novel coronavirus.
CONCORD – Sydney Smith may be the daughter of a former NFL running back, but she is ready to build her own legacy.
Her father, Tony, was a first-round draft pick by the Atlanta Falcons and also had stints with the Carolina Panthers and Philadelphia Eagles. Tony enjoyed his time playing in Charlotte, planting his roots with his wife, Kimberly, in Concord.
Despite coming from an athletic family, Sydney – a senior standout on the Cox Mill girls soccer team – knows nothing is given to her without hard work.
"I think if you have a push to train on your own and train more than everyone else, you're fully capable of becoming a (Division I) athlete," Smith said when asked about what it has taken to get where she is. "It's all about commitment and being able to rely on yourself when you have no one else."
Smith has signed a National Letter of Intent to play soccer for the Charlotte 49ers in the fall. A four-year starter at Cox Mill, Smith has inherited her father's work ethic, and the results speak for themselves.
A hard-nosed defender, Smith is a two-time all-conference pick in the South Piedmont 3A. And in 2018, she was a central reason the Chargers reached the Class 3A state championship game.
Smith recently talked about her work ethic as well as a few other topics in a question-and-answer session with the Independent Tribune. 
Where were you when you heard the news about the season being suspended?
When we found out, we were together as a team. We had just played a game against (Charlotte Latin School). It was a great game. We were doing a yoga session the day after as a nice recovery stretch. Halfway through, coach (Adam) Henry and (athletics director Philip) Davanzo came in and told us that our season was getting delayed or possibly canceled.
I remember all of the seniors, including myself, dropping our heads. Automatically, tears started coming from our eyes. We kind of saw it coming, but it's still not anything you can prepare yourself for as a senior. 
What are your plans after graduation?
I'll be going to UNC Charlotte to play soccer. After graduation, during the summer, hopefully, we will be able to train, but I'm not quite sure if we will get the opportunity to do that.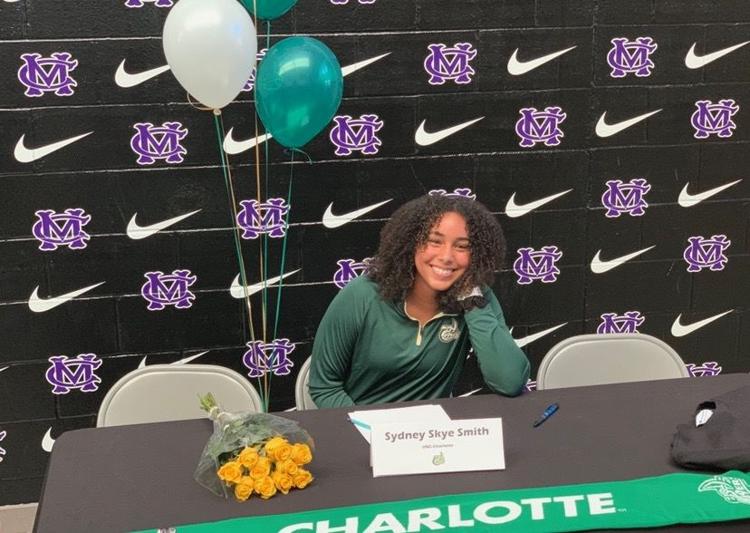 What made you decide to sign with UNCC?
I toured a lot of different schools. But when I toured UNC Charlotte, it just felt like home. I know it pretty much was home, but the campus felt very welcoming. The team was also welcoming, as well as the coaches. It was a beautiful campus. I just felt like I fit in well there and that it was the right place for me. I got a feeling there that I didn't get at any of the other places that I visited. 
Were there any other schools that caught your eye?
Virginia Tech did catch my eye. The campus was very pretty. I just didn't quite feel there completely. I don't know what it was, but something felt a bit off. It just wasn't the place for me.
Are you excited to stay close to home?
I am excited. I never really planned this for myself. I wasn't expecting to stay home. I actually said that I didn't want to stay home a couple of years before committing. But when I said that, I hadn't had a chance to tour the campus yet, so when I finally did and also heard about all of the positives of staying home, it just ended up happening. It's nice to know that my mom is 15 minutes down the road if I need her.
I'm still undecided, but I'm thinking about communications. I feel like it fits me best, but I'm still on the fence about it. 
How long have you played soccer?
I've played since I was 4 years old.
Do you play any other sports?
Not right now because soccer is so consuming. I've played for a travel team, and we have traveled all over the country and practiced every night. I used to swim and play a little bit of tennis, but that's pretty much it. (Soccer) has always been my thing.
What was it about soccer that drew you in?
I was very young when I started, and ever since then, it's been my favorite thing to do. A lot of people will ask what my hobby is, and I know you're not supposed to say the sport you play every day; you're supposed to say something random. But soccer is something that I just couldn't live without. It's an outlet and stress-reliever. It keeps me focused. I think it's something I was always meant to do. 
Do you have any pregame rituals?
My teammate, Hannah Dunn, who I've been playing with since I was very young, will read a quote to me.
(Assistant coach) Kate (Williams) will print out a quote for each player on the team, and Hannah will read my quote out loud to me before the game. Then I'll stick it in my sock.
What has been your favorite quote that your coach has given you?
I would say my sophomore year, right before our state championship game. I can't remember the quote word-for-word, but I remember that it said, 'When you fall, you get back up.'
That was inspiring for me because we fought really hard that season to make it to the championship, and that meant a lot to us. The year before, my freshman year, we didn't make it. We came back so strong and ready to work. This was our time. This was what we had talked about my entire freshman and sophomore years. (The quote) was something that pushed us not to give up the opportunity to play such an amazing team and grow together.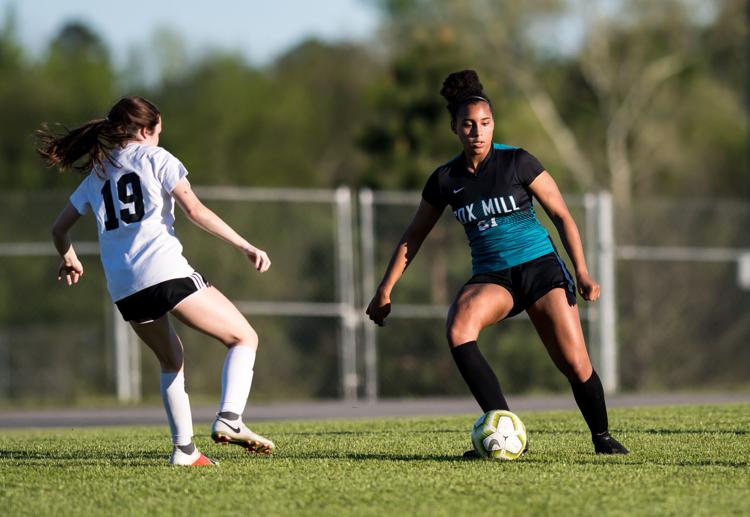 Is there a certain athlete you try to model yourself after?
There are a lot of athletes that I look up to, but overall the people that drive me most to be the athlete that I am are my mom and dad. My dad played in the NFL, and my mom was a gymnast and now is a long-distance runner. I just look up to them because they push me every day to be the best that they can. They're always working out, even though they're not playing anymore. My dad still trains me like I'm going to the NFL, even though I'm not. (Laughs.)
What has it been like to play soccer at Cox Mill?
It has been amazing. We had a great support system behind us. Coach Henry and Coach Kate have been my coaches for most of my career. The team bond is something I will never forget. Throughout the years, even when the seniors would leave and the new freshmen would come in, the bond was still always there, on and off the field. It's felt like a family, and it is something I will miss. And hopefully, it's something I will get at UNC Charlotte.  
What is your favorite memory from playing soccer for Cox Mill?
There's so many, but I'll bring up that (2018) state championship again. We were in the locker room before the game. I remember Henry giving us a talk, and I remember everyone focusing in.
I remember that feeling in my stomach. I was so nervous. We played at (N.C. State University). I remember us all getting loud and listening to a lot of music in the locker room before the game, and once it was time to focus, Henry sat us down and gave us that talk. We knew it was our time to show what we had worked for all season.
Is there a Netflix show you've been binge-watching lately?
I've binge-watched so many, but 'Outer Banks' is definitely the best show that I've binge-watched during the quarantine.
What has been your favorite class in high school?
Ceramics or multicultural studies. I also really liked math because I'm a math geek. I was always excited to go to math class. Even though it can be stressful, I liked doing long problems because I could forget everything else and focus on getting the problem right. 
What is your favorite type of food?
I love sweet potato fries. Sweet potato fries with ranch are my best snack or meal.
If you could only choose one social media platform to use, which would it be?
I think I would choose Instagram because you can keep up with what everyone else is doing. Especially during quarantine, you can't see anyone in person, so I guess you have to go ahead and see them online.
If you won a million dollars, what would you do with it?
The first thing I would do is go to an animal shelter. I'd do anything I could to donate money or supplies to one. I'm just such an animal person, and to see the conditions that some animals in those places are living in and what they are going through is hard to see. 
If you could have dinner with any person from history, who would it be and why?
It would either be Martin Luther King Jr. or Rosa Parks. I've always been so interested in how they overcame adversity and how they were able to change people's mindsets. They flipped the script and did what they believed was best. They were able to get people to follow what they believed and stood up for it. I think it was great to see how they made their mark on the world.
Where do you see yourself 10 years from now?
I see myself in my dream job. I just don't know what that is yet. I just know that I'm the type of person that can't do anything they can't love. I don't see myself playing soccer after college, but if it does happen, then it happens. As long as I'm doing what I love.
To nominate an athlete to be featured in the "Senior Spotlight," send an e-mail to Independent Tribune sports editor C. Jemal Horton at jhorton@independenttribune.com. Nominees must be in 12th grade and already have been on the roster of a spring sport at the start of the 2020 season.
Be the first to know
Get local news delivered to your inbox!