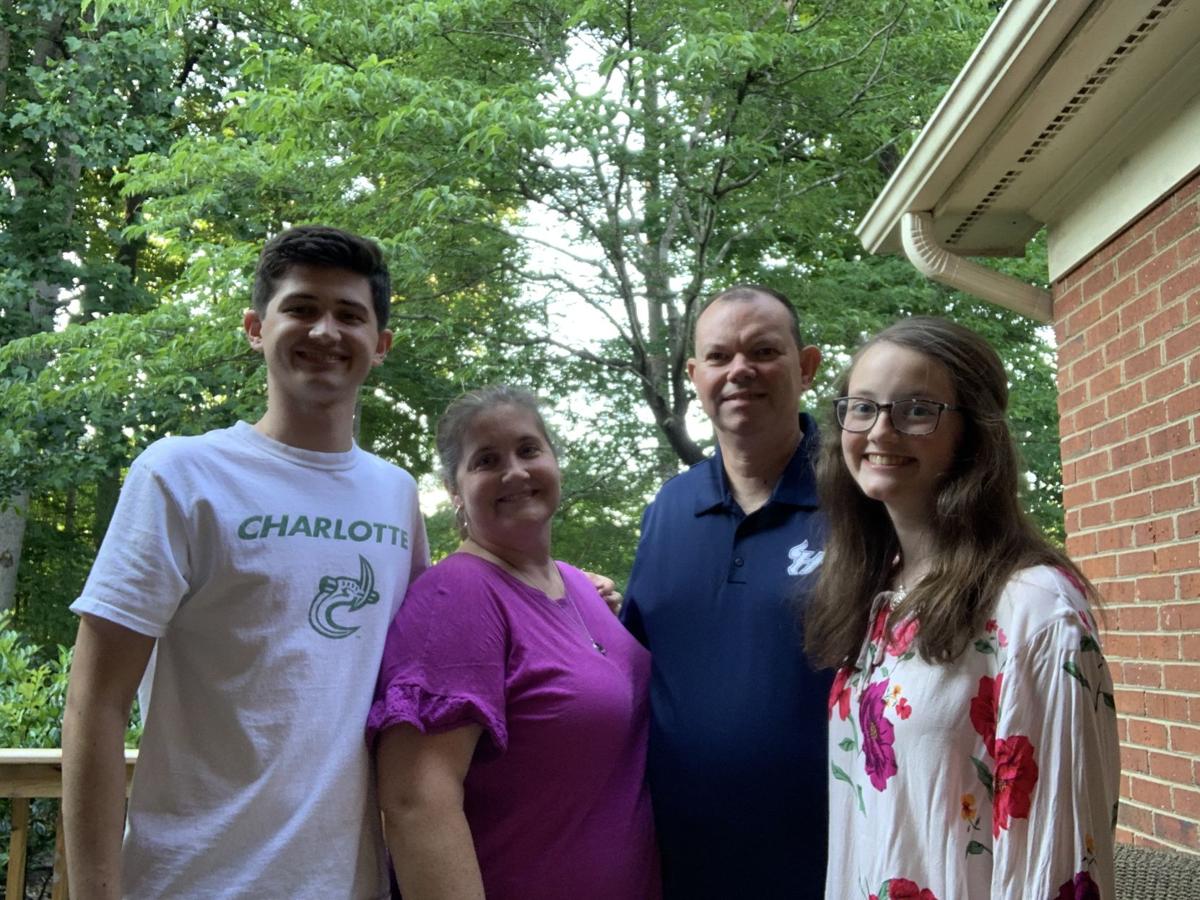 HARRISBURG – Chris Batchelor wanted to be a banker.
At least, that's what he thought.
As he sat in his business classes at East Carolina University in the early 1990s, Batchelor knew something felt wrong. A business degree would be helpful, but from a young age, he'd been passionate about something else.
Growing up in Rocky Mount and attending Northern Nash High School, Batchelor spent much of his free time watching or playing sports. And other people could easily see his passion as a college student didn't extend to banking.
His academic advisor at ECU told him, "Right now, there are three things you enjoy doing, and they all have a common theme: being around kids, coaching, and sports."
Batchelor knew what he needed to do. He steered away from his track to becoming a business major (he had not declared yet) and switched to studying exercise and sports science.
"It was the best decision I've ever made," said Batchelor, now in his first year as the athletics director at Hickory Ridge High School.
After college, Batchelor entered into a career of education and coaching, and he has not looked back.
He spent his first two years after graduation back in his hometown as a physical education teacher and football, basketball, and baseball coach for his alma mater's rival, Southern Nash.
After two years there, Batchelor married his wife, Shannon, and made an agreement with her. The agreement was that since they were both educators, they would move to whatever school system offered them both jobs.
Even though this turned out to mean he had to leave his hometown, Batchelor knew it was for the best. Both were offered jobs by Union County Public Schools, and Batchelor started what would be a 21-year tenure there.
Batchelor started as East Union Middle School's girls basketball coach. He then became an assistant on Sun Valley High's baseball team, until finally he earned his first varsity head coaching job, taking over the Forest Hills girls basketball.
For a little while, Chris and Shannon Batchelor planted their roots there. They were able to move to Shannon's hometown, Indian Trail, and build their family. Shannon's currently the principal at Monroe High.
The Batchelors have two children: a son, Garrison, and a daughter, Emilee. Garrison is a rising junior at UNC Charlotte, while Emilee is a rising junior at the Central Academy of Technology & Arts.
As their children were born and the demands of coaching a high school sport refused to fade away, Batchelor realized his career was pulling him from his responsibilities as a father.
"I was never home, and I was missing my kids grow up," Batchelor said.
Batchelor decided then to return to teach at the middle school level. He was hired as the PE teacher at Porter Ridge Middle.
At Porter Ridge, he spent time learning under Bill Rogers, who was Porter Ridge's AD from 2005-15.  
Before the school year ended, however, Batchelor received news that CATA (where his daughter is currently enrolled) needed someone to lead its athletic department. A short time later, Batchelor, who has a master's degree in sports management from the U.S. Sports Academy, took over as AD in CATA's first year of operation (2006).
This turned out to be the exact line of work Batchelor needed. It was an upgraded position in which his passion for kids and sports could be lived out, and he could still spare himself from extreme travelling.
Batchelor was at CATA for seven years. During his time there, CATA's principal was Shaun Poole, who would later have the same role at Hickory Ridge.
In 2013, Poole was moved to Sun Valley High, and he convinced Batchelor to move with him. They were there for four years, until Poole was hired by Hickory Ridge.
However, Batchelor served one more year at Sun Valley, before resigning in 2018 for what he said was to improve his mental health.
"At the time, I felt really burned out," Batchelor recalled. "It just seemed like a good time to step back and recharge.
"It was nice to start with, but I was so used to being busy all the time, and I liked being busy. And the fact of the matter is, what I was doing then was not very busy."
After realizing that he needed a break, and taking a brief one, Batchelor received an opportunity that was too good to pass up. Highly respected Hickory Ridge AD Phil Furr left to take the same job at West Cabarrus, the newest school in Cabarrus County and scheduled to open this fall. Batchelor's old friend, Poole, offered him an opportunity to reunite.
When Furr officially left for West Cabarrus in January, Batchelor took over.
Furr was one of the best AD's Cabarrus County had to offer, especially noted for his creativity on social media platforms and promoting his school's athletes.
"Phil is very highly regarded at Hickory Ridge and did a great job," Batchelor said. "I'm just going to do the best I can to try to continue the success they've had."
Batchelor is more than qualified to do so. Now in his 15th year leading athletics departments, Batchelor has seen various forms of success from his teams. Perhaps his most exciting experience during his tenure was the recruitment of quarterback Sam Howell during his time at Sun Valley.
Howell is a rising sophomore for the UNC Tar Heels, but he was one of the most heavily recruited players in the nation when he was at Sun Valley.
With Howell, Batchelor was able to sit down and have conversations with many of the nation's top college football coaches, and they gave Batchelor an impression for what types of athletes they look for. He plans to use those experiences to help Hickory Ridge students realize their full potential and potentially earn scholarships.
Aside from his job, Batchelor and his family love watching sports. According to Batchelor, he and his two children will watch just about any sport that comes on television.
Despite Howell's success at UNC, the Batchelors are die-hard Duke fans. However, he claims there's no bad blood between his fandom and that of UNC.
"I don't share the hatred for (UNC) that most other fans do." Batchelor said. "I pull for the ACC because that's the part of the country I live in. If it happens to be Carolina, that's fine."
Be the first to know
Get local news delivered to your inbox!