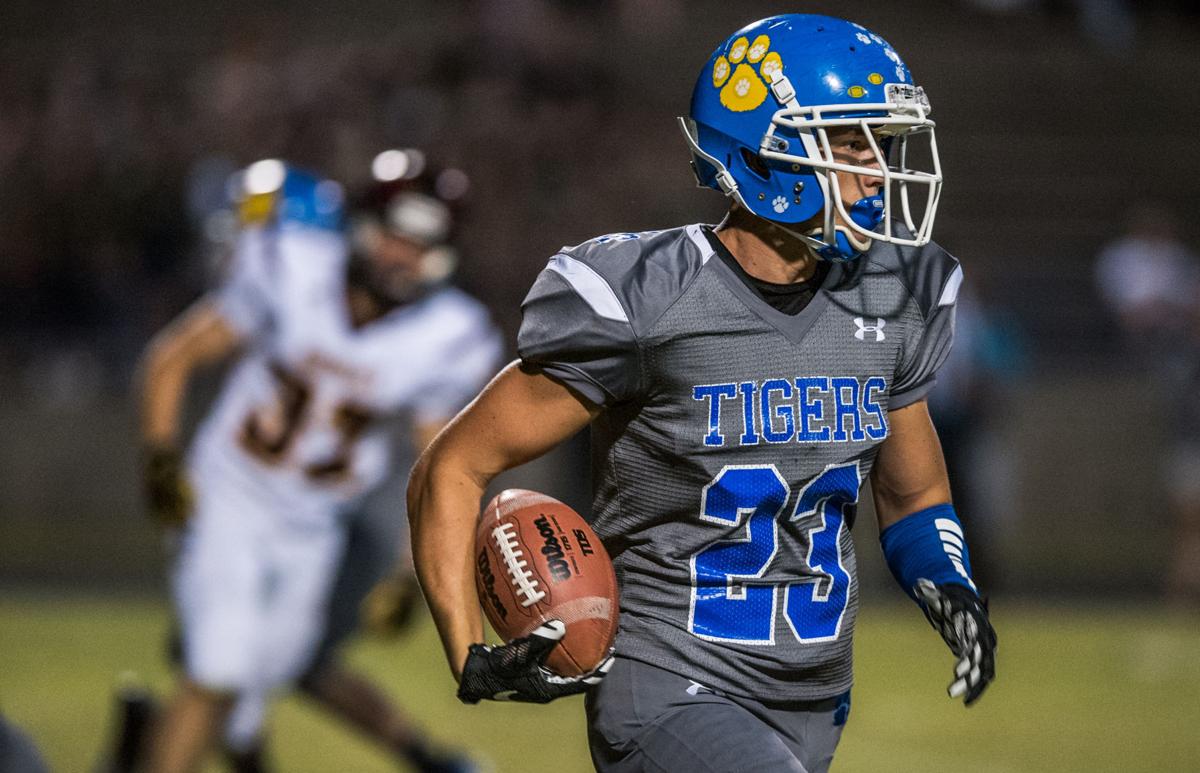 MOUNT PLEASANT – A league-high nine Mount Pleasant players were named to the 2017 All-Rocky River 2A Conference football team this week, and the Tigers also had two winners of top individual awards.
Mount Pleasant senior Landon Parker was chosen at the RRC Special Teams Player of the Year, while Tigers mentor Mike Johnson was named Coach of the Year.
This past season, Parker was one of the county's best at multiple positions. As a punter, he averaged 41 yards per attempt. He also racked up 566 yards as a return man.
As a wide receiver, Parker caught 54 passes for 1,209 yards and 17 touchdowns and was the Tigers' top offensive weapon.
Johns, who recently completed his 19th season as Mount Pleasant's coach, led the Tigers to an 11-3 overall record. The year included winning the Rocky River title with a 5-0 mark and reaching the West Region quarterfinals of the 2AA state playoffs.
"Our guys did a good job, and we were able to have a great season," Johns said. "I'm so proud of what our guys accomplished this season."
East Montgomery's Courtney McKinney is the RRC Offensive Player of the Year, while teammate Tony Brown Jr. was named Defensive Player of the Year.
The Tigers were represented on the all-conference squad by Parker, senior defensive back/receiver Warren McClure, senior linebacker Hayden Radford, senior linebacker Bailey Drye, senior defensive lineman Gage Redmond, senior lineman Dustin Barnhardt, senior lineman Ty McDowell, junior quarterback Chance Daquila and junior linebacker Landon Honeycutt.
Mount Pleasant also had four players who were honorable-mention selections for the all-conference team: Noah Berryman, Fisher Furr, Ayden Honeycutt and Ellis Horton.
Eight players from Anson were selected for the all-conference team: Wesley Lear, La'Quan Davis, Deontrez Davis, Octavien Harrell, Marshall Little, Kameron Rorie, Cameron Collins and Zack Sikes.
East Montgomery had seven players named to the all-conference team: McKinney, Brown Jr., Diresse McCaskill, Robert Alvarez, Will Jackson, Raquone Scott and Keon McBride.
Forest Hills was next with five honorees: Keeshawn Tyson, Kenneth Williams, Jaleel McLaughlin, Jadus Davis and Tyler Mills.
West Stanly's Lukas Scott, Logan Walberg, Bailey Baker and Noah Guyette also made the squad.