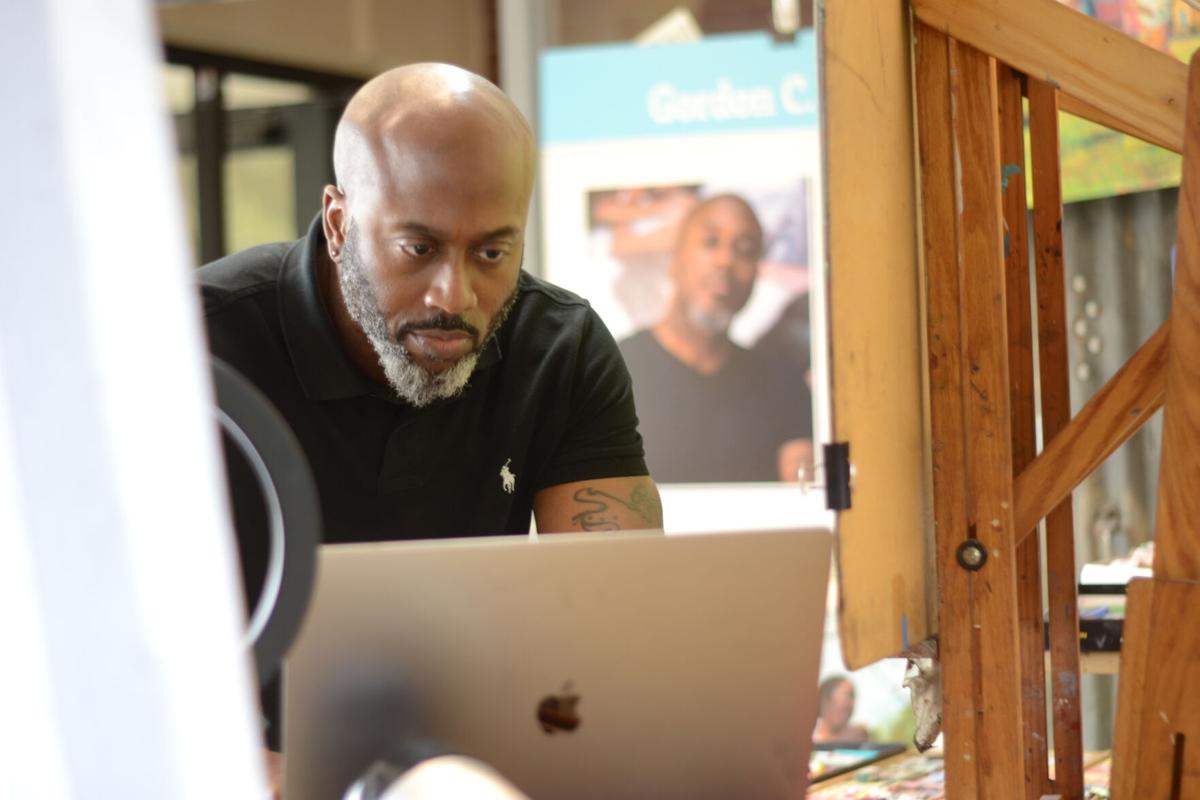 Gordon C. James has been a fine art painter in Charlotte for over 15 years. For the majority of that time, he has widely been acknowledged as a prodigious talent in figurative painting. In the last three years, however, after two decades of teaching, exhibiting, and even illustrating Hallmark cards at the start of his career, James has experienced a meteoric rise to fame and nationally acclaimed success as an artist.
In switching his focus from painting fine art that hangs on walls to illustrating children's books found in stores nationwide, James has generated piles upon piles of glowing notices, starred book reviews, awards, invitations to lecture at book festivals and school events, a Times Square video billboard featuring his painted illustrations, and a steadily growing list of new book commissions. All of this has been accomplished from his studio at ClearWater Arts Center & Studios in Concord, just 25 miles northeast of his home.
While he knew about ClearWater before he rented his studio, as he'd participated in a group show there in November 2014, James had already spent considerable effort making a workspace in the large garage of his Charlotte home, located in the Plaza Midwood neighborhood. After visiting ClearWater a few more times — first to serve as a featured painter in the live annual Portrait Paint-Off, then to visit friends with studios there — James responded to a studio vacancy opening up in June 2016. Within a few months of settling into his new studio, he noted that it was much easier to concentrate on his artwork, thanks to now having a dedicated space for it away from his home. In fact, ClearWater Coordinator Sarah Gay remembers his move to the new studio vividly: "What I particularly enjoyed witnessing was the degree to which his focus and confidence shifted and deepened once at ClearWater, with the ability to isolate his professional workspace to a dedicated place."
Not long after renting the space at ClearWater, James was invited by friend and author, Derrick Barnes, to illustrate "Crown: An Ode to The Fresh Cut" (2017). "Crown" is a paean to the power of positive self-image. It became a blockbuster best-seller almost as soon as it was published. James is proud of its wide appeal, stating: "While it was created with Black boys in mind, it is a story of confidence and pride that all children can learn from." Reviews by noted critical outlets like Kirkus Reviews, the LA Times, NPR, and more lauded it, and awards soon followed. In 2018, James was awarded the Gold Medal in Illustration from the American Society of Illustrators. The book itself was awarded six major literary awards, including: the Newberry Medal, the Caldicott medal, the Coretta Scott King Book Award, and Ezra Jack Keats Award. Lastly, though certainly not least, both James and Barnes won Kirkus Reviews' annual $50,000 Kirkus Prize. It may very well be the most-awarded children's book of all time.
For "Crown," Gay notes that James "put in long stretches (of work) at all hours and poured his talent into creating museum-quality work for the project. Having the Studio to help direct that energy and focus freed up his home to be just that — a home base in which to rest, eat with his wife and kids, and sleep unencumbered."
For many artists, such a heady year could have resulted in paralysis, as swift success so often does. However, James is onto something … do great work, on subjects greatly important to one's heart and soul, and the work rewards you. While he was energized by the critical acclaim and having a sudden, substantive market, his real motivation was found in seeing the happy responses of so many children to his books and his artworks. He experienced this firsthand over the course of many speaking engagements and literary events as well as through social media. He soon took another commission, and in February 2019, the book "Let 'Er Buck: George Fletcher, Peoples' Champion" by Vaunda Micheaux Nelson came out. Almost immediately after its release, it was listed as Amazon's No. 1 New Release in Children's Historical Biographies. It, too, began to generate thousands of positive reviews and responses on social media. Recently, James received the 2020 Spur Award by the Western Writers of America for this great set of work.
This past September, another collaboration with Derrick Barnes entitled "I Am Every Good Thing" has become the latest "superstar debut" in children's books, noticed by celebrities and prominent critics alike. Launched on Sept. 1 with fanfare and critical acclaim, including the aforementioned video billboard in Times Square, it appeared on Oprah's Book List, was read online by actors and musicians, including Charlotte's own Anthony Hamilton, and remained at top of the list in critical reviews such as Kirkus, Book List, and School Library Journal. It stayed three weeks on the "The New York Times Best Sellers" list. Once again, the public is responding to a brilliant, collaborative work of art that provides a resoundingly positive message as well as James' beautiful paintings, which have now been given a national and international audience.
The month of September just kept getting better for James, as he appeared as one of the first guests on "The Drew Barrymore Show" alongside Barnes, saw "I Am Every Good Thing" read aloud by actress Jennifer Garner on social media, and watched "Stranger Things" star Caleb McLaughlin read "Crown" on Netflix's new show, "Bookmarks." He gave several interviews virtually from his studio and virtually co-presented a live Book Talk with Barnes for Mahogany, the long-established African American bookstore in Washington, D.C. To top it all off, James learned near the end of the month that he and Barnes, having been once again nominated for the Kirkus Prize, are among the Top 6 finalists.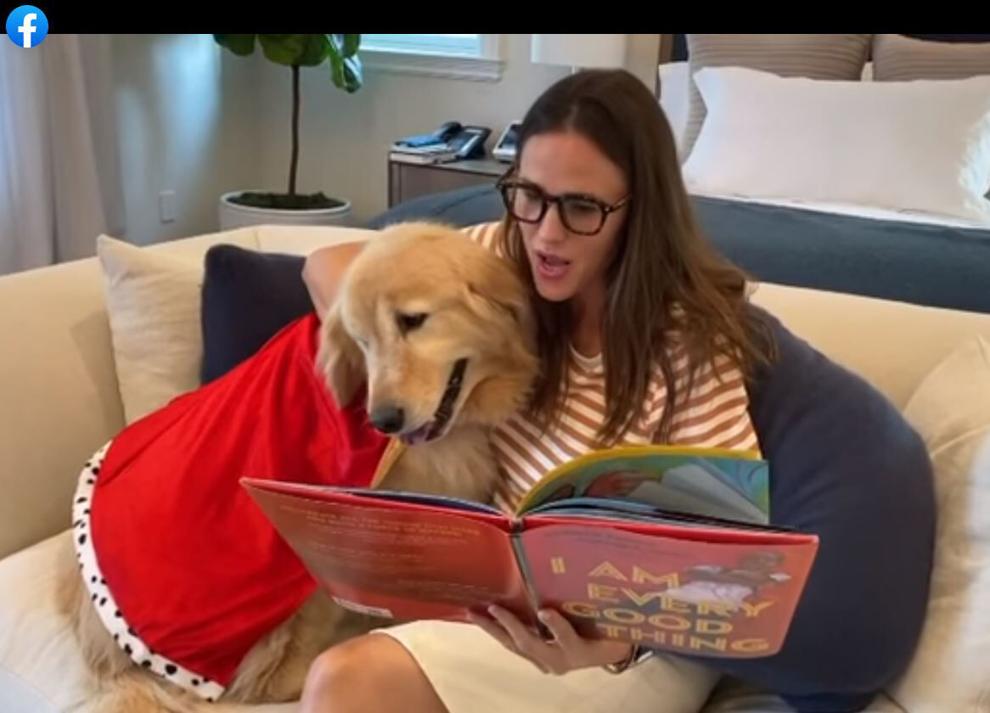 Through all the success and fame, James has remained grounded at ClearWater — though he's moved studios within the facility twice now. He claimed a large, airy, bright space in the recently renovated lower level, where he has set up several work stations: one for oil painting, one for pastel work, one for projecting his drawings so he can paint illustrations in the second stages, and so forth. He has a display area for books and awards as well as a seating area for interviews, both of the in-person and Zoom variety. These days, he's found a rhythm in his daily regimen of balancing the demands of fatherhood with the demands of fame and fandom. Sometimes he pulls an all-nighter; sometimes he's home for dinner and an evening with family. He often spends time studying other illustrators' work and exchanges advice with his network of fellow artists, both in the ClearWater building and in "the business," the latter being built through so many conferences and events before the pandemic. He also stays in touch with his fans through careful attention to his social media. On Instagram, he rewards young readers whose parents have tagged him with their very own hand-drawn golden crown in his re-posted photo of them with the book. Through it all, his energy remains steady and his focus, unwavering.
Currently, James is at work on two more book projects, with additional offers in the wings. He remains dedicated to his mission of getting positive stories of about the African American experience into children's literature, and he is determined to make each illustration his best work. However, he still manages to be generous with his time, should a visitor be granted a peek into his studio or a fellow educator wish to bring a student over for a little inspiration. Once this coronavirus pandemic is brought to heel, or at least reaches a point where we can all operate under less restriction, Gordon C. James will renew his speaking tour circuit. ClearWater Arts Center & Studios will reopen to public visitation. In the meantime, be sure to follow both on Facebook and Instagram (and Twitter for James) for updates.