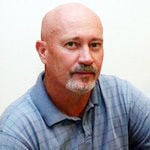 Somewhere along the way in recent years Democrats in this country lurched so far left of the political spectrum that we have arrived at a crucial juncture in this country. No special political, sociological or historical knowledge is required to make that observation. Anyone paying even a modicum of attention over the last decade can see it.
The slogan used by the Biden-Harris ticket actually sums up this fact in a way that is at once revealing and fraught with irony: "Battle for the soul of the country."
If Dems have their way, and it appears increasingly that they will, then the soul of the country is poised for a re-imagining, to use a favorite word of liberals.
From defunding police to a constant cry that America is a racist country, to a remake of the economy in the name of climate justice, we've been made aware of how Joe Biden and Kamala Harris will govern if they win.
Nowhere has this leftward lurch been analyzed and its causes articulated better than in "Why Liberalism Failed," a book by Patrick J. Daneen, a political science professor at Notre Dame University.
This column previously reviewed Daneen's book, and the passages quoted here may have appeared in that review, but the message is worth repeating. Of particular relevance to today's highly energized and fractured political climate is the paragraph below:
"Ironically, the more completely the sphere of autonomy is secured, the more comprehensive the state must become. Liberalism, so defined, requires liberation from all forms of associations and relationships, from family to church, from schools to village and community, that exerted control over behavior through informal and habituated expectations ad norms. Those controls were largely cultural, not political—law was less extensive and existed largely as a continuation of cultural norms, the informal expectations of behavior learned through family, church, and community. With the liberation of individuals from these associations, there is more need to regulate behavior through the imposition of positive law. At the same time, as the authority of social norms dissipates, they are increasingly felt to be residual, arbitrary, and oppressive, motivating calls for the state to actively work toward their eradication."
No words — at least none this columnist is aware of — better describe the far-left zealotry evident in this country, particularly over the last year. The destruction of historical statues, the dissolution and disrespect of family and family values, the insidious nature of vilifying the country at every turn — all of it can be summed up by the loss of cultural norms traditionally undergirded by church, family and community.
The images and associations, in fact, are striking, including: Rioting and looting in major cities, socialists heavily involved in Biden's presidential campaign, Supreme Court nominees being vilified and condemned simply because the Constitution and traditional values could—egads! — be supported by future Court decisions.
In fact, the practice of using the judicial system as an adjunct legislative body, a preferred tactic of liberals, has suffered serious damage by the filling of federal judgeships by President Donald Trump.
According to Pew Research Center, Trump has appointed nearly 25 percent of all active federal judges. That, however, falls short of the 39 percent appointed by Barack Obama. Factor in the three Supreme Court Justices appointed by Trump, including the pending but certain confirmation of Amy Coney Barrett, and it's easy to understand the obvious unease of liberals during Barrett's confirmation hearing last week.
What is not easily understood is the blind eye many Democrats have turned toward the unrest in this country, as well as their refusal to acknowledge the lurch to the far left the party has taken. Many are clinging to past Democrat presidents as evidence of what a Biden-Harris administration would look like. This, however, is no longer the party of Obama or Bill Clinton. Dems who don't acknowledge that are either in denial or not paying attention.
In the same vein, the current Republican party is not the party of Ronald Reagan. Trump has clearly left his mark, loudly vilifying the shortcomings of free trade and plowing forward with a brand of populism that will likely endure. That has left many traditional Republicans, including an untold number of bureaucrats and elitists, on the outside looking in, helping to explain their support of Biden or failure to embrace Trump.
That's why the election of Joe Biden could eventually turn in favor of Republicans. In fact, a past Democratic administration actually provides a model for the next four years. Rewind the clock four decades to the administration of Jimmy Carter — the one who shepherded in historic rates of inflation and mortgage rates of 16 percent, modeled feckless leadership for all the world to see, and fostered a genuine feeling of doom and gloom that my generation had never experienced, and has not since.
Notably, during Carter's last year in office, 1980, the rate of inflation was 13.5 percent, having more than doubled during his term. That number remains to this day the highest rate of inflation since 1947. Reagan's economic policies, by comparison, had the number down to 4.3 percent by the final year of his first term. Look it up at www.uninflationcalculator.com.
Even beyond the dismal numbers, the malaise that enveloped the country under Carter is something that is actually hard to describe.
Carter, however, (bless his heart) helped set the stage for the Reagan Revolution, and the country prospered well into Clinton's administration.
Four years from now, we can only hope the nation has not reached the abyss of far-left insanity from which there is no escape.
Be the first to know
Get local news delivered to your inbox!