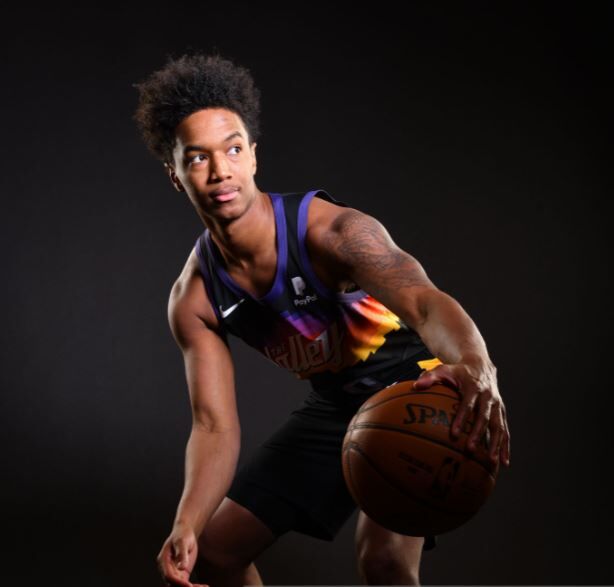 Have you been watching the NBA Finals matchup between the Milwaukee Bucks and Phoenix Suns?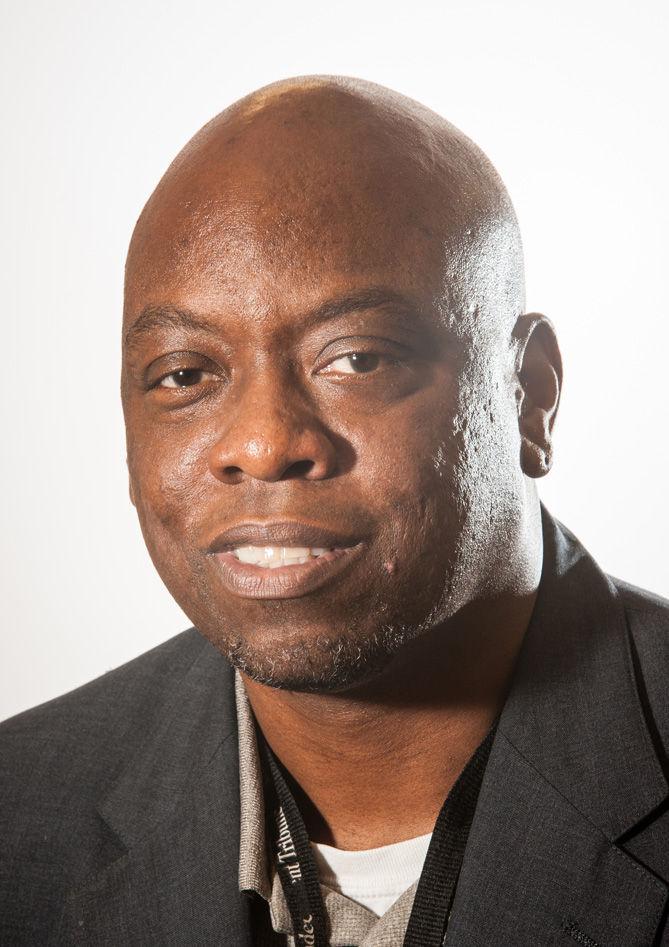 Even if you have, you probably haven't seen Ty-Shon Alexander on your TV screen, but he is there.
The one-time Concord Spiders boys basketball star is there, and that's all that matters.
It's perhaps the oldest cliché in sports, but not many people expected Alexander to be there.
Yes, he'd had an outstanding college career at Creighton University, being named first-team All-Big East and earning at least one All-American honor last season. But against the advice of many, he declared for the NBA Draft with a year of eligibility remaining.
Even after the pre-draft evaluation process, Alexander was told by the experts that he probably wouldn't be drafted. And if he were to get picked, it wouldn't be until late in the second round.
But Alexander said he was staying in the draft, regardless. If he had to go overseas or the G League or play pickup ball at the Y, he was going to find his way to the NBA.
And subsequently, Alexander went without any team calling his name on draft night.
Fortunately, the Suns thought enough of Alexander to invite him to camp as an undrafted free agent, and he took advantage of his opportunity. Phoenix star Devin Booker and coach Monty Williams fell in love with Alexander's defensive play and toughness during training camp.
"He's a fighter, man," Booker said of Alexander, according to the Arizona Republic. "Very talented. Big guard. Good size, too. He has all the attributes it takes. And a really good listener. He's coming around, he's asking questions. You can tell he's really tuned in practice, wants to be better."
Added Williams, "He's a worker. You would think a guy at that position has to be a worker, but you can tell that's who he is."
By camp's end, Alexander had signed a two-way contract with the Suns, meaning he'd get time with the big club, led by fellow North Carolinian Chris Paul, as well as a G League team, the Canton (Ohio) Charge.
But before we knew it, there Alexander was, sitting on the bench on the Suns' opening night roster at the start of the season.
Two games later, he made his official NBA playing debut, getting 1 minute, 9 seconds of action in a pasting of the Sacramento Kings. The next night, Alexander played almost four minutes and finished with a rebound, an assist and a foul against the New Orleans Pelicans.
When Alexander did have to do his time in the G League, he made the most of it. Not only did the 6-foot-4 guard exhibit his defensive prowess, but he also showed he wasn't a one-dimensional player.
In his final game in the G League, Alexander scored 30 points in 32 minutes, sinking seven 3-pointers. During his stint in the G League, which played in a "bubble" in Orlando, Fla., because of the coronavirus, he shot 40.4 percent from field, including 38.8 percent from 3-point range. He also averaged 2.9 rebounds and 1.9 assists.
After the NBA All-Star break, Alexander was back in Phoenix with the Suns for the rest of the season, where he ultimately was seventh on the depth chart among guards.
Upon his return to the big club, Alexander has seen action in 12 games, with a career-high of four points in a win over Oklahoma City back in April.
He hasn't seen action on the floor since the penultimate game of the regular season. Since then, he's been dressed for games but did not play, or he's been listed as inactive.
But Alexander is winning.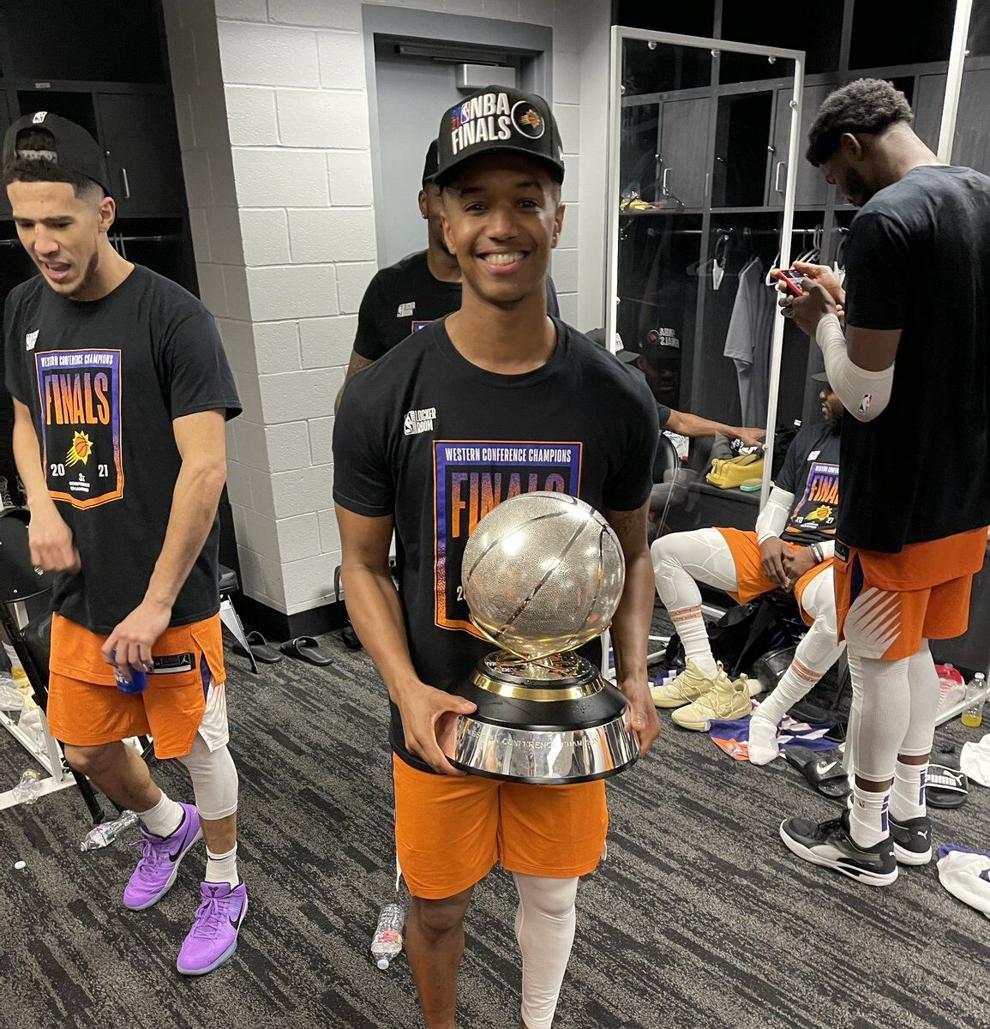 And I'm not just talking about the 2-0 lead the Suns have in the NBA Finals' best-of-7 series with the Bucks going into the weekend.
For one, Alexander had a pretty good base salary of $449,000, especially for an undrafted player, for this season.
And then there are the bonuses that come with being an NBA player, especially in the postseason.
For the Suns having the second-best record in the NBA, the team was expected to split more than $625,000, according to yahoo.com.
And, according to sportingfree.com, here was the anticipated breakdown for playoff teams:
● All playoff teams in the first round were to receive $298,485 each.
● Teams participating in the conference semifinals were to receive $355,159 each.
● The four teams in the conference finals were to receive $586,898 each.
● The losing team in the NBA Finals was to receive $2,346,947.
● The NBA champion was to receive $3,541,896.
I don't know what Alexander's split of those numbers would be, but it's more than he would've made at Creighton had he returned for his senior season.
Cabarrus County actually has been well represented during this year's NBA playoffs, and two more players have had a chance to get their share of the playoff-bonus pie.
Perhaps the county's favorite basketball son, Central Cabarrus legend Ish Smith, was a key player for the Washington Wizards, who lost to the Philadelphia 76ers in the first round. And one-time Northwest Cabarrus player Rajon Tucker was on the bench, although not dressed out, for the 76ers, who eventually fell to Atlanta in the second round.
Meanwhile, the understated Alexander – the kid who bet on himself – has made his way all the way to the championship series. No other Cabarrus County basketball player has ever made it this far.
Knowing Alexander has been on the Suns' bench gaining invaluable experience while the team has been on its inspiring playoff run makes me think of the Zoom interview I did with him last spring, when he was wide-eyed and said he didn't care of he was drafted.
He didn't necessarily know what his future would be, but he knew he was going to do whatever it took to get to the NBA.
"Playing basketball is going to be my main focus," said Alexander, who attended Concord Middle School and play travel ball with the Cabarrus-based CB Spiders. "That's going to be my job, so I have to put everything into playing basketball. Day and night, I've always got to think of being in the gym putting up extra shots. I've got to make sure my body is healthy, doing little rehab sessions and getting stronger – all the little things.
"In two or three years of being in the league, I know I'll be ready for the spotlight. I'll be ready overall. If I get the chance to play in the NBA, I will work my hardest every single day, regardless."
No, you haven't seen any highlights of Alexander trying to stop LeBron James (in the first round) or Milwaukee star Giannis Antetokounmpo. Some nights, because he's been listed as inactive, he hasn't even had on his Suns uniform.
But make no mistake, Ty-Shon Leron Alexander is there.