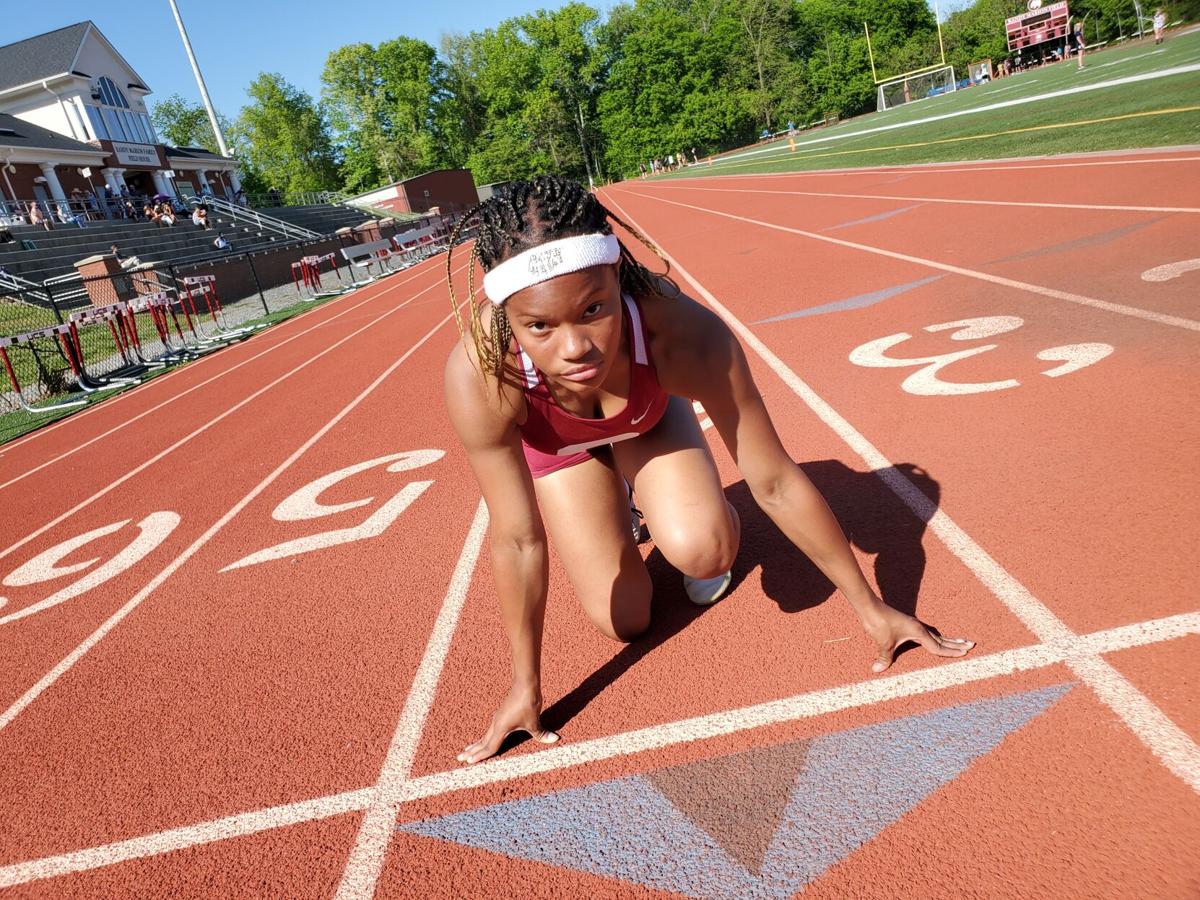 CONCORD — It takes a lot to make Teri Pridgen nervous.
We're talking about a teenage girl whose idea of a fun night is being all alone and watching horror movies at 3 o'clock in the morning.
But as she looks back, Pridgen admits that when she began her freshman season on the Cannon School girls track and field team this spring, the one worry she had was going up against the bigger, more seasoned athletes at the high school level.
Since she was 5 years old, Pridgen had competed on the AAU and USATF summer track circuit, where athletes are grouped solely by age. And she excelled, earning medals on state and national levels, almost literally leaving her competition in the dust as a distance runner.
But this high school thing — particularly since she'd recently switched over to sprinting — was going to be something altogether different, something daunting. And for perhaps the first time in her young life, Pridgen wasn't entering meets believing she would win.
"A lot of the other high school athletes are taller," said Pridgen. "I'm short. I'm like 5-3 competing against girls that are, like, 5-7 and 17 or 18 years old. That's definitely my biggest struggle — height and going against girls that are older because I'm only a freshman.
"I told myself, 'I just want to be top five every race — nothing less than that.'"
She's done a lot better than that.
In fact, Pridgen has been downright dominant.
In one of the sport's marquee events, the 100-meter dash, Pridgen has never lost this season, with her best time being a blazing 12.28 seconds.
In the 200 meters, Pridgen has finished out of first place just once, when she was second, and she set her personal record in the event (25.18) on the same blustery day she established her 100 mark.
(We'll put those times in greater perspective in just a moment.)
When Pridgen moves to the field, she's been special there, too, winning five of nine meets in the long jump, flying a season's-best 17 feet, 4.5 inches.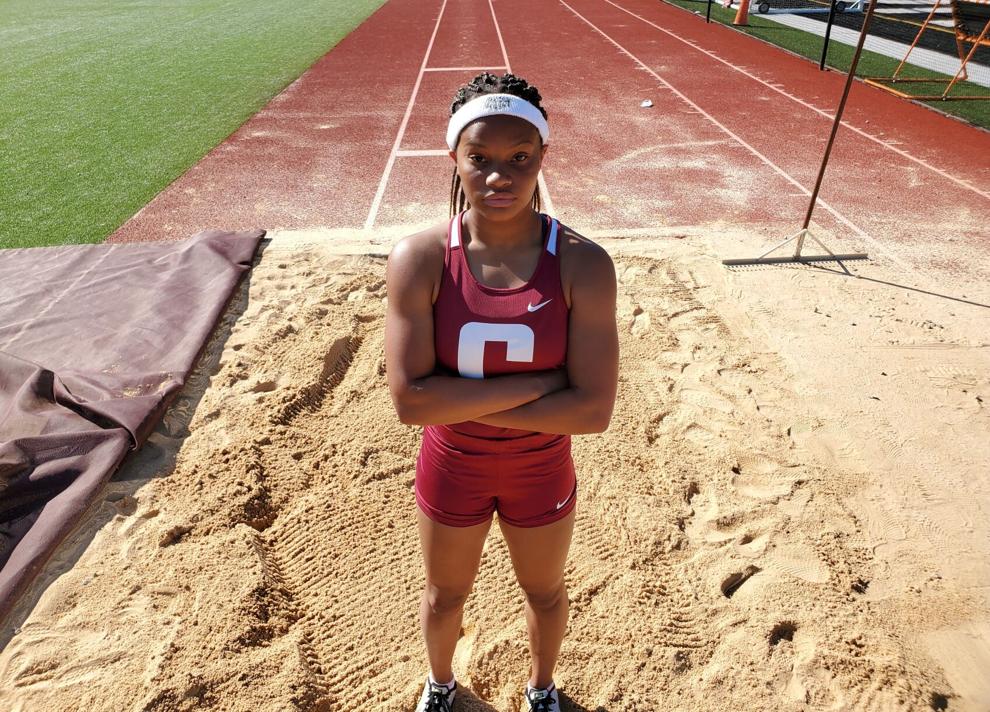 So it seems there was nothing for the diminutive ninth-grader to be worried about at all.
"To think that I've actually won a lot this season is really impressive, and I'm proud of myself for not giving up so early in the season," Pridgen said with a smile.
To say the least, Pridgen has been one of North Carolina's top private-school track and field athletes, which is particularly impressive for a freshman. According to athletic.net, she ranks among the best in the state in the 100 meters (fourth), the 200 (fifth) and the long jump (sixth).
Both her sprint times are already school records, and she also is a member of Cannon's fastest-ever girls 4x100 relay team, which also ranks second in the state (50.62). Pridgen runs second leg on the relay team and is joined by Ellery Biehler, Monique Moore and Notre Dame signee Sofia Rooney.
Now back to putting those sprint times in greater perspective.
Most current Division I track and field athletes, who are considered the best in the country, would've loved to accomplish what Pridgen has as a high school neophyte.
"Her 100-meter time as a freshman is better than 87% of Division I athletes when they were freshmen," said Cannon coach Darren Biehler, who took time to look up the data because he figured Pridgen was in rarefied air.
"Her 200-meter time is better than 89% of Division I athletes when they were freshmen, and she's better than 100% of Division II (100-meter) runners and better than 99% in the 200 meters.
"That's pretty impressive."
Added Biehler, "I was comparing her to some of the best ever from the (N.C. Independent Schools Athletic Association). Anna Cockrell (a former Charlotte Providence Day star who went on to become a world champion hurdler) is really the only one that was a little bit better than Teri as a freshman. She's better than (Charlotte Country Day's) Kaia Putman, who's the best right now. She's better than (former Providence Day standout) Olivia Hee, who's at Princeton now. And her times as a freshman are better than (Providence Day state champion) Falon Spearman.
"She's one of the best ever."
That's high praise, yes, but Biehler isn't just some overzealous coach trying to hype up one of his athletes; he knows the sport intimately, having competed in the Atlantic Coast Conference on the University of North Carolina's track and field team.
Biehler knows athletes who are so good so early — like Pridgen — are rare, and he was ecstatic when he found out he would be adding her to Cannon's already-talented girls track team.
This is Pridgen's second year at Cannon. A Concord resident, she previously was enrolled at a nearby charter school, Carolina International School, where she competed in events such as the 800 meters, hurdles and high jump.
One day, when Pridgen was in seventh grade, Biehler couldn't help but notice her dominating a middle school meet.
"I saw her and thought, 'Wow! That kid's really good!'" Biehler recalled. "And somebody came up to me and said, 'She's transferring to Cannon.' I thought, 'Whoa! Is it Christmas?'"
Biehler chatted with Pridgen's mother, Gina, who's also a North Carolina grad, and got confirmation: Pridgen was indeed coming to Cannon with her older sister, Chandra. He was beside himself.
"We got her last year as an eighth-grader, and then, of course, the season got cut short (because of COVID), so we never really got to train her and see what she could do," said Biehler, whose daughter, Ellery, is also a talented freshman for the Cougars.
"I had ideas in my mind this season of where I wanted Teri to end up, as far as times and distances, and she's already exceeded everything I had hoped for her as a freshman."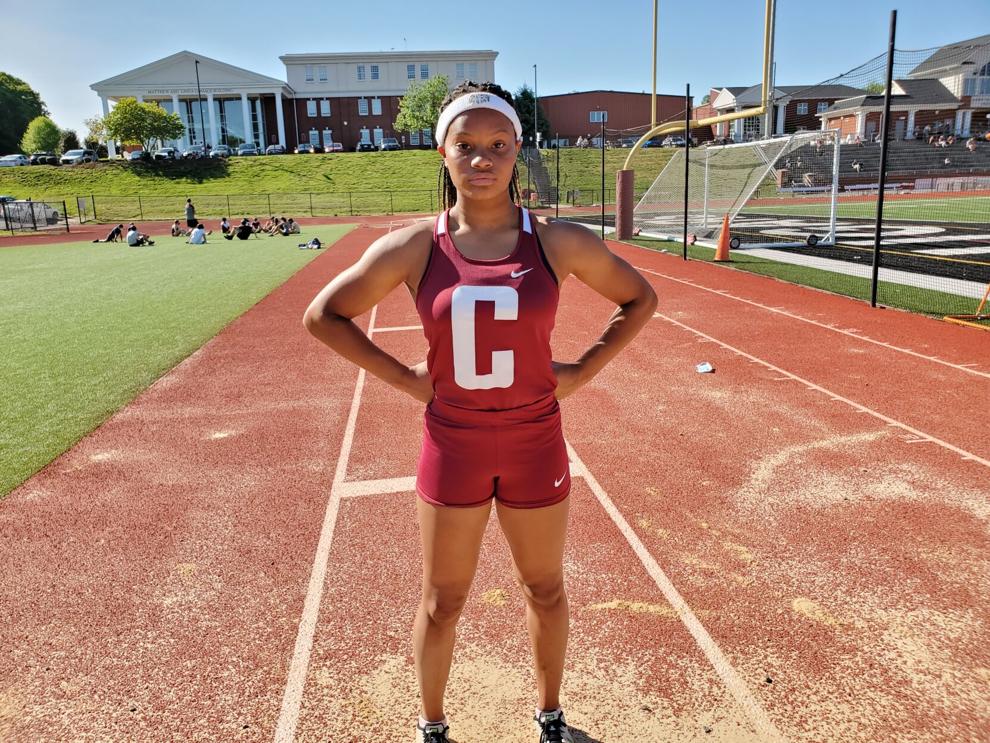 Pridgen started the season strong, and she has steadily improved with each meet, even proving her wares against Putman, a senior, and Spearman, a junior — her 100 time is better than Spearman (12.37) and her 200 time is better than Putman (25.25). Meanwhile, Putman ranks first in the state in the 100 (12.06), while Spearman leads North Carolina in the 200 (24.68).
'He would really be proud'
In many ways, Pridgen believes she was born to do what she's doing.
Her inspiration, she says, is her late father, Terry, who competed in the throwing events as a track and field athlete at Clemson University. Terry Pridgen died in 2013, just a year after Teri took up the sport.
But the broad-shouldered former Tiger is still watching over his baby girl, on and off the track.
"I would have to say my dad has probably had the greatest impact on my career," Pridgen said. "He's the reason I'm even running track in the first place.
"He really comes to mind when I'm competing at track meets. I see my time drop, and I think, 'He would really be proud that I've gotten this far and I'm still doing this to this day and it still means so much to me.'"
It actually means everything to her, which is why she does things that most ninth-graders don't, starting with following a strict diet of vegetables and specific proteins while drinking loads of water to stay hydrated. She also spends her fair share of time in Cannon's weight room, working with strength and conditioning coach Shawn Powell. On Saturdays, it's common for Pridgen to make trips to the track to get in extra solo training.
And then there's the real reason her mother enrolled her at Cannon, known for its academic rigor.
"Being an athlete, I'm also a student-athlete, so I have to make sure I get all my homework done, but I do make sure I go to bed at a decent time," Pridgen said.
"I have to do those things and eat right and take care of my body to get where I want to be."
Well … she eats right most of the time. Even all-star-caliber athletes have their weaknesses.
Asked if she has any guilty pleasures when it comes to food, Pridgen lowers her head and lets out a sigh.
"Oh, gosh! Ice cream," she said sheepishly. "Ben & Jerry's Milk & Cookies is my favorite. Sometimes if I improve in long jump, I'll say, 'OK, I can have ice cream!' Or after a track meet, I might have some. I try not to eat that every day, though."
The reason? Her ultimate goal: to be a college track and field athlete, just like her dad.
"I want it so bad," she said clinching her fists passionately. "It's been a dream. Really, I've wanted it ever since I started. But once I realized that I actually had potential, that's when I started to take it seriously. For the past three or four years, I've been really wanting to do this at a collegiate level. It's really exciting to think that I could even get there."
With her superb academic strengths, it's almost a certainty that she'll go to college. It's kind of a family tradition. In addition to Pridgen's parents attending rival ACC schools, with her mom having multiple degrees, big sister Chandra is graduating from Cannon in a few weeks and will matriculate to their father's alma mater.
And from the way many college teams are already courting Pridgen — Biehler said programs from the ACC and SEC have already shown interest — it's also pretty much a guarantee that she'll be on the track team when she gets there.
She'll definitely have options.
"It's been really surprising," Pridgen said of the interest from college track programs. "I definitely didn't expect it to come this quickly. That's something I was probably thinking could happen my junior or senior year. Hearing I'm getting this kind of attention now is really, really impressive. It motivates me."
Although Pridgen has gotten off to an auspicious start to her high school career, there's still plenty of work to be done. It gets more intense this week when Cannon's conference — the Charlotte Independent Schools Athletic Association — holds its meet. Field events will be Friday at Providence Day, while the running will take place at Charlotte Christian on Saturday.
A week later, on May 15, the private-school state meet will be held at Cary Academy.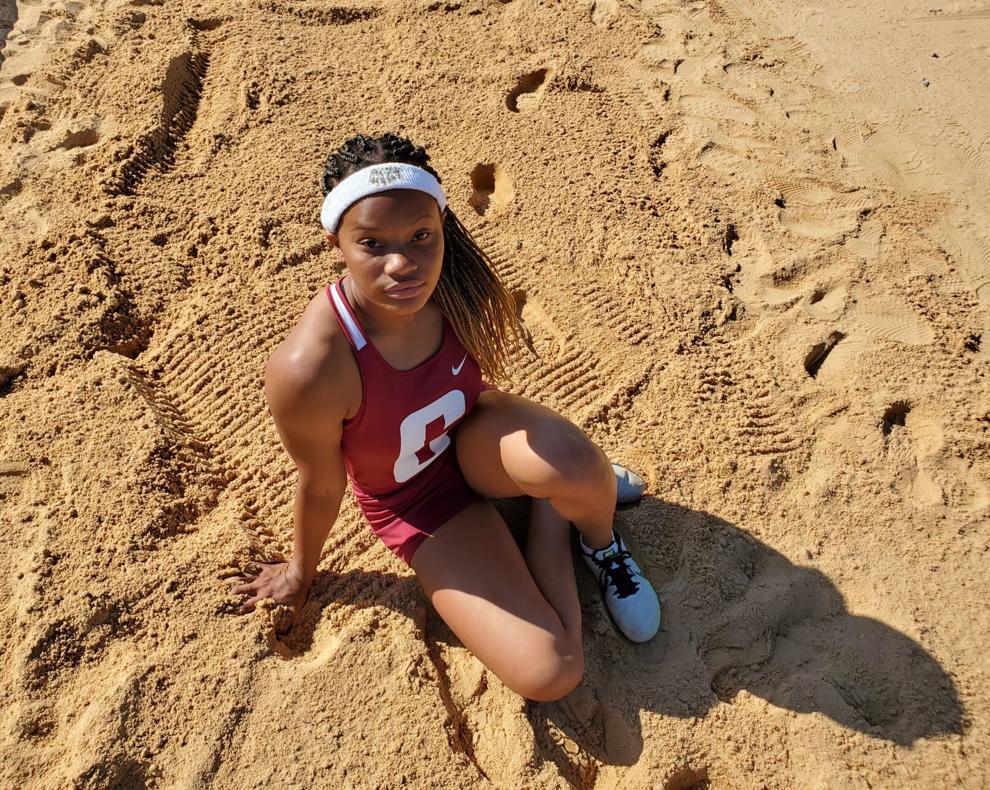 "I'm very excited but also kind of nervous because I know there's a lot of competition," Pridgen said. "But I'm definitely excited that I've made it this far. I'm really excited to compete against those athletes and hopefully drop my times even more."
To ease her mind until then, Pridgen probably will be doing two of her favorite things other than scooping Ben & Jerry's: listening to the tunes of R&B/pop star Chris Brown — something she's done before meets and practices since she first took up the sport — or going to YouTube TV and catching an episode of her favorite horror film, "The Purge."
That's right: Watching scary movies is how Pridgen, um, relaxes.
"I watch 'The Purge' all the time," she said, seeming to get more excited as she talks about the famed series. "I love all kinds of horror movies. They're just so interesting. You can always anticipate what comes next, but I love the jump scares. It's kind of funny.
"I watch them by myself at any time of the day, but I love watching them at night especially — the scary hours. Like, 3 a.m. is the right time to watch horror movies. And with 'The Purge,' it's four movies, and they're all great."
Hey, if a film like that doesn't bother Pridgen, then what can a speedy 12th-grader do?
Still, the competition at the conference and state meets will be fierce, especially since Pridgen has already established herself as a force to be reckoned with. She's taking nobody by surprise now, even if she did just turn old enough to get her learner's permit.
Biehler believes his young runner has a chance to do well — as long as she continues to believe that age is just a number once you get in those starting blocks or head down the runway for the long jump.
Pridgen has proven that with her regular-season prowess, and now it's just a matter of exuding that over the final two weeks of her freshman season.
"She's still learning to believe that she's at that same level as these juniors and seniors," Biehler said. "She definitely is. I keep having to remind her, 'Teri, you're a freshman! None of these girls are freshmen, except for you!'
"If you look at the state list and the conference list, you've got 12th grade, 10th grade, 11th grade, 12th grade. And then you've got Teri there as a ninth-grader. There's no other ninth-graders near her.
"She's starting to believe it," Biehler added, "but we've just got to keep working on building her confidence so she realizes that she really can be one of the best ever."
Well, the idea of a tiny ninth-grader with that potential should have somebody shaking in their track spikes.
And it certainly isn't Teri Pridgen.