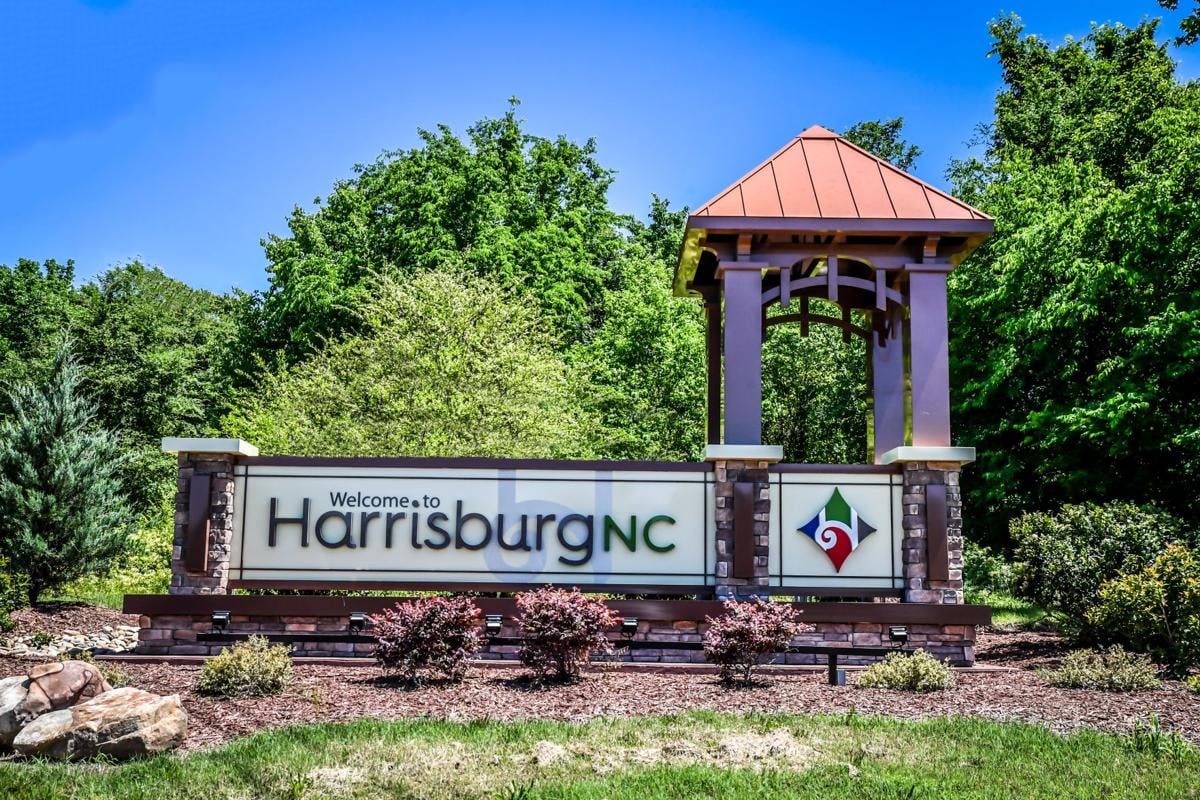 HARRISBURG – A Harrisburg councilman brought a formal complaint against a councilwoman last Friday, June 5, after council members exchanged emails June 3 about the statement the Town of Harrisburg released about George Floyd's death.
Councilman Ron Smith brought the formal complaint against Councilwoman Diamond Staton-Williams last Friday after speaking with Mayor Steve Sciascia, Smith stated in an email to the mayor.
"As per our discussion being that I did not hear back from you I am now making my complaint a formal complaint with regards to the exchange provided by Council member Diamond Stanton Williams," Smith stated in the email.
The town council was presented with a draft statement June 3 and Councilman Ian Patrick informed Town Manager Haynes Brigman that he had an issue with a particular phrase, according to an email Patrick sent to Brigman.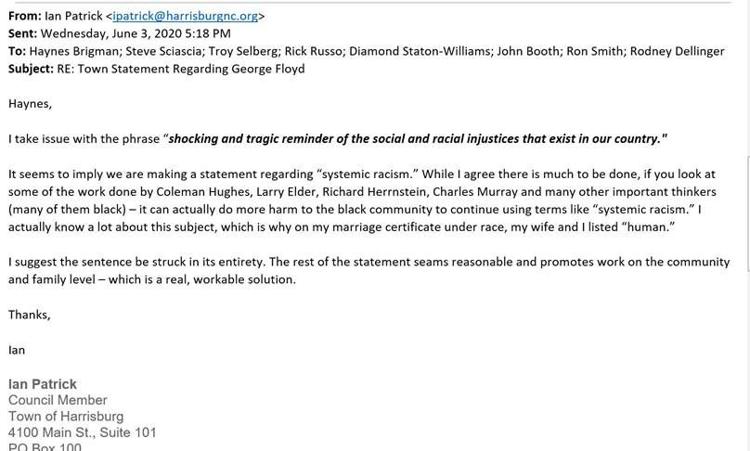 "I take issue with the phrase 'shocking and tragic reminder of the social and racial injustices that exist in our country,'" Patrick stated in the email.
He asked that the phrase be removed from the statement. He continued in the email and explained why he took issue with it.
"It seems to imply that we are making a statement regarding 'systemic racism'. While I agree there is much to be done, if you look at some of the work done by Coleman Hughes, Larry Elder, Richard Herrnstein, Charles Murray and many other important thinkers (many of them black) – it can actually do more harm to the black community to continue using terms like 'systematic racism'," he stated in an email. "I actually know a lot about this subject, which is why on my marriage certificate under race, my wife and I listed 'human'."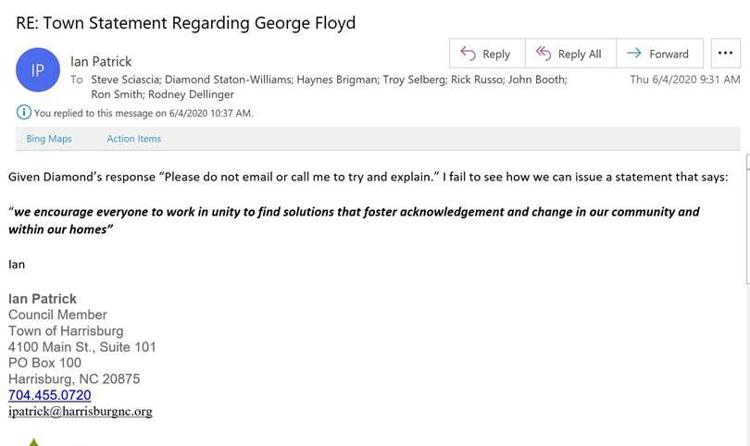 The councilwoman then sent an email in response to Patrick's request to remove the phrase.
"Please use the sentence. My statement is from a person of color perspective. Thank you. Please do not email or call me to try and explain," she wrote in an email.
She then sent another email later.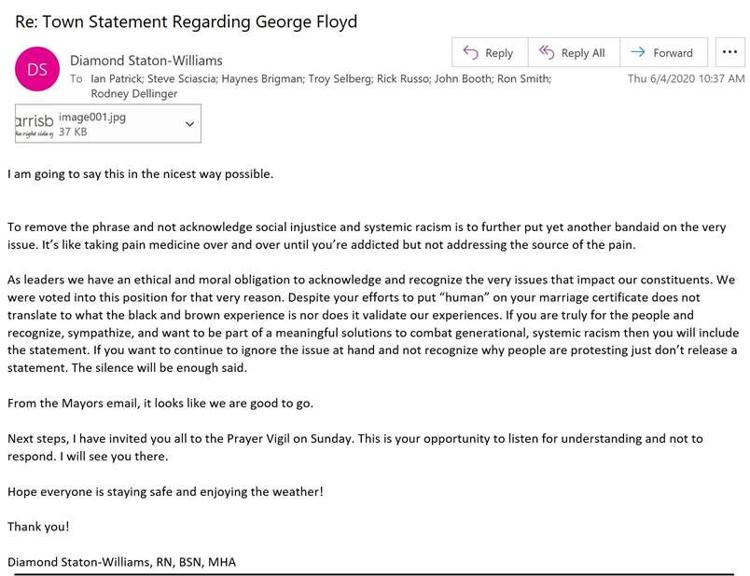 "To remove the phrase and not acknowledge social injustice and systematic racism is to further put yet another bandaid on the very issue. It's like taking pain medicine over and over until you are addicted but not addressing the source of the pain. As leaders we have an ethical and moral obligation to recognize the very issues that impact our constituents. We were voted into this position for that very reason. Despite your efforts to put 'human' on your marriage certificate does not translate to what the black and brown experience is nor does it validate our experiences. If you are truly for the people and recognize, sympathize and want to be part of a meaningful solution to combat general, systematic racism, then you will include the statement. If you want to continue to ignore the issue at hand and not recognize why people are protesting, just don't release a statement. The silence will be enough said," she wrote in the email.
On Friday, Smith sent an email to the mayor stating that he was making a formal complaint, stating that he believed Staton-Williams' behavior was not in line with the council's code of conducted.
The mayor called Staton-Williams Friday afternoon and told her that a formal complaint had been filed against her, she said.
"The mayor gave me a call and advised me that a formal complaint had been filed against me, and that from a council person's perspective, I had violated the code of conduct related to an email surrounding our statement that we put out regarding the death of George Floyd."
When asked about the complaint she stated that she felt the need to voice her opinion.
"Being that I am the only African-American and that I'm the only woman, I made sure that I gave them my perspective about that and advised that it was my perspective that we give this statement," she said "I am not up for a white person to try to really explain this to me. He did not like that."
The complaint will be discussed during the virtual town council meeting tonight beginning at 6 p.m.
Both Smith and Patrick declined to comment on the complaint, when asked. The mayor stated that he had no comment since the complaint is now being handled by the town attorney.
Be the first to know
Get local news delivered to your inbox!