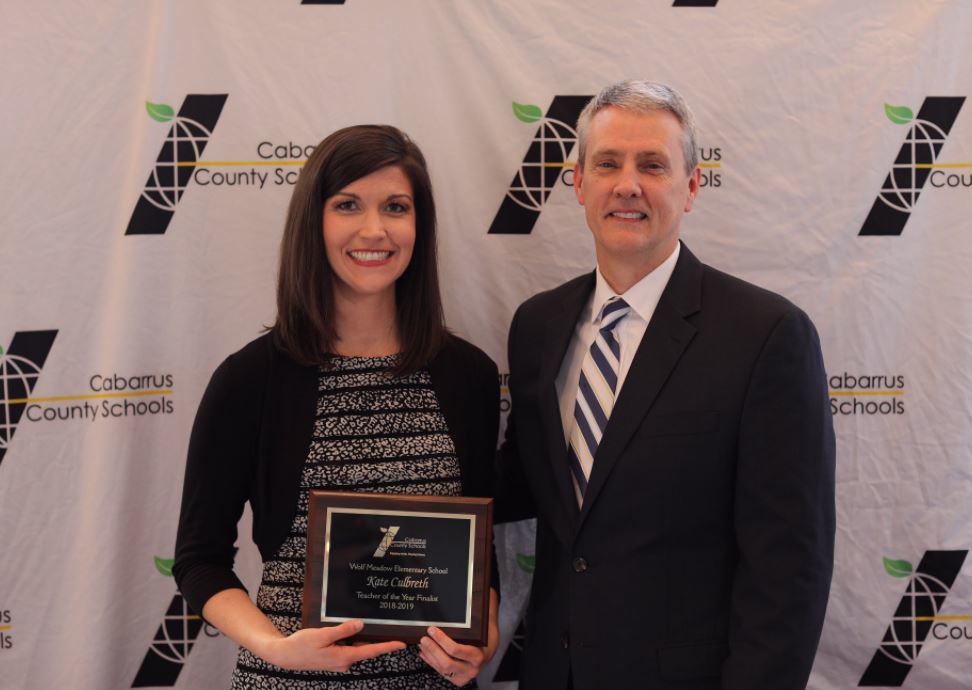 CONCORD— Kate Culbreth, fifth grade English Language Arts Teacher at Wolf Meadow Elementary School, was named Cabarrus County Schools (CCS) Teacher of the Year in a ceremony on Thursday, April 19 at the Cabarrus Arts Council's Davis Theater.
Culbreth began her teaching career with CCS in 2010 as a teacher at W.M. Irvin Elementary School. In 2014 she moved into a Lead Teacher role at the school. She joined the Wolf Meadow Elementary School team in 2016. Last year, Culbreth decided she missed being with her students daily and moved back into the classroom full-time.
Wolf Meadow Elementary School Principal Jennifer Brinson shared these thoughts about Culbreth, "Kate's most remarkable gift is her ability to balance the science of learning with the art of teaching. She creates classroom experiences and nurtures curiosity thus allowing her students to become leaders, thinkers, and doers. She teaches her students to set goals, work hard, and celebrate success. Her work is not to impart knowledge, but rather to create the conditions in her classroom where students become inspired to think, grow, and learn."
In addition to her leadership in the classroom, Culbreth has served as a PLC Facilitator, School Improvement Team Co-Chair, Lead Mentor, and School Improvement Team Grade Level Representative. At the district level, Culbreth has served on the Curriculum Writing Team and has presented multiple professional development workshops.
"Kate sets high expectations for each student in her charge, and then supports as they work together to reach their highest potential. Her dedication to the profession, as well as her compassion and integrity inspires everyone who works with her to strive to be their best self," Brinson added.
Culbreth has received numerous awards and recognition, including the Wolf Meadow Elementary School Leader of the Pack award, the Wolf Meadow School Brain Award, the W.M. Irvin Elementary S.O.A.R. Award and the W.M. Irvin Elementary School PTO Vision for Excellence Award. Culbreth also has received grants from Burroughs Welcome Fund for Promoting Innovation in Science and Mathematics and the Cabarrus County Education Foundation. Culbreth currently is a member of the Cabarrus County Teacher Leadership Program.
Culbreth earned a bachelor's degree in Inclusive Education and Spanish from the Nazareth College of Rochester, a master's degree in Reading from the University of North Carolina at Charlotte and a graduate certificate in School Leadership from Appalachian State University.
Be the first to know
Get local news delivered to your inbox!