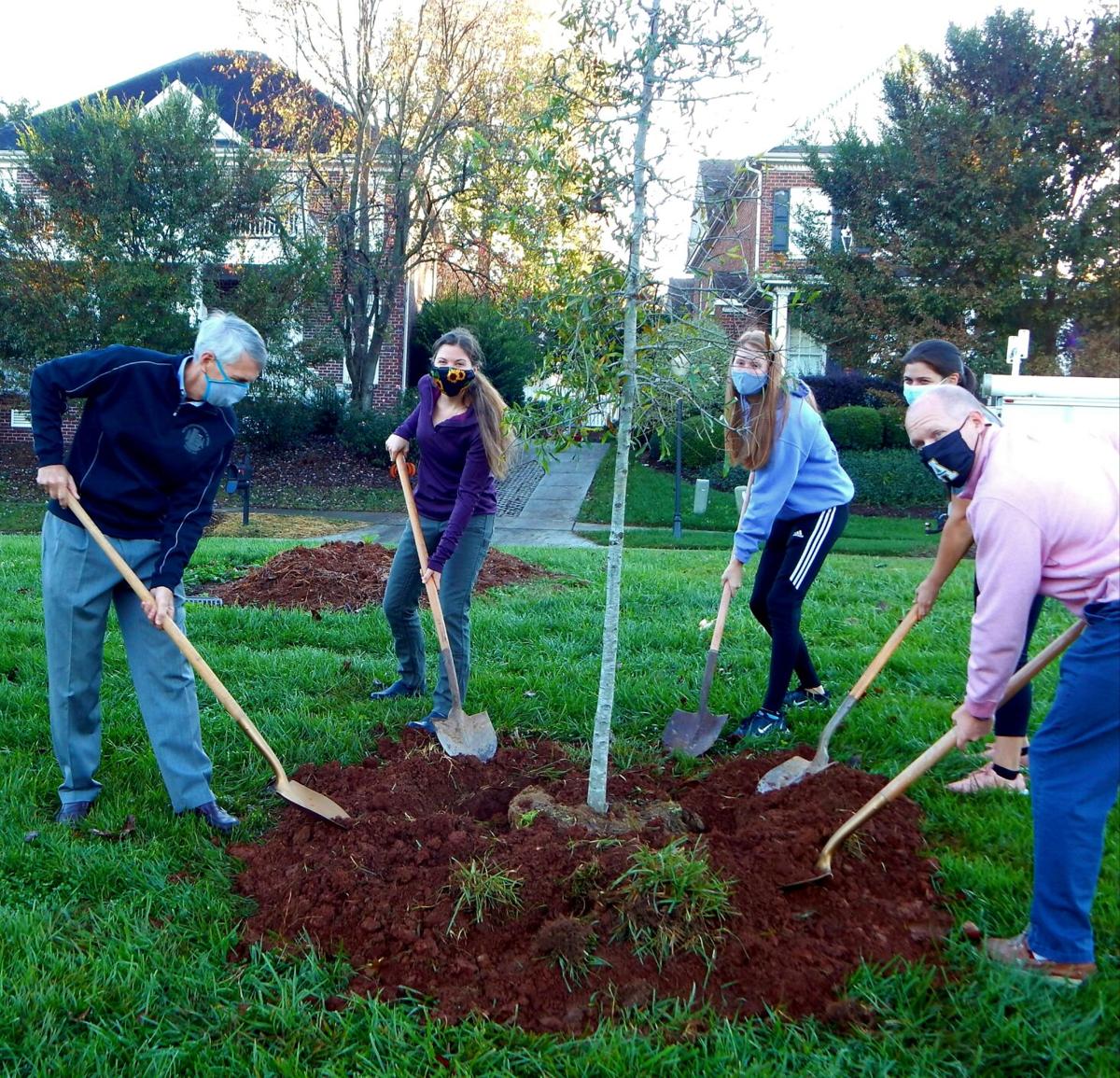 The city of Concord held its second annual tree planting event Friday for Concord Arbor Day, but this year, volunteers joined city officials in the dirt.
Along with Mayor Bill Dusch, City Manager Lloyd Payne and City Arborist Bill Leake, Cabarrus College of Health Sciences nursing students volunteered to plant trees at Dorton Park. The mayor had signed a proclamation in 2018 naming the last Friday in October as Concord Arbor Day.
The Oct. 30 planting event was split into a morning and afternoon session, with small groups of volunteers at different locations.
As part of their educational programs, Cabarrus College students participate in volunteer hours to connect with the community.
"It helps our students have a greater sense of themselves and reinforces our core values of caring, commitment, integrity and teamwork. By getting our students out in the community, they have the opportunity to give back, meet members of the community that they may be serving when they graduate, and build connections with students in other programs," said Katie Mozeleski, marketing and events manager at Cabarrus College.
The city held a tree-planting event in 2019 when Concord was recognized as a Tree City USA by the Arbor Day Foundation. About six city staffers and officials participated in the 2019 event. This year was the first time volunteers have helped plant trees for Concord Arbor Day.
Leake, the city arborist, said he hopes more residents will volunteer in the future to help re-canopy the city.
Trees help offset climate change, Leake said, by sequestering carbon and producing oxygen. Trees also help prevent storm-water runoff.
"The county is developing rapidly, and we are losing a lot of canopy," Leake said. "Any chance to replant trees and reforest is a win to get the economic, sociological and monetary benefits trees provide."
Over the past month, the city, the Arbor Day Foundation and All Saints' Creation Care offered over 300 free trees to Concord residents. By adding these trees to the city's canopy, the cumulative monetary benefit is over $172,230 and a reduction in air pollutants by 126 pounds over five years.
The 14 trees planted Friday are part of the city's Memorial Tree Program that launched Wednesday, Oct. 28. The program allows residents to donate a tree in honor of a friend, family member or commemorative event. With a minimum donation of $150, residents can select an available location and application form from the interactive map. Residents can choose to select a tree planted Friday at Dorton Park for their memorial tree. The city is planting more donated trees between November and February.
Get local news delivered to your inbox!
Subscribe to our Daily Headlines newsletter.