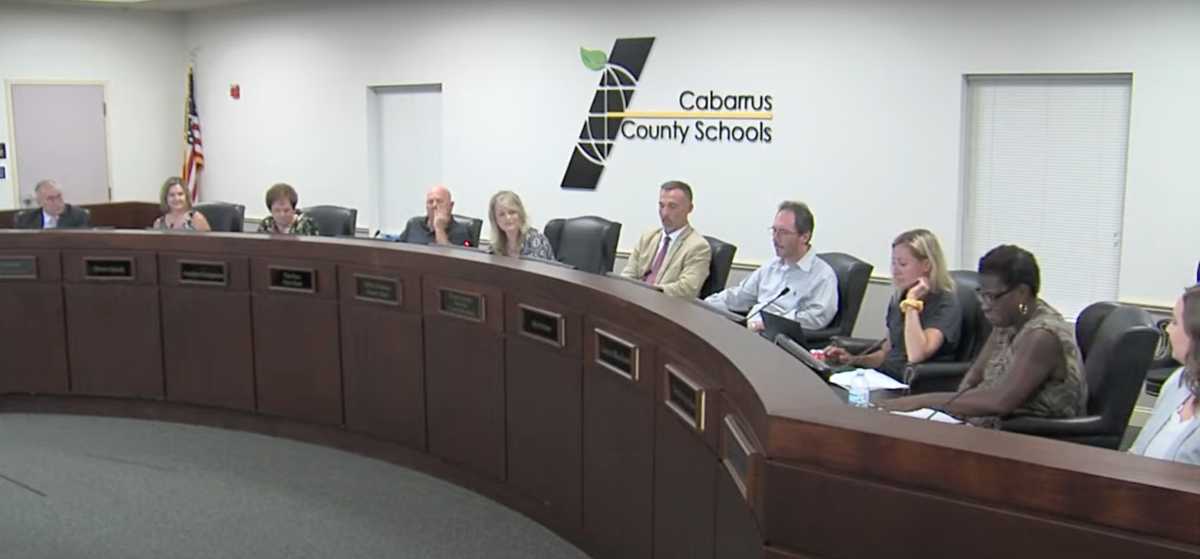 The Cabarrus County Board of Education voted unanimously Monday to approve a drafted resolution to ensure dignity and nondiscrimination in the school district.
This turned out to be a hot topic Monday night as multiple community members spoke to the board about their opposition to what was presented on the agenda for the Board of Education. It has also been an ongoing discussion in recent months, which led to the resolution being adopted.
While the agenda for the resolution read: "Draft Resolution for CRT," the content is about much more than that.
"The discussion is so much more than CRT," said Cabarrus County Board of Education Chair Holly Grimsley. "It becomes more about discrimination as a whole. So we said, 'OK, we can have a discussion about CRT, but then you're only talking about one topic of what people are talking about right now.' This is probably something as we move through this that is going to be much more broad. It's going to involve more topics or could possibly be called something different in the future."
"CRT" or "Critical Race Theory" has been a hot topic of discussion across the country over the last few years.
One example stems from when the White House (the Trump Administration) called for a ban among government contractors on the teaching of the theory in a September 2020 executive order, describing Critical Race Theory as a "destructive ideology."
According to Britannica.com, Critical Race Theory is an "intellectual movement and loosely organized framework of legal analysis based on the premise that race is not a natural, biologically grounded feature of physically distinct subgroups of human beings but a socially constructed (culturally invented) category that is used to oppress and exploit people of color. Critical race theorists hold that the law and legal institutions in the United States are inherently racist insofar as they function to create and maintain social, economic, and political inequalities between whites and nonwhites, especially African Americans."
Members of the public took the time at Monday's meeting to specifically oppose the teaching of CRT in Cabarrus County Schools.
"I'd like to address a couple of things tonight, the first of them being some of the comments made based on this resolution," Leigh Brown said. "The comment that education is bestowed upon us by the state means that the buck can be passed.
"I and all the other parents in the county will say to you kindly and firmly, 'Stop passing the buck.' Stand up in Cabarrus County and say we will not put that curriculum into place."
One other speaker mentioned how S.E.L. or Social Emotional Learning also can fall under the Critical Race Theory umbrella. She spoke about an instance when she lived in California. Her son was being taught S.E.L., and rather than being told his strengths were his kindness and gentleness, he was taught his strength was being a "Social Justice Warrior."
"Social Emotional Learning has been billed as a transformative tool that will propel students to greater academic achievement and personal fulfillment," Jessica Mumford said. "Unfortunately, it is becoming a tool to engineer social thought, undermining the influence of parental rights, religions, cultural traditions and world views."
Interim Superintendent Brian Schultz made it clear that the plan for S.E.L. has not been finished for CCS. He said the district gets to make the plan look like it wants, but it would not include the type of curriculum utilized in states like California.
Cabarrus County Schools has seen controversy in recent months surrounding some of what has been said and taught in classrooms. In one instance, a group of community members called for the resignation of multiple teachers and the superintendent after several instances where political conversations worked their way into the curriculum in classrooms.
"Democrat, Republican, that's the big push right now," said Kenny Wortman, the father of a 10th-grade student at Central Cabarrus High School, at the time. "It doesn't matter if it falls up on Republican, if it falls up on Democrat, if it falls up in the middle … it's doesn't matter.
"Those kids should be given the opportunity to form their own opinions."
While this particular incident was not centered around a discussion on Critical Race Theory, it was based on bringing political discussions into the classroom, which CRT can do.
Many parents who attended that protest held the opinion that students should be able to formulate their own opinions from what they learn rather than being told what to think.
"The children need to be presented with the facts and allow them to make their own decisions from there," Wortman added.
The resolution presented to the Board of Education on Monday does not hold the words Critical Race Theory or the abbreviation CRT. The title of the official resolution is "Resolution to Ensure Dignity and Nondiscrimination in Schools."
The entire resolution can be read at https://bit.ly/3wHuwlA. The district specifically promoted seven items with it:
That one race or sex is not inherently superior to another race or sex.

That an individual, solely by virtue of his or her race or sex, is not inherently racist, sexist, or oppressive.

That an individual should not be discriminated against or receive adverse treatment solely or partly because of his or her race or sex.

That an individual's moral character is not determined by his or her race or sex.

That no individual, solely by virtue of his or her race or sex, bears responsibility for actions committed in the past by other members of the same race or sex.

That no individual, solely by virtue of his or her race or sex, should feel discomfort, guilt, anguish, or any other form of psychological distress.

That the United States comprises of persons that are all created equally.
However, after hearing feedback from community members opposing the possibility of Critical Race Theory being taught at Cabarrus County Schools, board members took time to address the issue further.
Council Member Carolyn Carpenter went so far as to say she would be OK with including in the resolution that Cabarrus County Schools would not adopt CRT curriculum. Several other board members said they would be OK with either adding that verbiage or keeping the wording as it was, but ultimately the board decided not to add anything because the members believe it appropriately conveys what they want to say.
"I think this resolution saying what we believe in certainly is counter to those things, so I'm OK with the way it's worded," Board Member Rob Walter said.
"We want to make sure the community understands where we stand as a Board," Laura Blackwell said. "There are hot words out right now … these buzz words, and you can call it Critical Race Theory, some people have now intertwined it with Social Emotion Learning and, per our attorney, they're separate, and we're going to educate our community on the separation between those two because we feel like that's important for people to understand.
"So what this resolution was set up to do was really express our views as a board on the issues, maybe not the name itself, but people have defined Critical Race Theory and Social Emotional Learning through their own verbiage, and that's why it's getting skewed in the community. So this is a statement that we specifically wanted to make sure that everyone would understand — that we are created equal and that we will treat them equally."