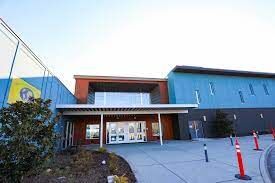 CONCORD — When Joseph Canty was named the Head of School at Carolina International last July, he was not shy about setting lofty goals for his students and staffers as well as for the physical footprint of the school on Poplar Tent Road in west Cabarrus County. Now, a little more than one year after he started at his post, he is seeing his goals come to fruition.
Canty recently announced that the school has grown from more than 800 students at the start of his tenure to more than 900 to begin the 2020-21 school year. He also announced the hiring of the new principal of CIS in Karen Young and laid out several plans that are coming together for growth over the next several years.
"We're getting ready to develop a new sports complex with Concord Parks and Rec, hopefully. We're excited about that," he said. "It's going to take some time. We are working on developing a new playground, so I'm excited to share that. Then we also are going to be building out a new facilities building to take care of our beautiful 82 acres.
"With the help of our team here, obviously, and with leadership and guidance, we will continue to move forward, and I'm very thankful to many members of the community who have been supportive in that process."
Canty said the hope is to develop the new sports complex on the south side of the property on Poplar Tent, add the playground to the north side, and the new facilities building on the east side. He said the new sports complex could come to campus within the next two or three years, but he also understands this will be a process that will require a lot of work alongside local municipalities.
It's a process, but one he is looking forward to seeing come to fruition.
"There's budgets every year that shift and evolve, and there's different priorities, and we have to respect that, and we look forward to the growth," he said. "We look forward to the evolution of this partnership.
"Parks and Rec is already renting out our gymnasium and doing some work with us here on campus. We have summer basketball league that's happening. It's going well and it will go into the fall, early fall, and we're looking forward to continued partnership there. So I see it evolving as well as a number of other relationships that are budding for CIS as well. So it's looking good."
With the new sports complex hopefully coming in the next two to three years, Canty said he hopes CIS can add a soccer program and possibly a tennis program while allowing the Comets to continue to grow the baseball and softball programs.
He specifically is excited about a soccer program due to international focus of the school.
"Soccer, to me, is a sport where it is very much gender neutral, and I think that it's supportive of who we are as an international school community, so we really want to build that space out," he said.
He sees tennis as a sport along those same lines. Additionally, tennis could be something for students who aren't as interested in team sports but want to get involved.
"It's a great way to get involved and (participate in) something more like a swimming sport," he said. "Swimming can be team and individual — so is tennis, right? You can play doubles or singles. So, same concept."
These additions are part of much bigger things going on at CIS. The growth in the number of students is one thing, a new principal is another, but also continuing to grow internally is important as well.
With that comes the priority of retaining teachers and continuing to grow as a community, staff-wise. The hope, too, is that with students returning to campus full time, an even stronger community will grow.
"We want to see continued growth, and I'm hoping that this year with COVID slowing down somewhat — we know we're dealing with the delta variant — but we really want to see it continue to progress and build relationships," he said. "Having our teachers on campus (will help us) continue to do team building, continue to grow in terms of who we are as a school of educators and how we support our students in grades K through 12, and how we think of a portrait of a graduate. How do we see these students growing and matriculating out of Carolina International School to be thoughtful, empathetic, problem-solving leaders?
"That is part of our mission, and our mantra is 'The World Is Our Family.' So, always challenging our team, myself, to think about what that means. We have a subtext for our mantra that states we want to be a 'microcosm of the world.' So I always want to think about healthy relationships and how do we model that for our students? For me, that is one of the biggest points of emphasis as we continue to move forward. How do we model that as a healthy school culture? With all that is happening in the world, how do we continue to move that forward?"
Most important, Canty wants to see his students grow. The goal of the school is to make its students better. Young talked about just that in an interview soon after her introduction as the school's principal.
"I want the students to own the school," she said. "I want the students to — and I don't know them yet — but my goal is to have the students just want to be here. Give them a voice, find a way to invest them, not just in only the school, but coming up with ideas for outside, coming up with ideas for the classroom, having the teachers feel comfortable enough to release some of the ownership of the classroom and let the students come in and let them help each other grow, mature, make mistakes and be bolstered."
She continued: "I think once you've invested in something, you will do your best to be the best, and the academics will come."
Canty spoke glowingly of Young last week in introducing her, and he constantly compliments his students and staff members every chance he gets.
When he introduced himself to the CIS community last year, he was impassioned in his belief that the school was special and could continue to grow even more. He continues to believe that and knows his community can be even better.
"We are trying to move forward with STEAM and STEM, and then we really are trying to be thoughtful about diversity, equity and inclusion. We've got work to do, and we'll continue working through that," he said. "I think it's important to share with those and be very open that, just as every community wants to grow and continue to be inclusive, we recognize that and we will continue to push forward in that regard and do what is sound and right for our entire community and everyone in it. All the cultures and lives that we represent."